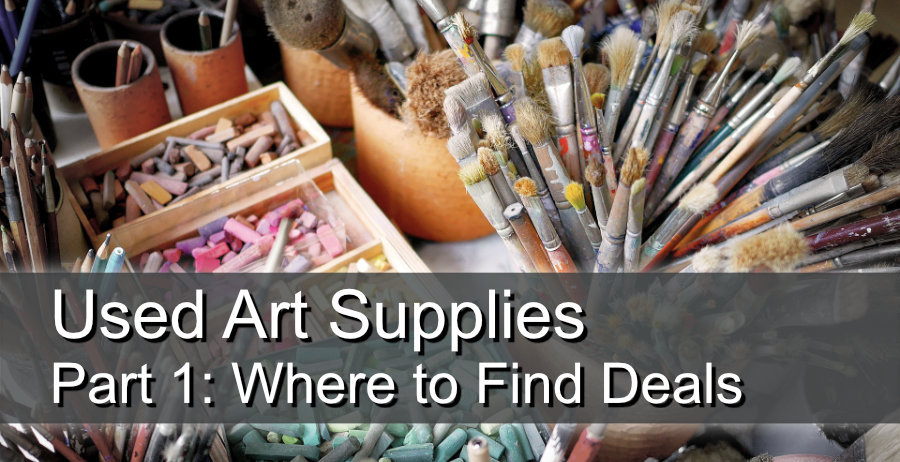 In previous blog posts, we've talked about ways to save money on art supplies, how to search for deals, and some of the websites I personally use to buy materials. This post is the first of a series that I've always wanted to write about – focusing on used (or second-hand) art supplies.
In this post, I'll be covering some of the places where you can purchase art supplies used through the major websites in the U.S. If you live outside of the U.S., there may be different sites than the ones listed here.
Online Classifieds and Auctions
Ebay
Ebay (ebay.com) is an online auction site and an online storefront for sellers. A typical auction listing is available for 7 days. Anyone with an Ebay account can bid on the item. Ebay is the longest running website out of the three that I'll be covering and has a good reputation for protecting buyers from fraud. Items are shipped by the seller and shipping fees are usually calculated separately from the item price. Because Ebay is a well-established platform, the range of supplies you can find on Ebay will be more than most websites.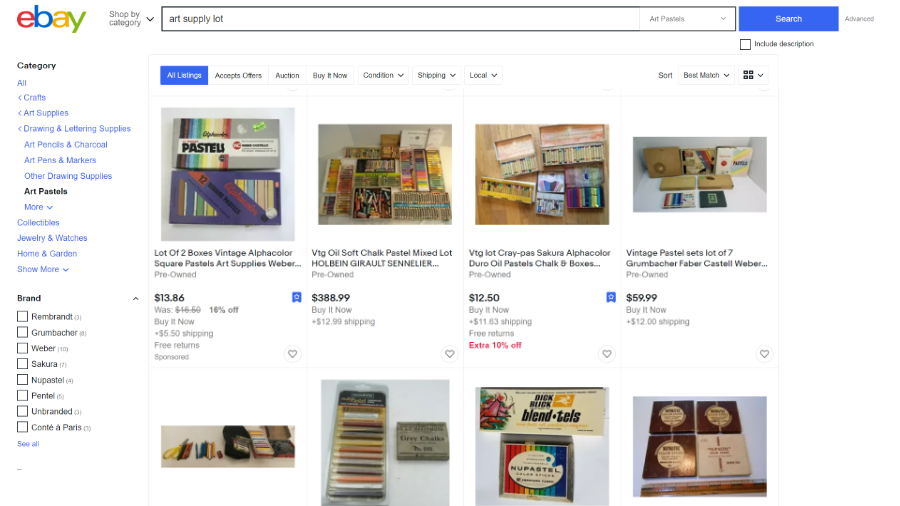 Craigslist
Craigslist (craigslist.org) is a location-based online classified page. To find art supplies, you'll need to search for the "For Sale" category and the subcategory "Arts & Crafts." Unlike Ebay, listings do not expire (they are renewed automatically if it is still available) and the seller only removes the listing after the item is sold. Transactions typically take place in-person.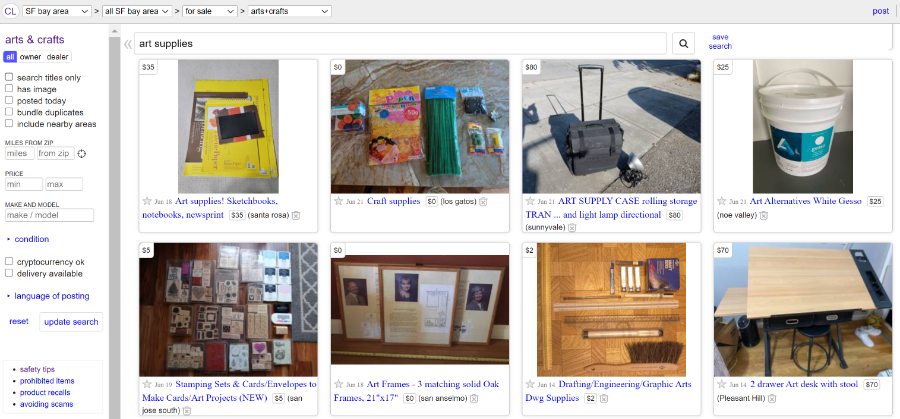 Facebook
Facebook (facebook.com) has two main ways to search for items. There is a general "marketplace" where sellers can post. When you search for an item through the marketplace, relevant search results will appear based on your location (the search radius can be manually set from 1-500 miles of your city).
The second method is joining "buy & sell" groups which may be local, regional, or international. Most sales occur in person, however some regional "buy & sell" groups may offer shipping for an additional fee. "Art supply buy & sell groups" are usually better to join than general "buy & sell" groups which can post anything from cars to furniture.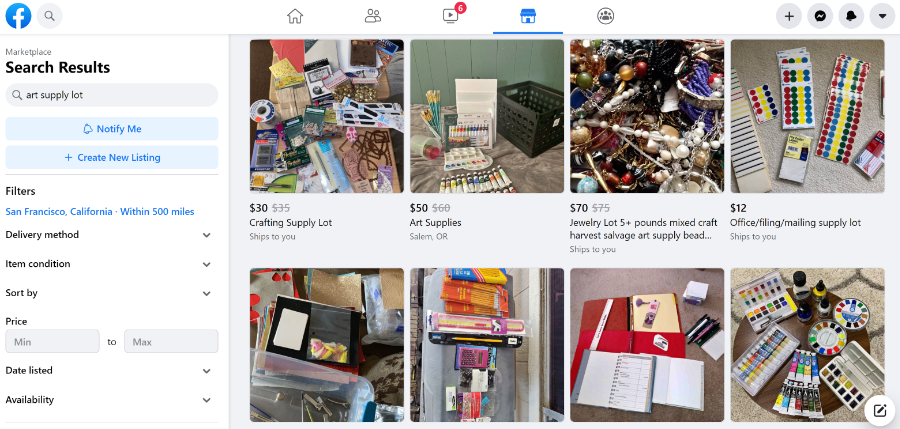 In-Person Locations
Community Art Clubs
If you are lucky to live in an area with an active art community, some art clubs will host annual or semi-annual art supply swaps. Tech-savvy art groups also may have their own online classifieds for art supplies posted through their website or email newsletter. Locally organized art sales are generally safer than meetups through Craigslist and Facebook since members have been vetted through the club.
Art clubs can have a few dozen members or hundreds of artists. Depending on how active the clubs are, you may need to look in your local newspaper or community center to find where they are located. Membership for art clubs may be free or require a small annual membership fee. Typically there is no cost to sign up for their newsletters if you want to keep tabs on an art club's activities.
Art Reuse Stores
Similar to thrift stores that sell used clothing and furniture, art "reuse" stores specialize in arts and crafts supplies. Unfortunately there isn't a universally accepted definition to describe this special type of art store. You may need to use keywords including "recycle," "reuse," "creative," and "art" until you find a combination that brings up search results for your area.
An example of a Reuse store I visited was Art From Scrap in Santa Barbara, California. I was able to purchase paper, pens, and stationary at a fraction of the retail price.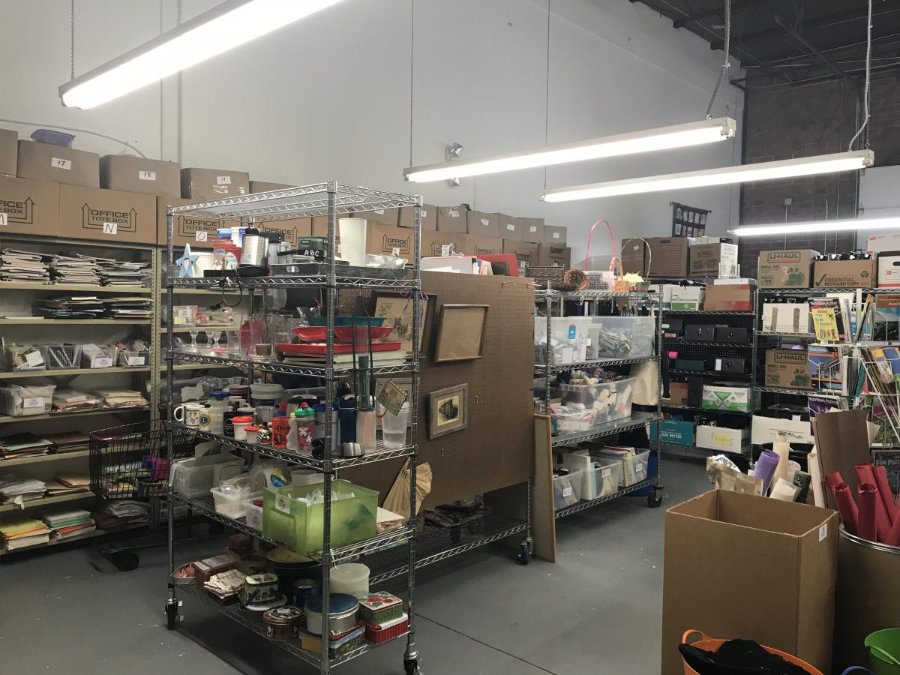 Part 2 of this series will be focusing on how to shop safely online. If you want to keep up-to-date on our blog series, sign up for the Potato Art Studios mailing list below!
Read more about tips on buying used art supplies:
And if you have a favorite store or site you have purchased used supplies, share it in the comments. We can all save some money – to buy more art supplies. 🙂
-Lauren