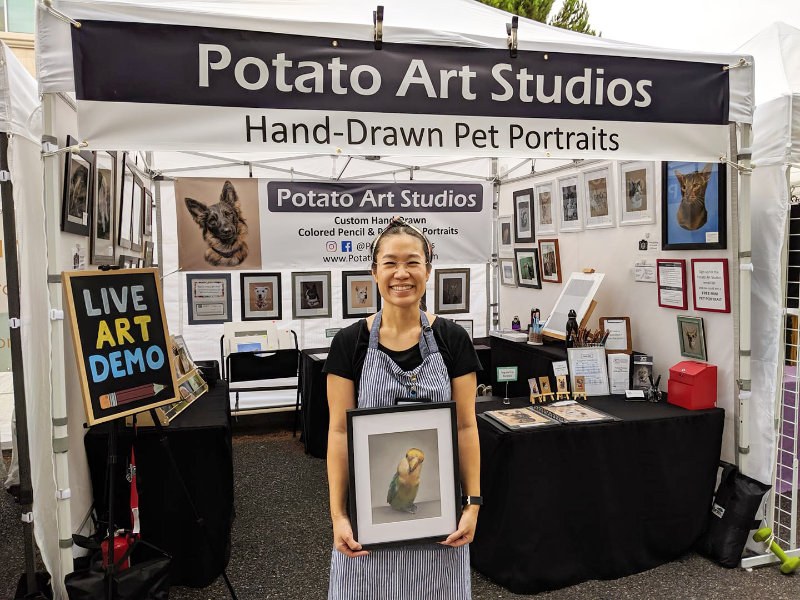 I took the leap to completely change careers in 2016. I quit my day job and enrolled as a full-time art student at Santa Barbara City College. I gave myself twelve months to really hit the ground hard – building up a foundation of solid art fundamentals. I've taken art history courses, figure drawing, figure painting, oil painting, drawing, and printmaking (just to name a few). And after a year I finally felt confident enough to share my artwork with the internet.
Most often, I draw on toned paper because I find that the color of the paper can really add to the feel and mood of the portrait. For colored pencil portraits I have 10 beautiful colors to choose from and a black option for pets that have coats that are 70% or more black. Pastel portraits are a new addition to my online store in 2019. If you're looking for a rich colors with soft textures, I recommend looking into pastels over colored pencils.
It takes anywhere from 1-2 weeks to complete a drawing, but I will never ship a portrait until my client is completely satisfied with the final product. I create all portraits by hand and ship them from my home studio in northern California.
Making art was something that I loved throughout my childhood. Finally pursing an art career has been an exciting and rewarding journey. To date, I've created over a hundred custom portraits for people all across the US and I've even shipped drawings internationally! I enjoy sharing what I do with others and I hope you will join me in this new chapter of my life.
-Lauren Chan