I'm taking a quick break from my "Used Art Supply series" (you can check out here) to give a special mention to a few pastels that I think need a bit more time in the spotlight. November officially marks the start of the holiday season. So if you're a pastel artist (or you have an artist on your gift list who you think may be interested in pastels), my shortlist may be something you can add to your online shopping basket. 
For more gift ideas, check out my gift guide for artists: 
Schmincke Pastel Sticks
Schmincke is a German brand and based on my observations in the art community, they're most well-known for their watercolors. Schmincke makes excellent pastels and their formulation is very soft, 'buttery,' and consistent across their entire color range. I would classify the firmness of Schmincke as a soft pastel.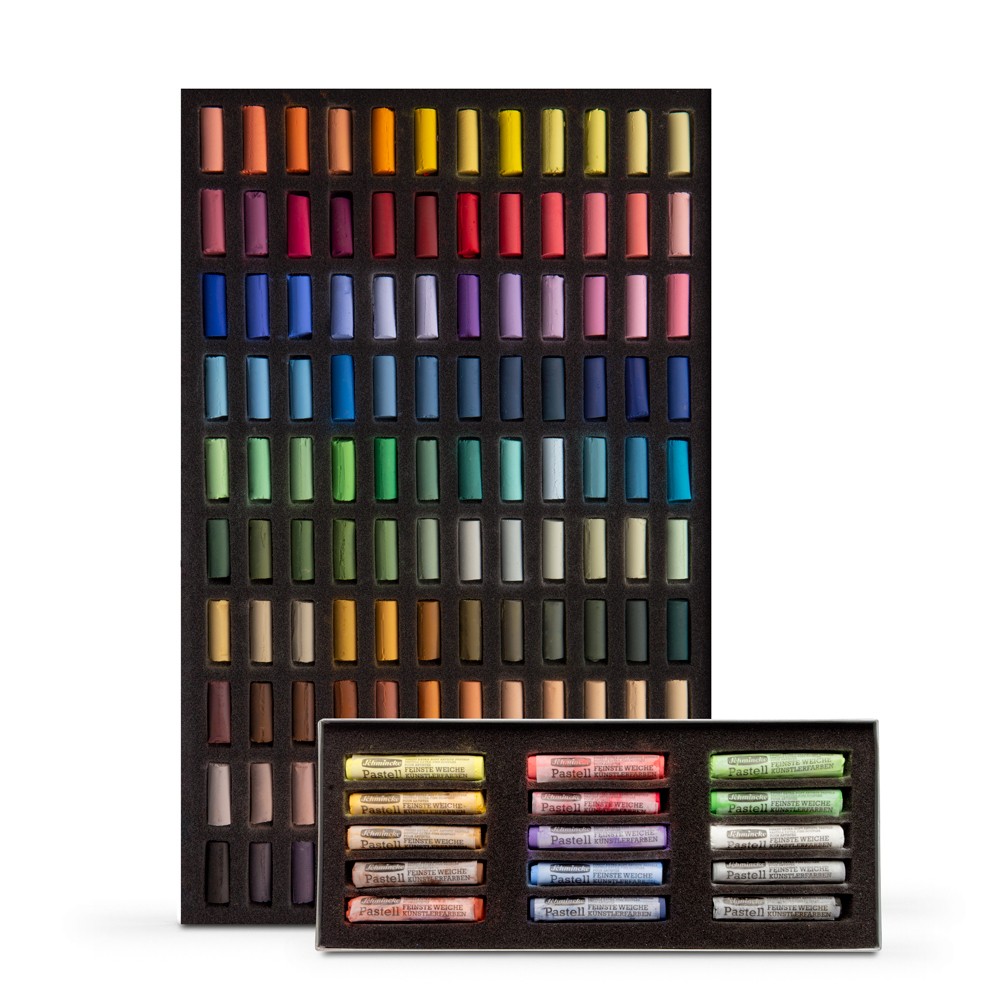 My first experience with Schminke was with their 80 half-stick set. Although this set is no longer available, their full sticks are just as easy to work with. The half stick sets were a wonderful bargain so I hope the company brings them back. If you can find the half sticks on clearance or second hand, I highly recommend picking them up.
I unfortunately don't have experience with any other products from Schmincke. But the brand left such a good impression on me that I would readily give any of their other product lines a try if I decide to explore other art mediums. 
Is it for you? 
If you like soft pastels such as Sennelier, Schmincke is just a smidge firmer, but has none of the issues with the 'scratchy' colors in Sennelier's line (particularly their reds and blues). If there are missing colors in your soft pastel collection, I would highly recommend purchasing a few Schmincke colors to fill in the gaps.
Where to buy:
Jackson's Art Supply Soft Pastel Sticks
I'm probably not the only one who has some doubts about quality when a company private labels their products. If this is your first time hearing about the term 'private label' – it just means that a company acquires products from another manufacturer and puts their own packaging on it. If you've seen similar products online (i.e. a popular style of phone case sold by 20 different brands) those are private labeled products.
There's nothing inherently wrong with private labeling. You probably own several private labeled items and haven't realized it. When it comes down to art supplies, I personally don't care about the company's prestige – if the product is made with quality materials, I'll use it to create artwork.
Jackson's Art Supply is headquartered in the U.K. and they have an enormous range of supplies with their "Jackson's" branding from paper to pigments. Keep in mind that Jackson's Art Supply does not explicitly say their products are private labeled. But I'm going to speculate that the majority of the Jackson's branded products are not produced by Jackson's employees. In the case of the soft pastels, they are manufactured in South Korea. 
The Jackson's hand-rolled soft pastels come in a large range of 200 colors. Although the lightfast rating system is difficult to read, they are transparent about the pigments and binders they use in their products. The pastels can be purchased individually (open stock), in curated 14-stick sets, or build-your-own 3 or 14 count sets with a storage box.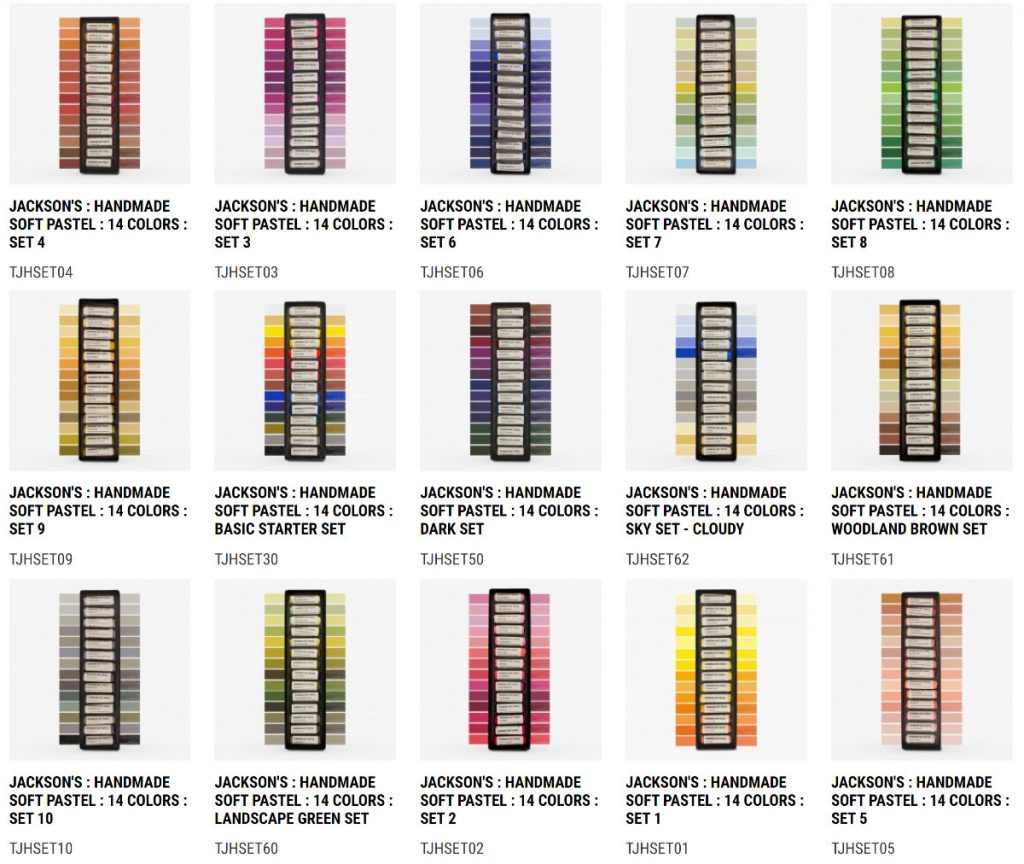 I bought a small set of Jackson's pastels when I made one of my first international art supply orders in December 2018. I was impressed by the great value and the size of the pastel stick compared to the other brands I already owned. I've made additional orders from Jackson's and picked up a few more sets to fill out my pastel collection over the years.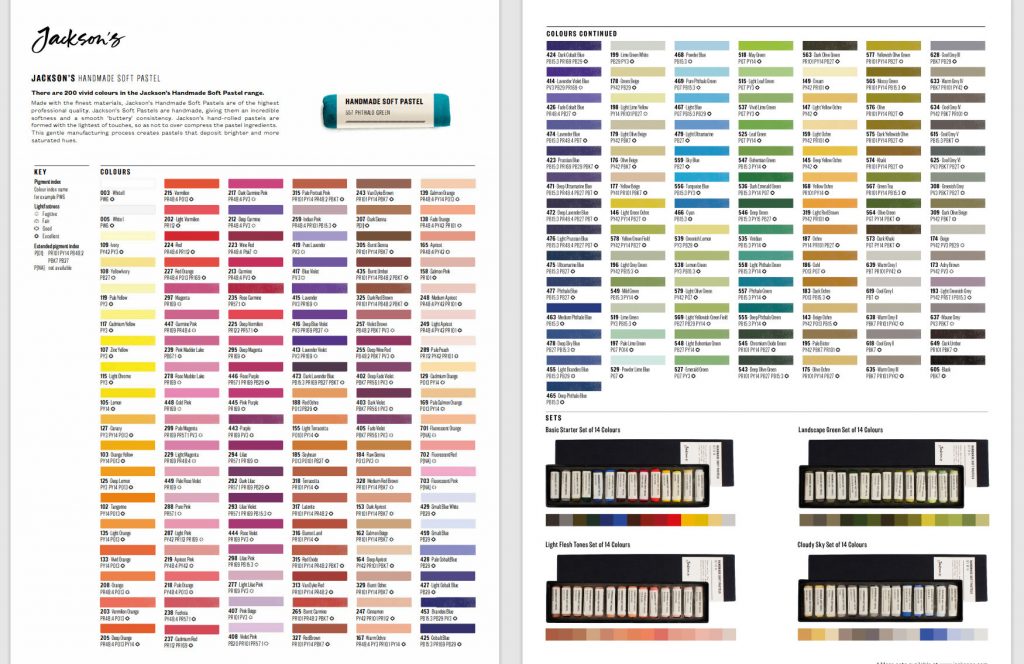 The sticks are medium-soft (leaning more towards medium than the soft range). Some pastels have residual glue when you remove the outer paper wrapper. The glue can be scraped off by making a few light marks on fine grit sanded paper (120-220 grit) 
Is it for you? 
If you live in Europe, ordering from Jackson's Art Supply is probably easier than having it shipped across the ocean to America. Jackson's has rotating brand-specific deals where the entire range of a brand is discounted 10-25% off their regular prices. If you can time your order with an ongoing sale, you can get the best deals on their curated 14 color sets with a storage box (MSRP $33 USD) or build your own set (MSRP $2.47 USD per stick).
Where to buy: 
Additional Product Information: 
Koh-I-Noor Gioconda Pastel Pencils
If you've read my unboxing review on Koh-I-Noor, you might already be familiar with my hesitancy to recommend the brand to artists. My number one gripe is their inconsistencies with their colors since they're in the process of reformulating their range. This means that one set may not contain the same colors as another set – even if the outer packaging looks exactly the same.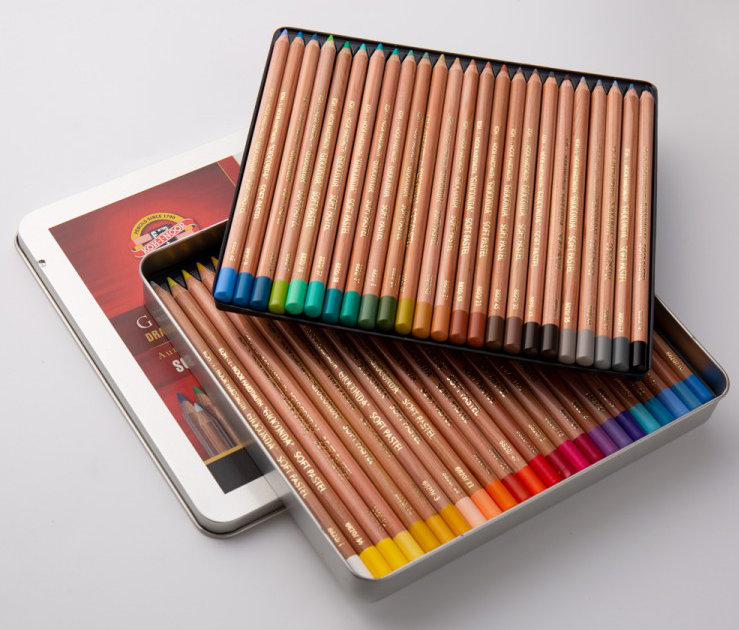 If you'd like to read the in-depth review, I've linked my blog post below:
HOWEVER, I have found that in the months after receiving my order, the Koh-I-Noor browns have been exceptionally handy, and the softer formula makes them wonderful to use in the preliminary layers of a drawing. Their neutral colors are very similar to the colors I covet from Caran d'Ache. 
If you're interested in my pastel pencil review guide, I compare the brands Conte, Caran d'Ache, Derwent, Stabilo CarbOthello, and Faber-Castell PITT in a separate blog post.
Koh-I-Noor products are made in the Czech Republic. I find that the brand rarely is mentioned in any pastel forum even though it has been around for just as long as many of the other well-known art manufacturers. It is probably due to the lack of advertisement in the U.S. that results in the low brand awareness. 
Is it for you? 
If you draw animals or human portraits, the neutral colors in the Gioconda line are wonderful. For a fraction of the price of Caran d'Ache pastel pencils (MSRP $4.40 USD per pencil) you get a good pastel in a nice wooden outer casing. Koh-I-Noor pencils work great layered and blended with all the other pastel pencils I regularly use (Caran d'Ache, Conte, Derwent, Faber-Castell). If lightfastness is an important property to you, I would highly recommend reading my review and evaluating for yourself if the color range is worth the investment.
Where to buy: 
Have you heard of the three brands I mentioned? Is there a pastel brand you love that deserves more attention? Leave your recommendations and thoughts in the comments! We can all discover new supplies. -Lauren