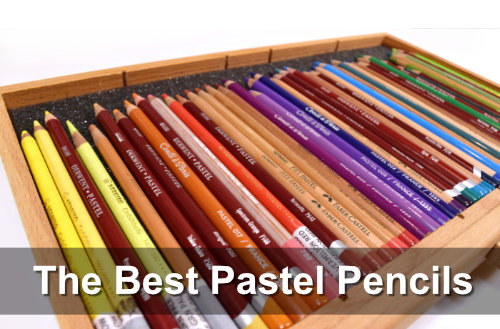 I have put together several tables and charts showing the costs and quality of the five brands I used over the past two years.
My current pastel art supplies are listed in a separate blog post. It goes into more detail on the paper, blending tools, and sharpeners I use on a regular basis.
The price and lightfastness data I provide is current to my knowledge as of September 2020. Keep in mind prices and brand offerings can change over time. If you see an error, please leave a comment with the correction and link to a source document to help myself and fellow artists.
As an Amazon Associate, I earn a small commission from qualifying purchases. Product links may include affiliate links. If you choose to use an affiliate link to shop for art supplies, your support helps keep this site ad-free!
Cost and quality are the two most important factors when I choose to invest in art supplies. I have analyzed the five brands (Caran d'Ache, Stabilo, Faber-Castell, Derwent, Conte) that I have personal experience using in this post. Some notable brands not included in this review are Bruynzeel, Cretacolor, Gioconda, and Daler-Rowney.
Cost Analysis
Manufacturer Suggested Retail Price (MSRP) data was taken from U.S. based art supply stores Dick Blick and Dakota Pastels in September 2020. Open stock (individual) pencils and sets may be found at prices less than the listed MSRP online.
I have also included prices for the 24 count sets in the table below (with the exception being the Caran d'Ache 20 count set) because I believe a small set can be a great way to sample a brand before investing in their entire color range. Sets are typically priced to be cheaper per pencil than buying pencils individually.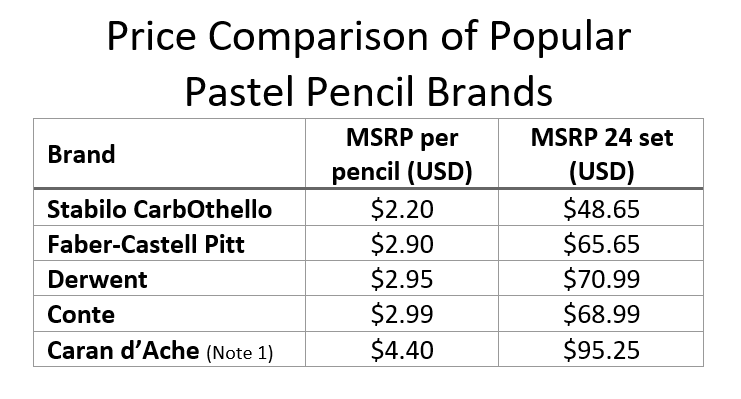 Cost Winner: Stabilo CarbOthello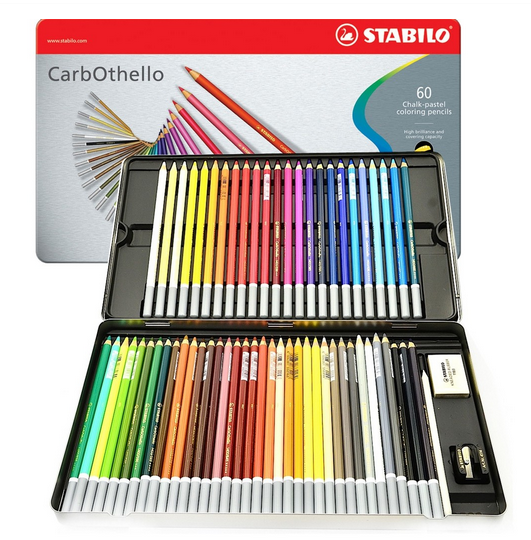 I believe cost is one of the main factors for artists when they first begin purchasing art supplies. I know for a fact that it was a very important part of my decision. CarbOthello was the first pastel pencil line I purchased in 2018.
Stabilo CarbOthello is by far the most affordable pencil price at $2.20 USD per pencil. In comparison, this is 24% cheaper than the next brand (Faber-Castell) and exactly half the price of the most expensive brand (Caran d'Ache). Purchasing the CarbOthello in sets will also lower the price per pencil (with higher savings corresponding with larger sets).
Where to buy:
Available individually (open stock) and in assorted sets below:
Quality Analysis
The metric for quality is based on two factors.
Fragility – the likelihood of a pencil to break during normal use and sharpening
Lightfastness – the ability of the pastel to resist fading when exposed to light
My experience with the fragility metric is based on using these five brands for two years. This metric is subjective and may be different for artists using various sharpening methods. Fragility is measured on a scale of 0 to 5. An evaluation of "5" indicates that the pencil brand has never or rarely broken during use. An evaluation of "0" implies that the pencil breaks consistently during normal use and sharpening.
Lightfastness is measured by most companies on a scale of 0 to 5. A score of zero implies that the color is fugitive (will fade very quickly over time when exposed to sunlight). A ranking of 4 or 5 is generally regarded as highly lightfast. Drawings made with pastel pencils in the lightfast range will last for many years with very minimal or no fading. Lightfastness ratings were taken from the respective official brands websites.
For the lightfastness metric, the average rating of the entire color range will be calculated. For brands that rate their brand on a scale different from the 0 to 5 range, the scores will be adjusted to provide a fair comparison. Note there is no universal lightfast standard requirement for pastel.
For the overall quality score, the total score is out of a possible 10 points. Because I believe both aspects of fragility and lightfastness are equally important, the total quality score will be the sum of the fragility and lightfastness ratings so that each factor has the same weight in the final score.
Now with price and quality presented together, you can see how the five brands compare.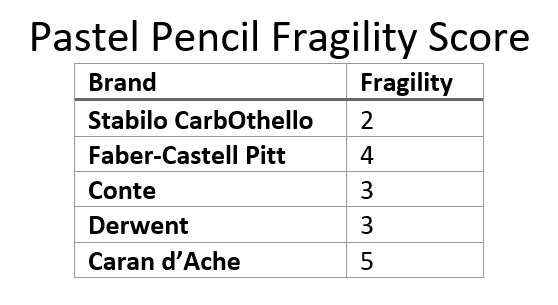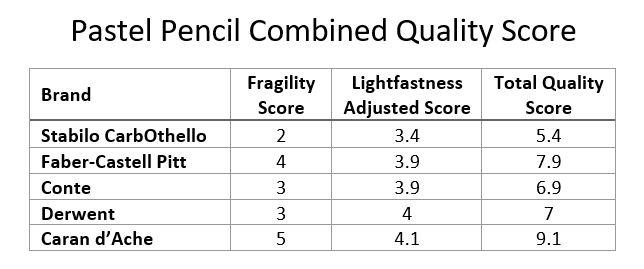 Quality Winner: Caran d'Ache
It's no surprise that Caran d'Ache took the top spot for quality as the clear winner of both fragility and lightfastness metrics. I was familiar with the Caran d'Ache through their Luminance colored pencils (which are a joy to use).
The pastel range has an excellent assortment of desaturated colors in a variety of hues. The Caran d'Ache pastel core is firm or slightly softer than Faber-Castell PITT, and the wood casings of all the pencils I own do not have any imperfections. The pastel pencils sharpen very well with my manual pencil sharpener and I have experienced zero breakage.
Now you may be wondering, is the quality worthy of the price (which is double that of Stabilo)? I would say if you have the budget to invest in a Caran d'Ache, you will not be disappointed. I personally only purchase the colors that I can't source from the other brands – specifically their pink and brown colors. Caran d'Ache makes up less than 10% of my pastel collection, but I can wholeheartedly rely on their pencils when I need that "perfect color" I can't find anywhere else.
Where to buy:
Available individually (open stock) and in assorted sets below:
Runner-up Quality: Faber-Castell PITT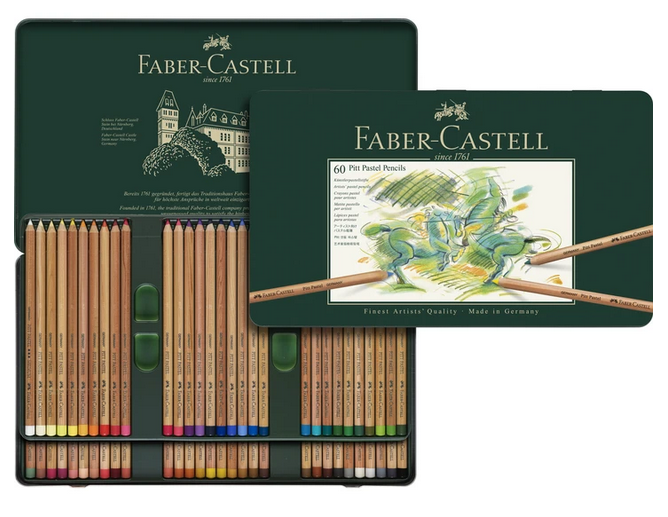 Faber-Castell's PITT line is the firmest of all the brands I've tried. If you are a colored pencil artist looking into trying pastels, the PITT pastel pencils will likely best suit your drawing style. The Faber-Castell pastel pencils are priced nearly the same as Derwent and Conte. The PITT pencils sharpen very well in many standard pencil sharpeners due to the firm pastel core and high-quality wood casing. I have experienced breakage only a handful of times.
For a bit more money than the Stabilo CarbOthellos, the Faber-Castell PITT pastel pencils will give you the ability to draw very fine details. If you draw pets, portraits, or subjects that require thin lines and high precision, I would highly recommend looking into this brand.
Where to buy:
Available individually (open stock) and in assorted sets below: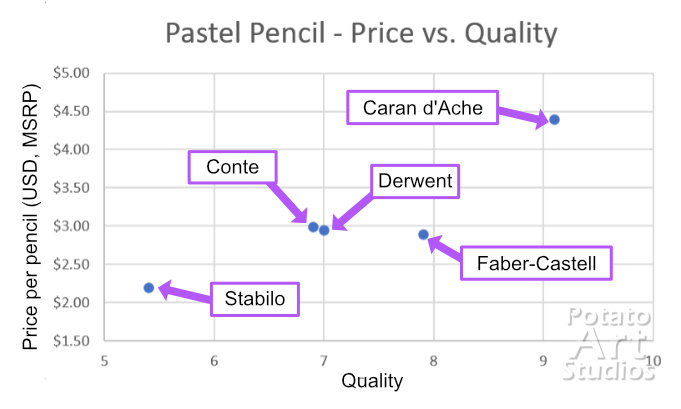 Overall Winner: Stabilo CarbOthello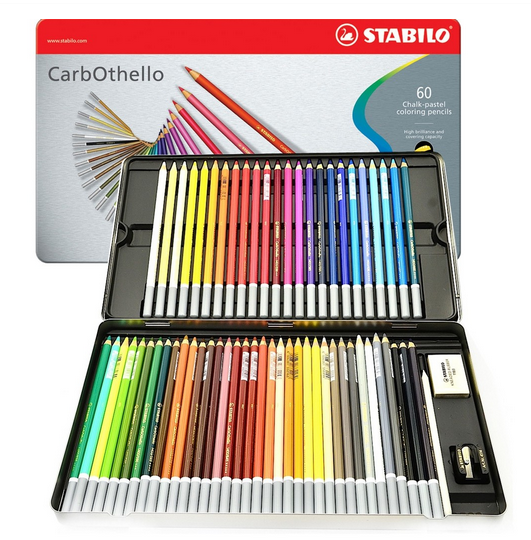 Stabilo CarbOthello is the overall winner in my opinion because of their accessibility, softness, and ease of use. Back in 2018, I purchased a dozen of Stabilo's pencils and used them for a few months before determining if I would acquire additional pastels. I had such a positive experience with Stabilo's CarbOthello line, that I chose to expand my pastel collection and also began looking into soft pastels and different pastel surfaces.
Another important factor of Stabilo is the level of firmness. I rank Stabilo as the softest of all 5 brands. Soft pastels are very prone to breakage, especially during sharpening. But the soft pastel core means that you have the ability to apply color quickly and easily. As an artist who enjoys working with charcoal, my transition to these soft pastel pencils was fairly smooth. I found that the learning curve for pastels was not as abrupt as other mediums I have tried in the past. Starting with Stabilo was a great springboard as I began experimenting with different pastel brands.
But know that Stabilo is not the perfect pencil. When it comes down to quality, only 28 of the 60 CarbOthello colors are rated 4 stars or higher (out of 5 possible for lightfastness). Many of the greens and the majority of the pinks and purples in this line are not lightfast. I supplement these colors with the other 4 brands (Caran d'Ache, Faber-Castell, Derwent, and Conte). If you are an artist looking to sell your pastel work, this may be a factor in your purchasing decision.
Stabilo is always the brand that I recommend to artists looking to try pastels for the very first time. The sets are fairly priced and are sold through many online retailers.
Where to buy:
Available individually (open stock) and in assorted sets below:
Overall Winner Runner-up: Derwent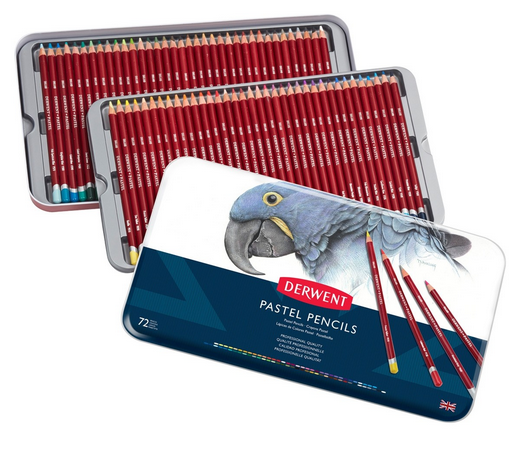 This may come as a surprise since I haven't talked about Derwent up until this point. Derwent sits in the middle of the pack as far as quality and price. But in the past year, Derwent pencils have consistently impressed me with their range of neutral colors. As an artist who draws a lot of animals, I heavily rely on the Derwent line for browns and grays with various undertones.
In my work, I consistently use Derwent the most out of all 5 brands. Derwent is slightly firmer than CarbOthello, but softer than Faber-Castell and Caran d'Ache. If I were to lose all of my pencils and have to repurchase them, Derwent would be the first order I place online.
Where to buy:
Available individually (open stock) and in assorted sets below:
Last Place Brand: Conté
Conté is a good brand, but in comparison to the other 4 brands, it was clearly the last of the bunch. The color range is limited at a mere 48. The larger pencil diameter makes it extremely difficult to sharpen with every manual and electric sharpener I own.
But Conté is priced well for the quality of the pastel inside. You'll need to have patience while sharpening and you may find yourself having to layer and blend a lot to achieve the same range of colors as other brands.
I would not dismiss Conté entirely. If you see a set on sale, it may be worth picking up – just know that you'll likely need to invest in additional brands to get a full range of colors you'll need for your next drawing.
Where to buy:
Available individually (open stock) and in assorted sets below:
Have a pastel brand recommendation? Do you agree or disagree with my evaluation? Leave a comment below to help other artists make informed purchasing decisions.
-Lauren