What would you do with $1000 to spend on art supplies? In my previous post I put together a list of pastel recommendations for different budgets ($35/$75/$150+ USD). The items I selected were based on my experience using different pastel brands over the years.
In this blog, I'll be highlighting my personal wish list. Now if you've been using pastels for a while, you likely have the basic assortment of pastels in the standard rainbow. Once you start exploring the world of pastels (although let's be honest, it's basically pastel collecting after a certain point), you will inevitably stumble upon the small "indie" manufacturers and established European companies with fairly pricey pastels. Here are the 7 sets I would buy with ten Benjamin's.
As an Amazon Associate, I earn a small commission from qualifying purchases. Product links may include affiliate links. If you choose to use an affiliate link to shop for art supplies, your support helps keep this site ad-free!
Terry Ludwig | Intense Darks II
Since the start of my pastel journey, I've heard nothing but good things from Terry Ludwig. This small business makes their products in Colorado, USA. They are known for being exceptionally soft with highly pigmented colors in the pastel community. Their dark purple called "Eggplant" (color number V100) has a cult following all on its own. I've eyed several of their sets, but the Intense Darks II is the first set I would throw in my basket.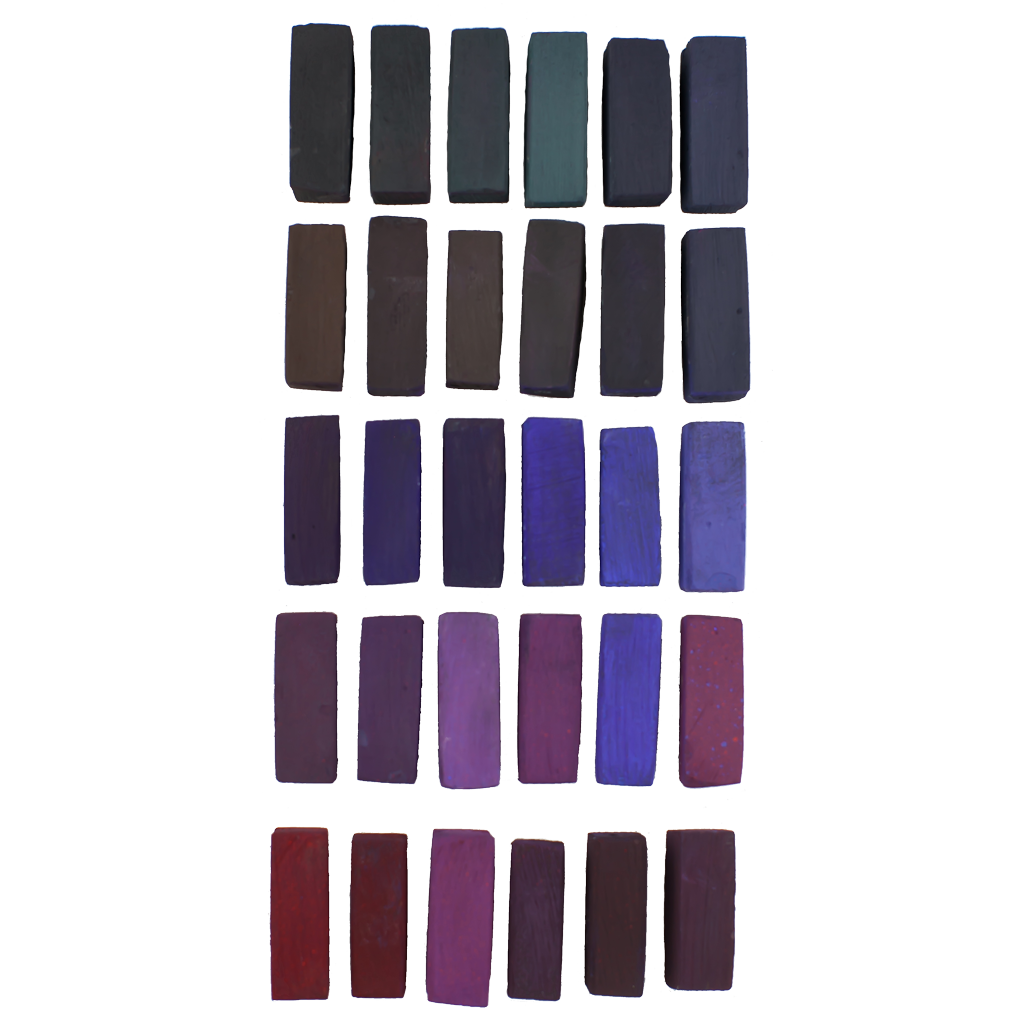 Where to buy:
Girault | Parietal and Skin Tones Sets
I first learned about Girault from reading Ellen Eagle's book Pastel Painting Atelier earlier this year. Ellen almost exclusively uses Giraults on her homemade sanded boards. After looking into their color range, I can easily see why. They have the largest range of neutrals I've ever seen from a brand. But at nearly $5 USD for a very slim stick of pastel, I haven't found the resolve to buy a set for myself. At this high price, not many retailers carry Girault. I believe in the U.S., Dakota Pastels in Washington and Fine Art Store in New York are currently the only stockists of this French brand.
I had a very difficult time choosing which set I would pick. Their greens and blues are stunning. If I had an unlimited budget, I would easily add the entire 300 color set (which costs a whopping $1,300 USD). But for my wish list, I've chosen two 25 count neutral sets called Parietal and Skin Tones. Each set is $125 USD from Dakota Pastels.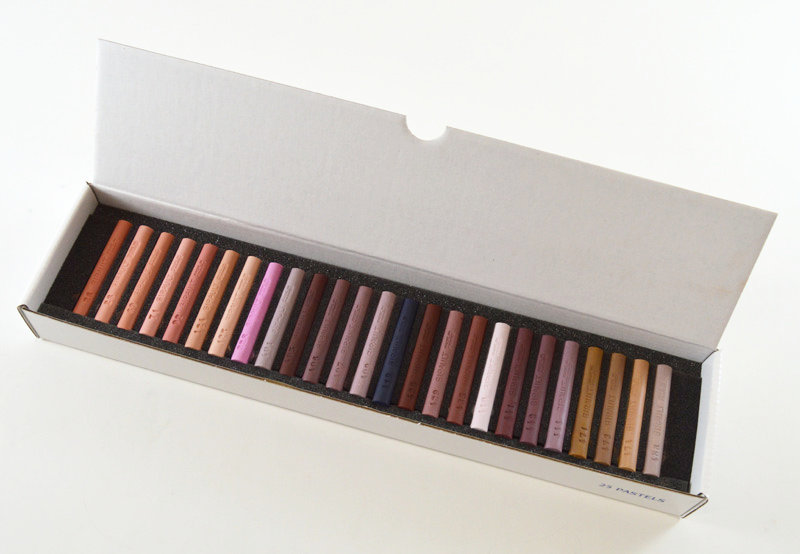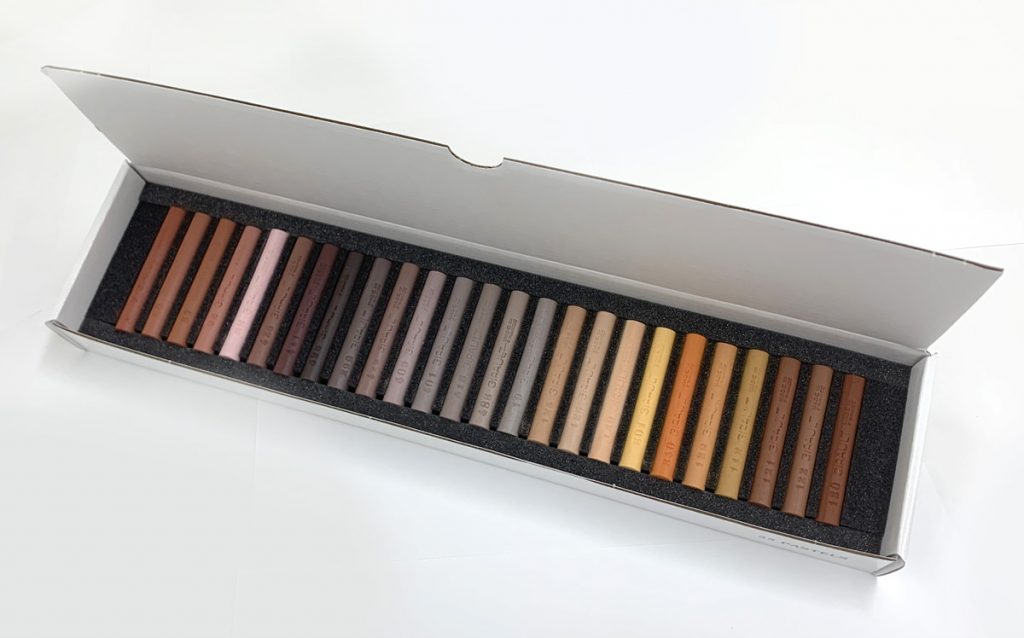 Where to buy:
PanPastel | Extra Dark Shades
Okay, okay I know I've been critical of PanPastel in my very first blog covering this brand, but if I had some extra cash, I would grab their set of "Extra Dark Shades" without any hesitation. The shape of PanPastels can be misleading, but you do get a fair amount of product for the price. If you want to read more about my cost analysis, I have more info linked below:
Recently, I've been interested in doing larger pastel drawings and PanPastels can be a great addition to any pastel artists' set – even if you already own similar colors in stick or pencil form. For under $100, you get a reasonable selection of colors with a few sponge tools that are actually useful.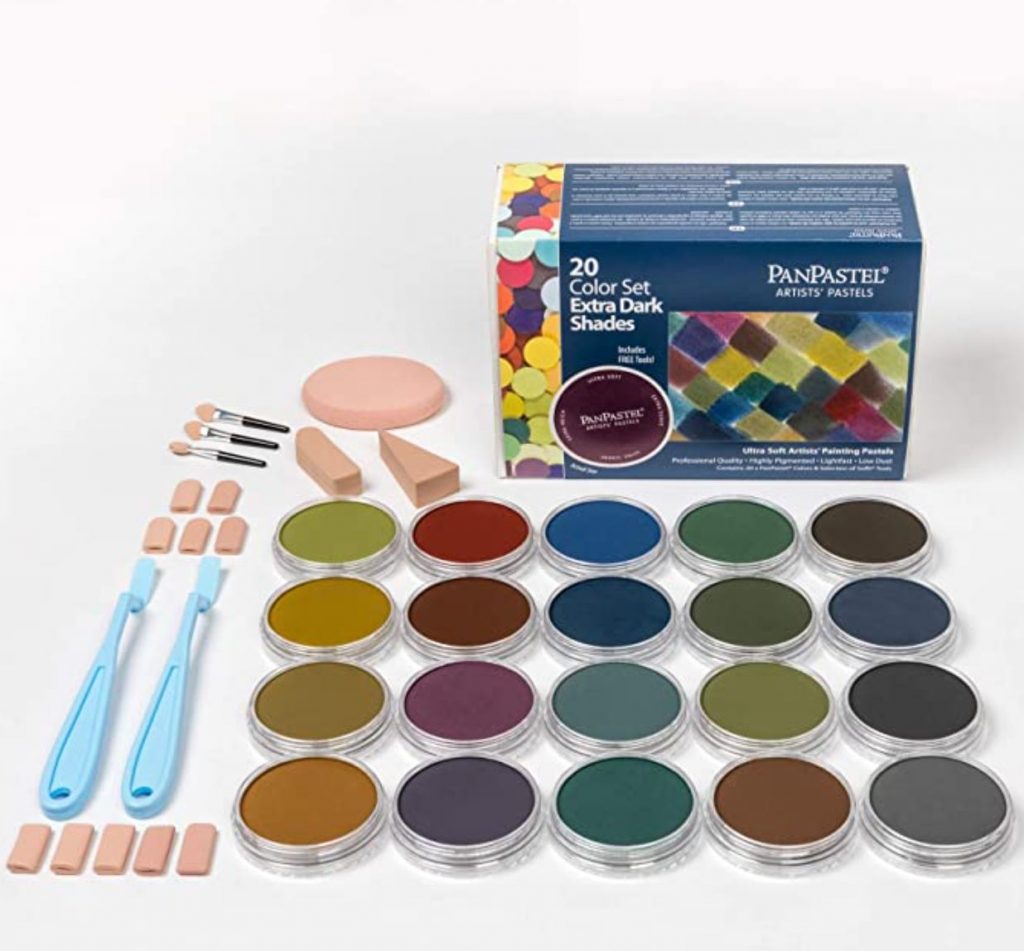 Where to buy:
Mount Vision | Thunderstorm set
Mount Vision gives me the impression of a smaller batch pastel company compared to Terry Ludwig. Based in New York, USA, the Mount Vision website does look like it was made as a high school web design project in 2000. But it has all the information about colors and pigments that you need to build your own set or choose from their 17 curated sets.
I bought a small set of purples and pinks in the last year and I can say wholeheartedly that you get a lot of pastel for your money. They are easily the biggest pastel sticks I own and the consistency is in between the medium and soft brands. The Thunderstorm 25 color set has a beautiful range of desaturated blues, pinks, and purples.

Where to buy:
Art Spectrum | Darks 30 color set
If I ever travelled to Australia, you bet I would bring an empty suitcase just to fill up on Art Spectrum products. I'm still tickled at the thought of Art Spectrum making their own line of colorful pastel papers, pastel grounds, AND a line of pastels that match spot-on with each other. Why don't all pastel manufacturers do this?!
Going back to the topic of pastels, their curated sets are very punchy and beautiful. I'm still kicking myself or not picking up several sets when they popped up on Ebay earlier this year. The U.S. unfortunately does not carry all of the sets available in Australia. But the "Dark" 30 color set is in stock through Dakota Pastels.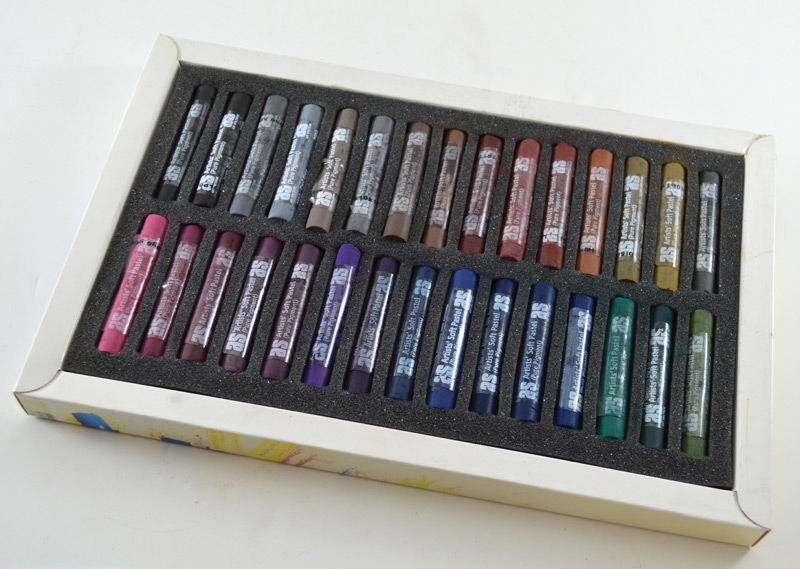 Where to buy:
Caran d'Ache Pastel Cubes
Through correspondence with a customer service representative on the Caran d'Ache official site, they will be discontinuing their pastel stick line. I love the pastel pencils from Caran d'Ache very much, so I'm sad to see this product line disappear. There are 84 colors available for individual purchase, but many art suppliers have a limited stock. There are no sets available. If you're thinking about trying this product, I would recommend purchasing a few colors before it's too late.
In order to stay under the $1000 budget, I'll remove the standard rainbow colors I already own and add the remaining 60 colors to my cart.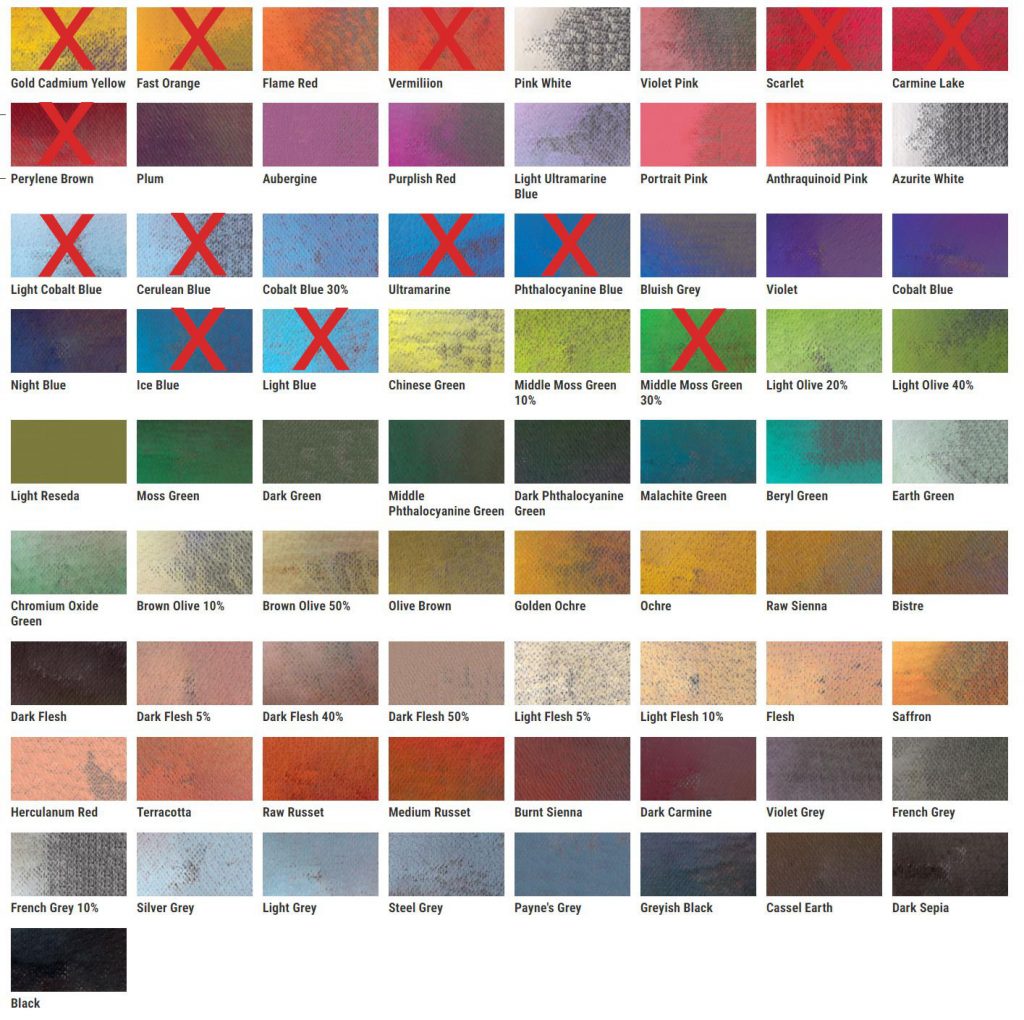 Similar to Girault, these sticks are pricey for how small they are. But hey, if we're spending money, I'd grab this quality brand without hesitation.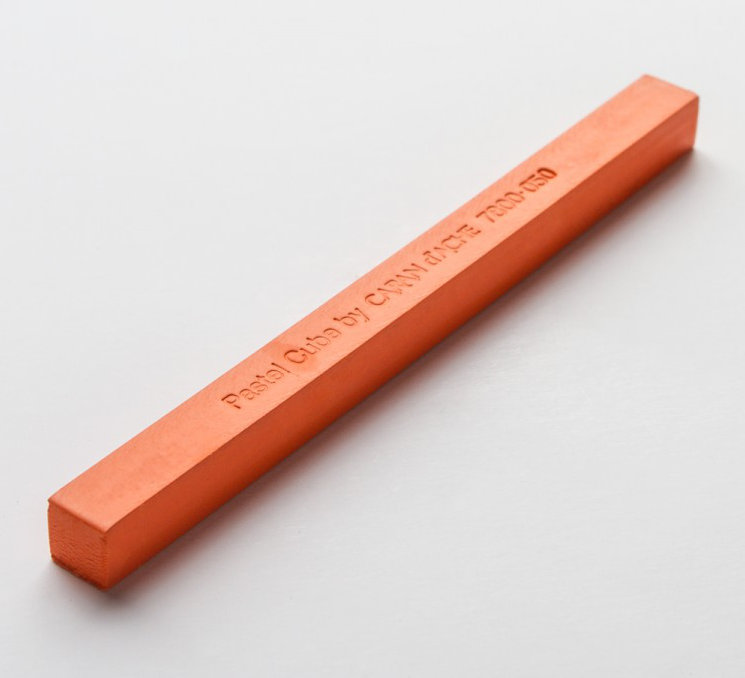 Caran d'Ache pastel cubes are available in the U.S., but the lowest price I found was through Jackson's Art Supply located in the U.K. for $3.44 USD per stick at the time of this post.
Where to buy:
Final Thoughts
So what did $1000 USD buy with my items? The seven pastel sets included 215 colors for a total of $960 USD (excluding sales taxes and shipping fees). This breaks down to $4.47 USD per stick. For many established pastel brands, $5-$8 is fairly standard pricing.
What do you think of my picks? Have I persuaded you to check out a few different brands? If you're interested in learning more about my pastel reviews and recommendations, check out my previous blog posts.
Share your own list of pastels that you would enjoy trying in the comments below! -Lauren