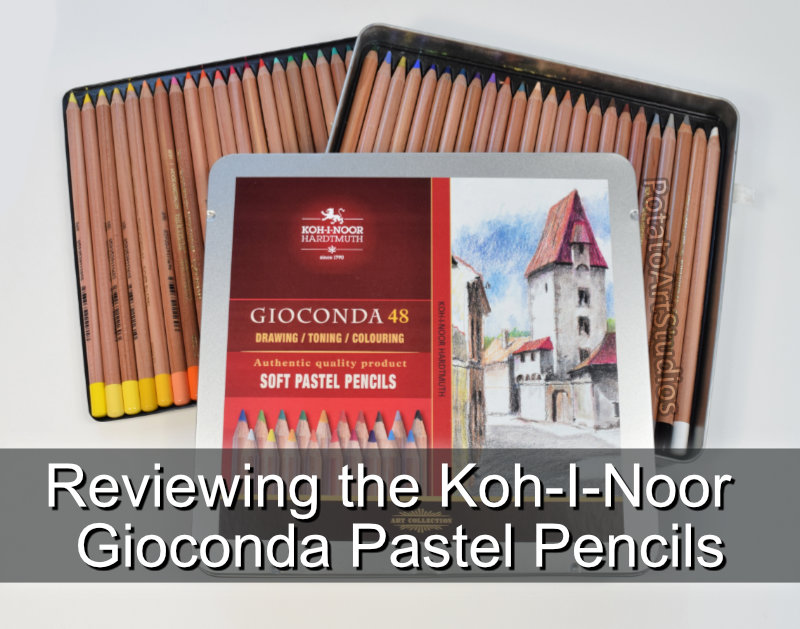 If you're like me and looking for a good deal for art supplies, you may have seen the brand Koh-I-Noor pop up in searches. Koh-I-Noor stands out immediately because their pricing is substantially lower than many popular brands. If you've read my comprehensive pastel pencil guide, I've previously covered the brands Conte, Drewent, Faber-Castell, Caran d'Ache, and Stabilo.
If you are interested in my first impressions and unboxing, I have a YouTube video here:
Update June 25, 2021 | Additional information has been updated in the "Color Numbering Discrepancies" section
Cost Breakdown
As an Amazon Associate, I earn a small commission from qualifying purchases. Product links may include affiliate links. If you choose to use an affiliate link to shop for art supplies, your support helps keep this site ad-free!
After comparing prices, I found that the best price was the complete 48 set through Amazon. I purchased the full set of Gioconda pastels on April 4, 2021 and received my package on April 9, 2021. I chose standard free shipping for my order. The retail MSRP for this item is $117.80 USD. At the time of purchase, the item was listed as $54.84 USD.
I paid $59.91 USD including sales tax. Your delivery time may vary depending on your location.
Where to buy Koh-I-Noor Gioconda pastel pencils:
If you are concerned about lightfastness, one very important distinction to make when buying sets is the price per unit of the pencils you would actually use.
Koh-I-Noor provides a color chart on their official website here.
I've uploaded the color chart below.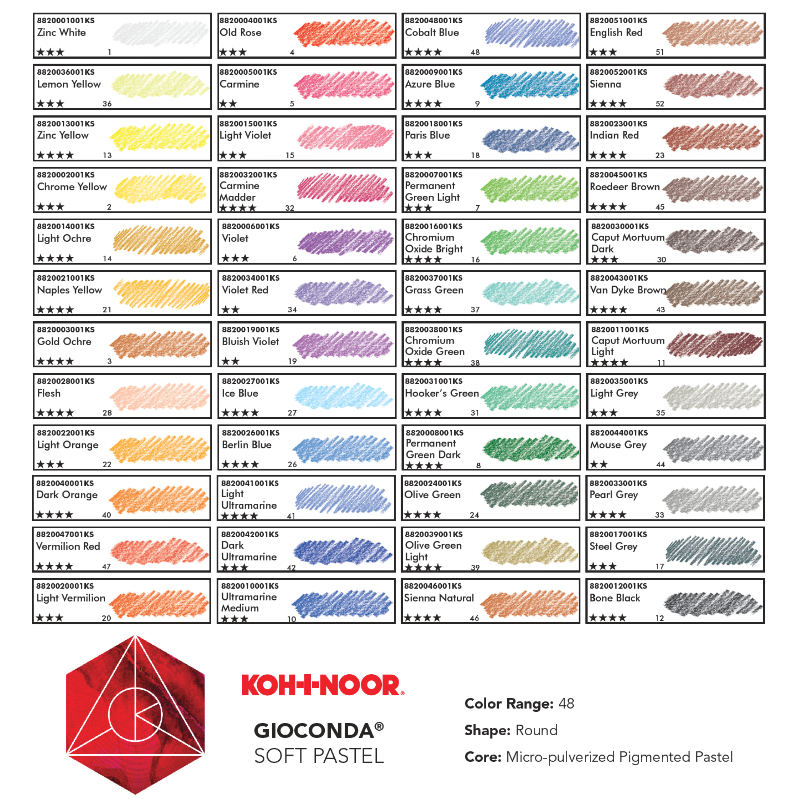 Koh-I-Noor rates their lightfastness on a scale of 1 to 4 stars with 4 stars being highly lightfast. Surprisingly, only 4 of the 48 colors are rated two stars. There are no pencils rated 0 or 1 stars.
If we remove the fugitive (or non-lightfast 2 star colors), the price breakdown per pencil is shown below.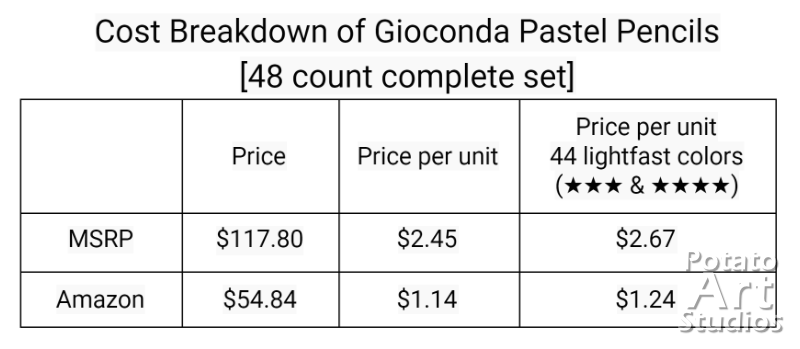 48 colors is a good amount for any artist who is curious about trying pastel pencils. The overall color range is fairly standard, and a few notable shades include their range of red-browns that are similar in hue to some of my favorites from Derwent.
Color Numbering Discrepancies
The biggest surprise I found was the numbering inconsistencies within my set in comparison to the official color chart on the Koh-I-Noor website. The advertised range has one or two digit color numbers with 52 as the highest color number.
A grand total of 10 of my pencils had three digit color numbers stamped on the end. The numbers were 140, 150, 151, 155, 165, 173,182, 183, 189, 190. These numbers did not match up with the numbers on the color chart.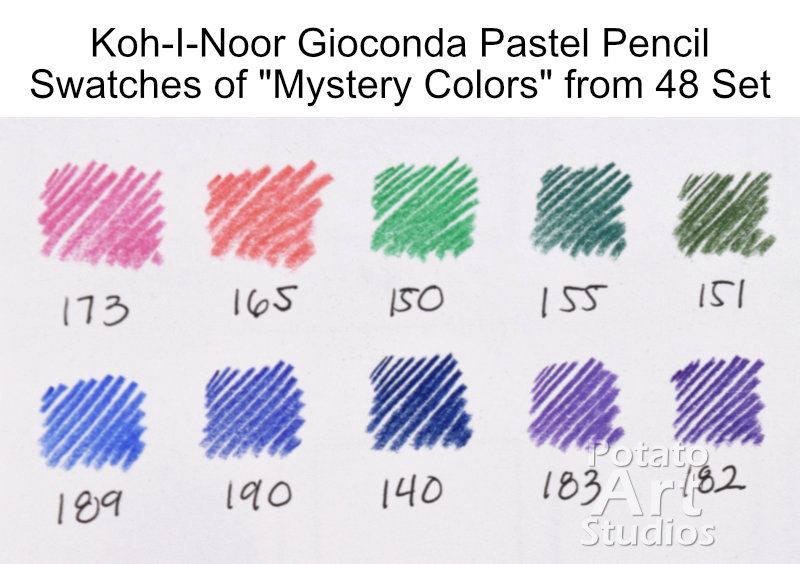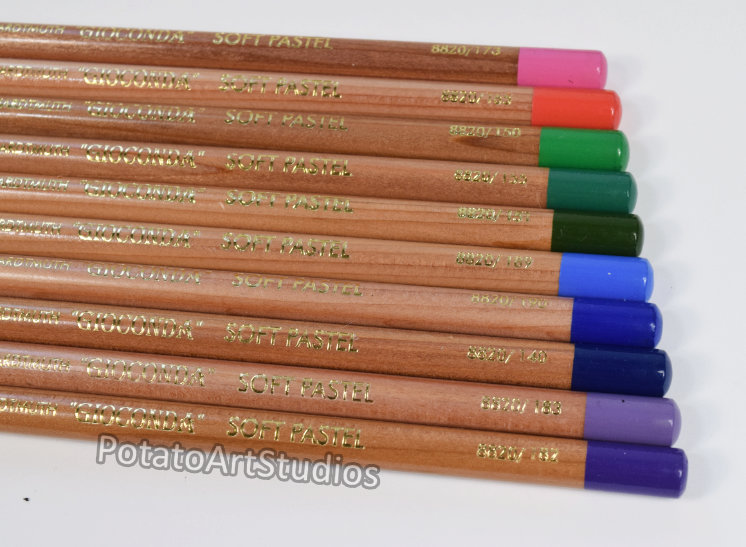 I've circled the 10 colors that I do not have from the official color chart in red below. Comparing my color swatches to the color chart, many of the colors look similar. However I cannot conclude that the lightfast ratings are the same just because the colors look similar. To be conservative, I've removed the two fugitive two star colors (Carmine and Mouse Grey), and the 10 mystery 3-digit colors.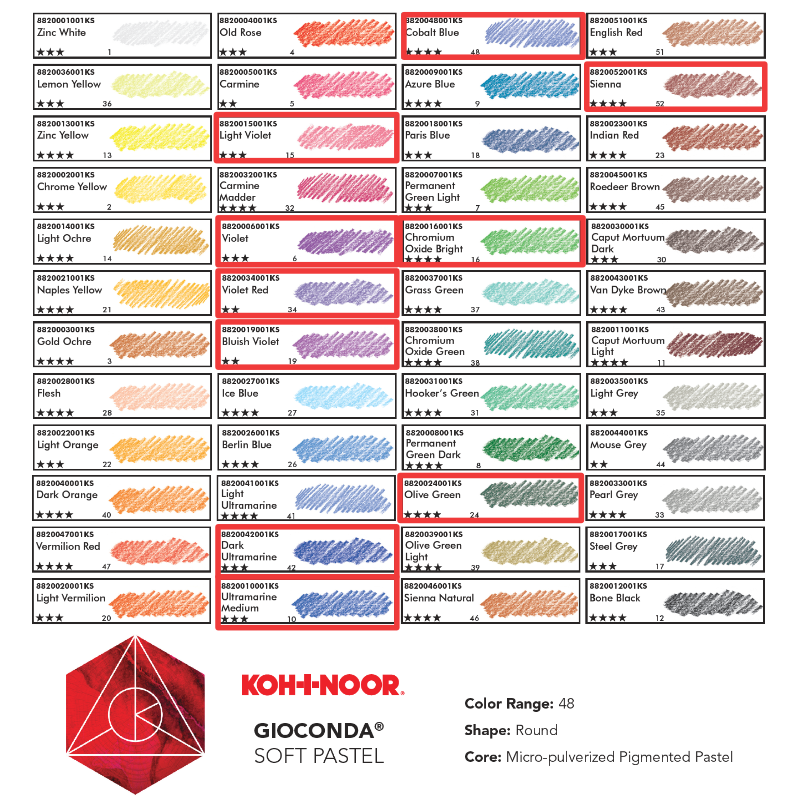 If we remove the 10 "mystery colors" and the non-lightfast colors, the cost per pencil jumps substantially from our first calculations

In the art world, manufacturers will occasionally reformulate their products and assign new names, numbers, and barcodes so that their distributors can distinguish the old version from the new version. When this happens, there is usually documentation in their website or a press release that will display the new and discontinued colors.
After searching for hours online and attempting to contact both the U.S. Koh-I-Noor distributor (ChartPak) and Europe distributor, I was unfortunately unable to solve my color numbering mystery.
UPDATE June 25, 2021 | New Color Chart and Numbering Information
Susie K. contacted me with additional information from a Koh-I-Noor representative. I've attached the updated color chart which shows 24 of the 48 color range labeled with the "newer" 3-digit colors. The 10 mystery colors I swatched now have official color names. The lightfastness ratings are unfortunately not available.
Reviewing Susie's correspondence with the Koh-I-Noor representative, it appears that many of the colors needed to be reformulated for various reasons. I don't want to misrepresent Koh-I-Noor's words, so I've quoted their official email response below:
Gioconda Pastel Pencils have gone through many changes over last couple of years. We were forced to change several colour shades or completely replace some colours due to several reasons. Some of the pigments are no longer available, some others didn't meet the quality atributes especially as concernes lightfastness, durability or health safety. The transition process to the new colours is continuously taking over some time. Not all discontinued shades were replaced at one moment but gradually after all stocks of a certain discontinued shade have been used up.

-Marcela, Koh-I-Noor Export Department Representative
My understanding of the emails is that the Gioconda sets are being produced with different colors and numbers. If you wish to purchase a set of Gioconda pastel colors, you may receive an 'older set' that has the original formula or a 'newer set' where up to 24 colors will have the updated formula (indicated by the 3-digit numbering).
Reordering and Potential Issues
Unlike many of the 'big' art manufacturers, I found it extremely difficult to find an art retailer that sold Koh-I-Noor pastel pencils individually (also referred to as "open stock"). In the U.S., I believe Dakota Pastels is one of the few retailers that sells individual colors. As of the time of this blog post (June 2021), several of their colors are out of stock and there is no restock date provided. I was able to get in touch with a Dakota Pastel representative and they were not aware of any changes to the color number discrepancy I experienced.
Open stock colors are available in Europe, but anything ordered internationally will have longer shipping times and expensive shipping fees. And when it comes to fragile pastels, longer travel distances also means higher risk of damage. If you end up really liking the Gioconda pencils, you may find yourself in a pickle and a long wait when it comes time to reorder colors.
Quality
After two months of use, the colors within the Gioconda line are fairly consistent in formulation and overall softer than the brands I've tried in the past. Prior to trying Gioconda, the Stabilo CarbOthello pastel pencil line was the softest brand in my possession.
Depending on your personal preference, you might find the texture of the Gioconda pencils attractive or unappealing. If you typically use a lot of pressure when you draw, the tips of these pencils can break under a heavy hand. However, if you own a few Stabilo pencils and wish that they were softer, you may be looking at your perfect 'Goldilocks' brand.
I personally find Gioconda a good workhorse for early layers in a pastel drawing because they blend well and work alongside my other brands of pastel with no issues. I'll slowly phase out the Giocondas in favor of firmer Derwent or Faber-Castell PITT pastel pencils when it comes to drawing fine details in the finishing stage.
Fragility
Pastel pencils are notoriously difficult to sharpen. I have an entire blog post dedicated to my personal favorite sharpener I've recommended to artists below
Due to the softness of the Koh-I-Noor core, I had some concerns when it came time to sharpen them. One of my main complaints with Conte brand pastel pencils is that they shatter the most frequently of any brand I own.
I recommend having a sharp blade and slowly turning the pencil to have the most control during sharpening. The wood casing is high quality and similar to the Faber-Castell PITT pastel pencils. If you have patience (that you've undoubtedly developed for all your pastel pencils), there's no significant difference between sharpening a Koh-I-Noor pastel pencil compared to any other brand.
And just like all delicate supplies, if you plan to do some plein air drawing or travel with these pencils, always pack them in a sturdy case with padding around the sharpened end to prevent breakage.
Overall Thoughts
If you are new to pastels and looking for an affordable line, purchasing any Koh-I-Noor Gioconda set at the price of under $1.50 USD per pencil is a great deal in my opinion. This line can be an excellent addition to your pastel collection if you prefer a softer core in your pastel pencils.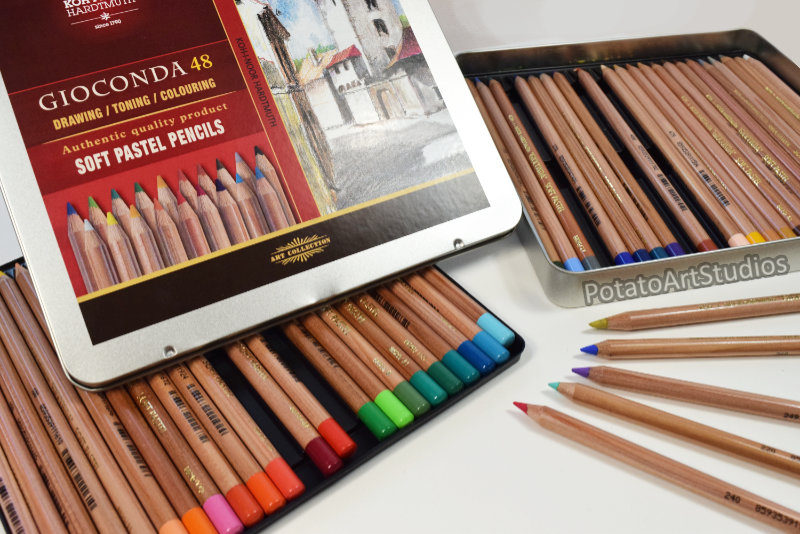 There are a few unique colors in the neutral (brown/gray) range, but I don't think it's worth it to purchase an entire set if you already have the standard rainbow assortment in other pastel pencils. I would recommend picking up these special colors "open stock" if you can find a retailer in your country.
The fact that 10 of the 48 colors are inconsistent with the official color chart prevents me from being able to include Koh-I-Noor in my pastel brand comparison because of the unknown lightfastness ratings.
Products mentioned in this post:
Koh-I-Noor Gioconda Pastel Pencil Sets:
Now that you've made it all the way to the end of the review about Koh-I-Noor's Gioconda pastel pencils, would you consider purchasing them? If you already own Giocondas, how do you like them? Let me know in the comments! -Lauren