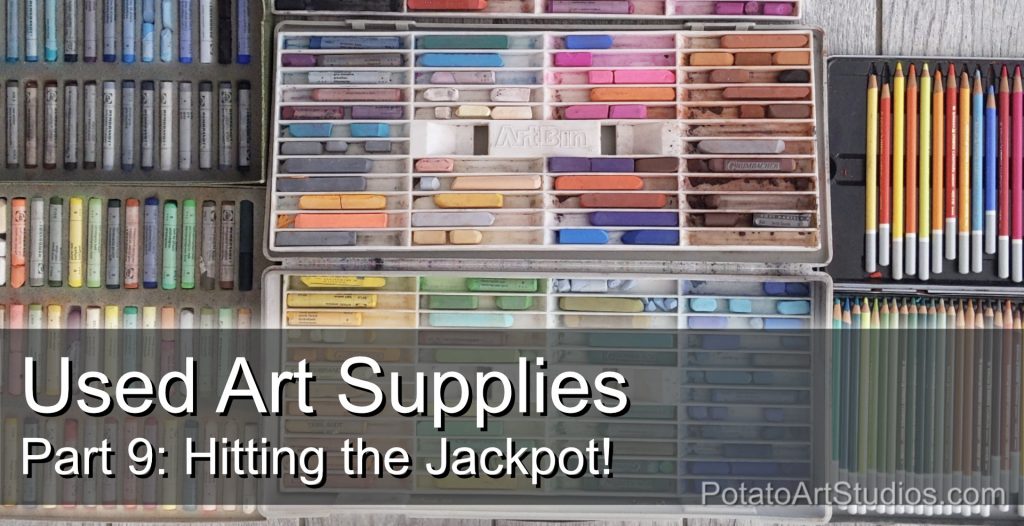 If you've read the last three parts of this series, you'll know that I've scored several great deals and saved anywhere from 30-60% off the retail price. But my latest purchase knocked my shoes off. After the positive experience purchasing my set of PanPastels from Facebook, I decided to give Facebook another go.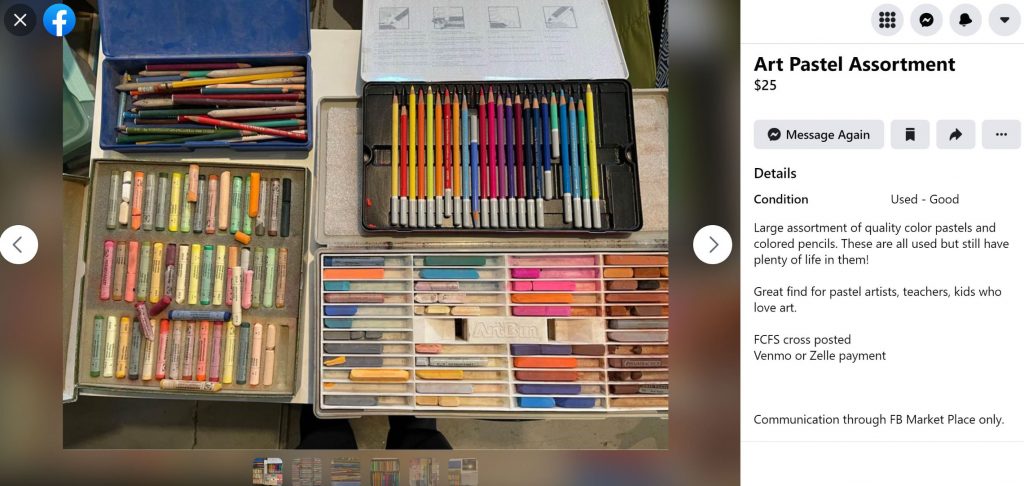 This particular listing was posted on my local Facebook Marketplace. I monitor eBay on a weekly basis and Facebook once or twice a month. I stumbled upon this listing late at night when I had trouble falling asleep.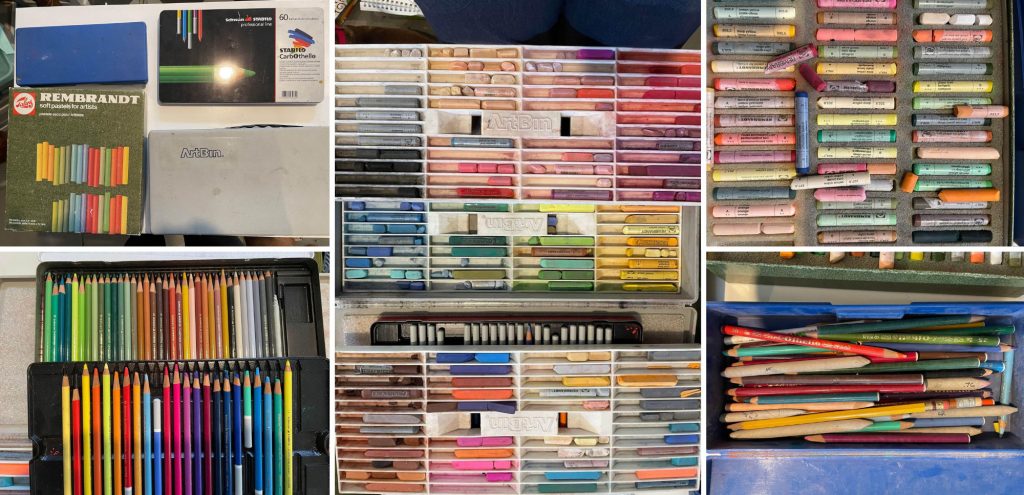 This listing caught my eye due to the sheer quantity of items included. By the time I spotted this listing, the post was already a week old. I didn't know if it was still available, but I messaged the seller the following morning.
Communication, Transaction, and Pickup
Luckily for me, the items were still available! The terms of sale were very straightforward. Payment was required upfront through Venmo or Zelle. Once payment was received, the seller would provide the address for pickup. Due to the unusually low price, I assumed that they were getting rid of art supplies from a friend or relative. There was also a small chance in the back of my mind that this listing was potentially a scam.
Within 12 hours of contacting the seller, I provided full payment through Venmo, received the seller's address, and arranged a time for pick up the following day. In the rare case a second buyer was involved, I wanted to get the supplies in my hand ASAP!
Unlike my previous three purchases, this was my first local pick-up from Facebook. My Facebook Marketplace is set to display relevant search results within a 60 mile radius of my city. The seller lived about 30 miles away and I calculated that it would be a little more than an hour round trip.
The morning of the pickup day, the seller set all of the supplies in a box on their front porch and provided a photo of the location. The exchange did not require myself and the seller to meet in person (which I appreciated since there are still concerns over social distancing). Before I left, I told my partner where I was headed beforehand and gave an expected return time just for safety. If you want to read up on more safety tips, I've covered the basics in an earlier blog post below:
When I arrived at the seller's street, I made sure to park a few houses away from the home. The exchange went smoothly as expected.
Product Condition
I didn't want to spread everything out on the seller's driveway. I checked that the four pastel boxes were included, loaded the items in my trunk, and headed back home. As soon as I returned, I was eager to check out my haul. I purchased all of the items below for $25 USD!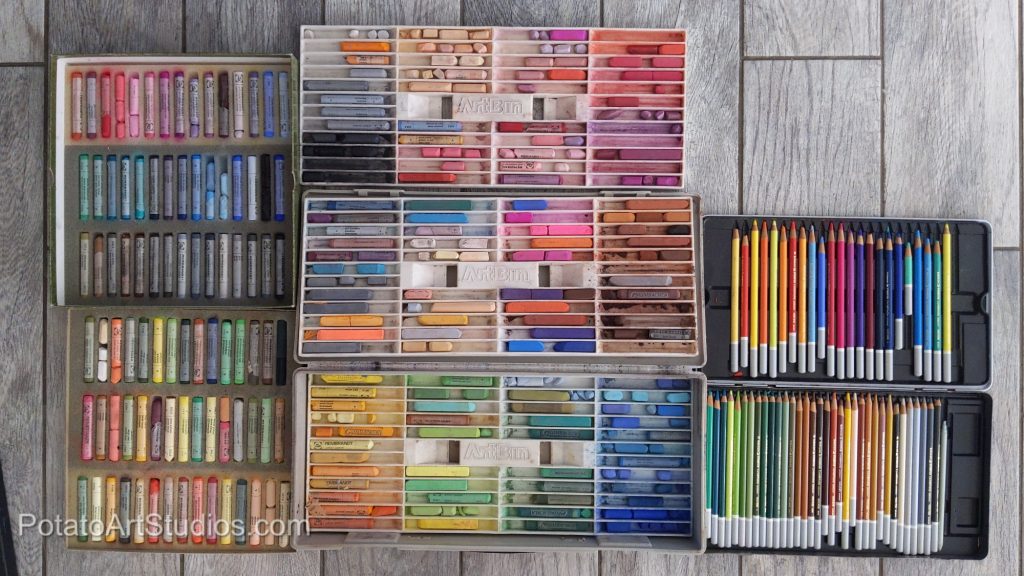 Rembrandt 90 full-stick landscape set [10% used]
Rembrandt assorted open stock sticks (qty. 32) [50% used]
Grumbacher assorted sticks (qty. 70) [20-75% used]
Stabilo CarbOthello pastel pencil complete 60 set [15% used]
Artbin 3-layer pastel storage case
Upon unboxing my haul, I discovered the seller also threw in a few additional goodies. The 37 Stabilo pencils in the top row of the image below are from an older generation of Stabilo products. The 10 blending stumps are still in excellent condition and I've already included them into my blending tool kit.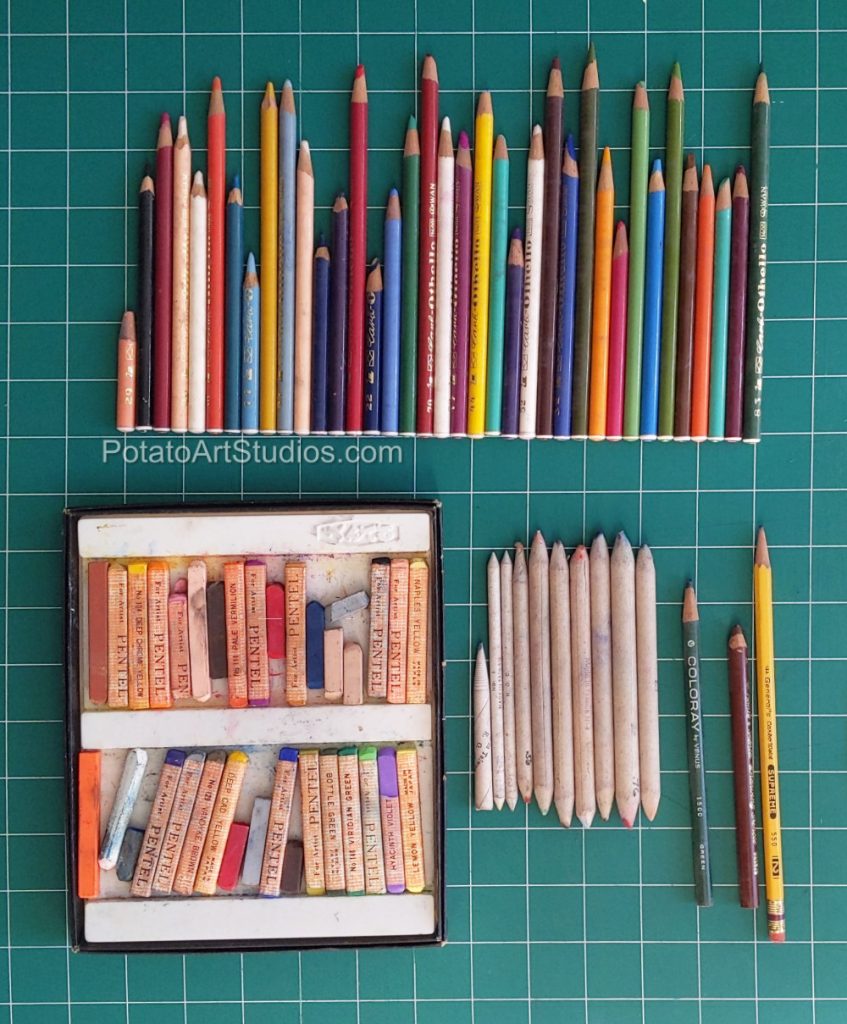 Bonus items:

Stabilo pencils (qty. 37) [10-75% used]
Pentel oil pastels (qty. 30) [40% used]
Paper blending stumps (qty. 10)
Cost of Procurement
When purchasing items online, the cost of procurement is very straightforward: product price, sales tax, and shipping. For in-person purchases, there are two different factors that should be part of your calculation: transportation costs and your time.
For transportation costs, this is a rough estimate based on a fuel efficiency of 30 MPG. The seller was located 30 miles away from me, making the round trip distance 60 miles. With a gas price of $4 USD per gallon, we can calculate the transportation cost as:
(60 miles)/(30 miles per gallon) x ($4 /gallon) = $8 spent in gas
The second factor is how much time it took out of my day to pick up the item. I was able to arrange pickup on a day when I wasn't particularly busy so it was just an hour of my time. If you have a particularly packed schedule, the inconvenience of taking time off may be a deterrent for some artists.
Value
While it can be difficult to put a price tag on everything, I've calculated the value based on MSRP if a comparable set is available. Prices were obtained from the website Blick.com. For discontinued items, such as the Artbin storage and Grumbacher pastels, my evaluation is based on similar items sold through eBay in the last 12 months. If the items were used, I subtracted a portion of the product's value based on the percentage of the sticks/pencils that were used.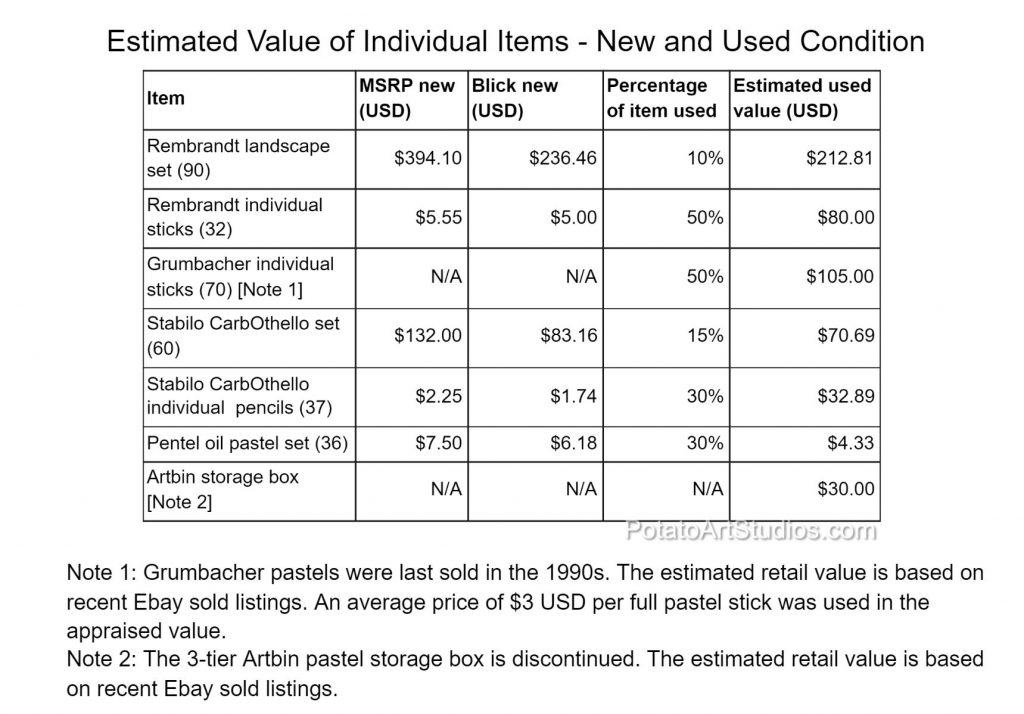 One issue that may or may not be a concern to artists is the lightfastness rating of the supplies. I have a personal policy to not sell any artwork that is made with fugitive or non-lightfast colors. The Rembrandt pastel sticks and Stabilo pastel pencils in the tin set both have the lightfastness ratings clearly printed on each item. Unfortunately the Grumbacher pastels and the older Stabilo pencils have no lightfastness ratings.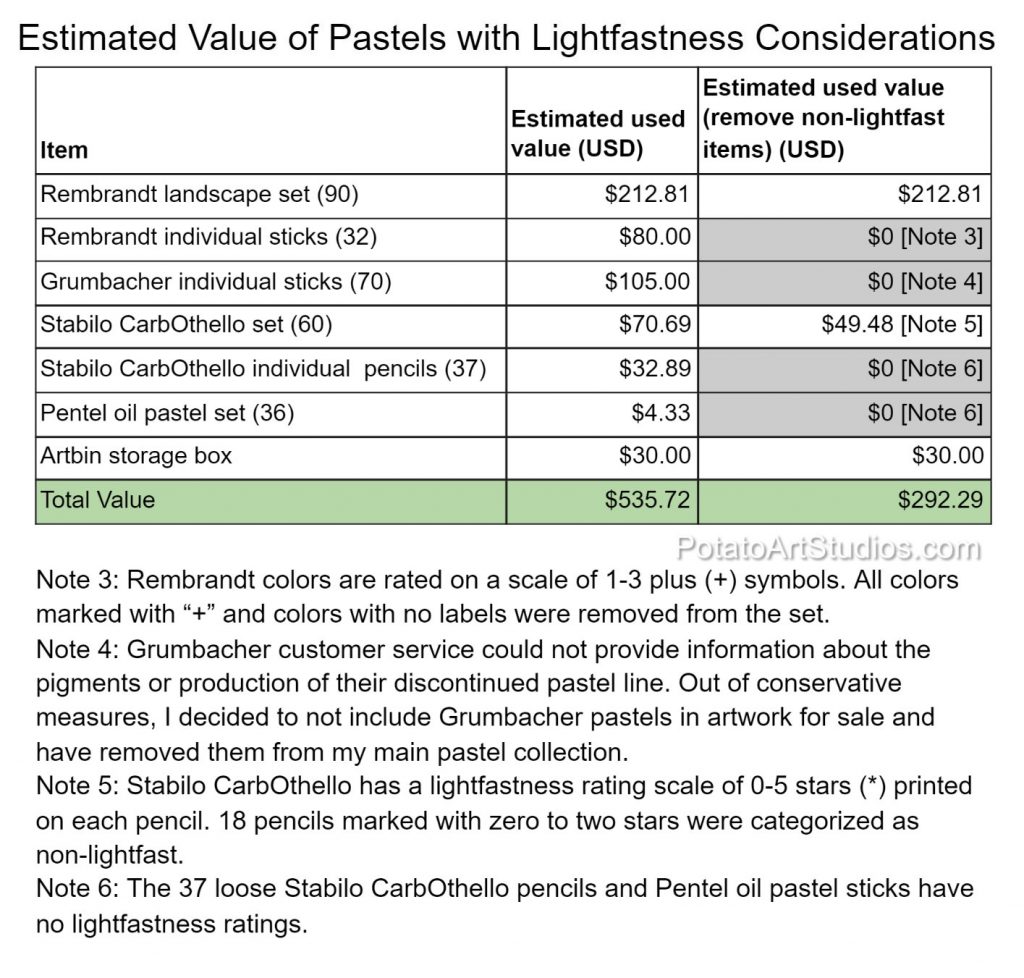 The lack of lightfastness information does reduce my perceived value of the entire collection, but that does not prevent me from creating artwork that I can display in my own home or turn into fine art prints.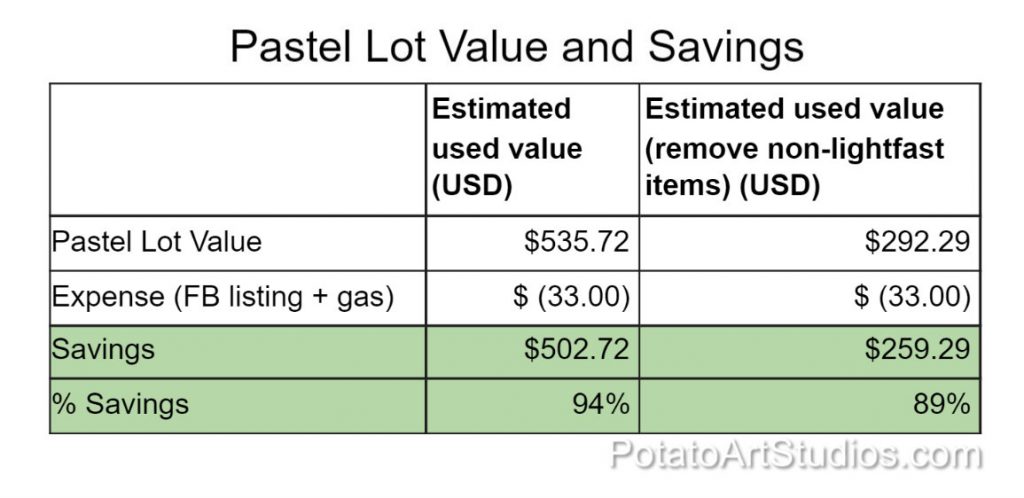 Regardless of where your stance is with lightfastness, this set is still a wonderful value. I've provided both high and low end estimates comparing the value of the items I would actually use in practice versus the entire value of the lot.
Product History
Out of curiosity I did post photos of my items to several pastel forums. I received feedback from dozens of artists who had purchased Grumbachers specifically from the 1970s-1990s. It seems that the company, originally based in New York, was sold, rebranded, and eventually the pastels were discontinued. In the late 20th century, Rembrandts and Grumbachers were two of the most popular pastels available to American artists. It was really fascinating learning about the history of a prominent company!
I also contacted Chartpak which is the current parent company of Grumbacher. The Grumbacher name is still part of their lines of acrylic and oil paint. The customer service representative I was able to reach unfortunately could not provide me with any additional information about Grumbacher pastels.
I attempted to contact Stabilo through their official website, but they never responded back. Due to the lack of information about the lightfastness on the older pencils, these will be put aside for personal projects.
After realizing how ancient several of the items were, I reached out to the seller again asking for more information about the items. She responded that all of the supplies she included in the box were passed down to her from a neighbor who just happened to downsize their art supplies. The seller tried a few of the pastel supplies but didn't like them so they were listed on Facebook. These items were not just second-hand, but third-hand!
Overall thoughts
I still can't believe that I just happened to look in the right place at the right time. When I shared my haul with the art community on Facebook, a few people commented that they had been scammed from Facebook users in the past with similar situations that were "too good to be true."
If I were to be really honest with myself I would probably drive no more than an hour and a half for even the best deal on art supplies. (The one exception I made was purchasing equipment for my art booth. I made a three hour trip several hundred miles away to purchase an item I would have needed to special order – but that's another story for another blog.)
Would I make this purchase again? A thousand times yes! I think I used my year's worth of luck on this one lot of pastel supplies. I may never see another haul at this price again in my lifetime. I'm happily making use of many of the items in my work and I can't wait to use all of the beautiful colors I acquired.
Since shopping for supplies second-hand at the start of the year, I'm happy to report that my pastel collection is nearly complete! I have a few ideas for additional supplies, but I can easily procure these items from my favorite retailers. If you want to catch up on our previous Used Supplies series, check out the links below:
What's the best deal you've found on art supplies? If you feel like sharing your secret sources, comment down below! -Lauren