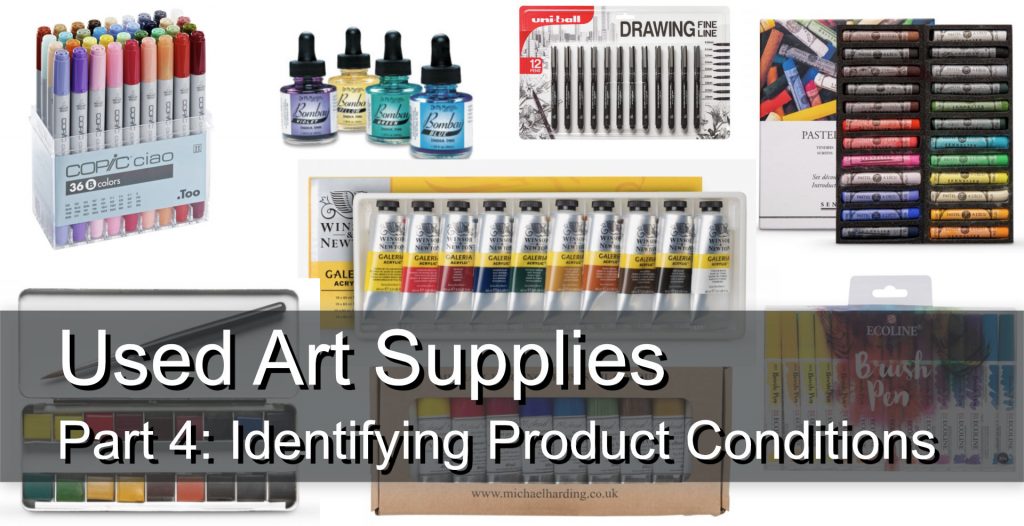 Art supplies are expensive, however they tend to have a long shelf life. Each category of art materials has a general shelf life of several years to several decades. When you purchase art supplies used – you don't know how long the paint or pencils have been sitting in the back of a closet.
I'll be ranking art supplies into three main groups: high risk, medium risk, and low risk. Each art medium will have their caveats and I'll try to cover the most important traits to look for. As a disclaimer, I've dabbled in most mediums but I'm not an expert. If you have additional insights , please leave a comment to help the community.
Remember that some art supply companies have been around for over a hundred years. Back in the day there was not as much information about toxicity and chemicals. In my previous post I discussed the warnings of "vintage" supplies. Usually the font of the brand name is a dead giveaway on if the supplies were manufactured in the 20th or 21st century. The older the art supply, the higher the risk that it has expired and is no longer usable.
High Risk
High risk supplies have the shortest short shelf life and become unusable the fastest once opened. Poor storage conditions also can make a traditionally long shelf life item expire.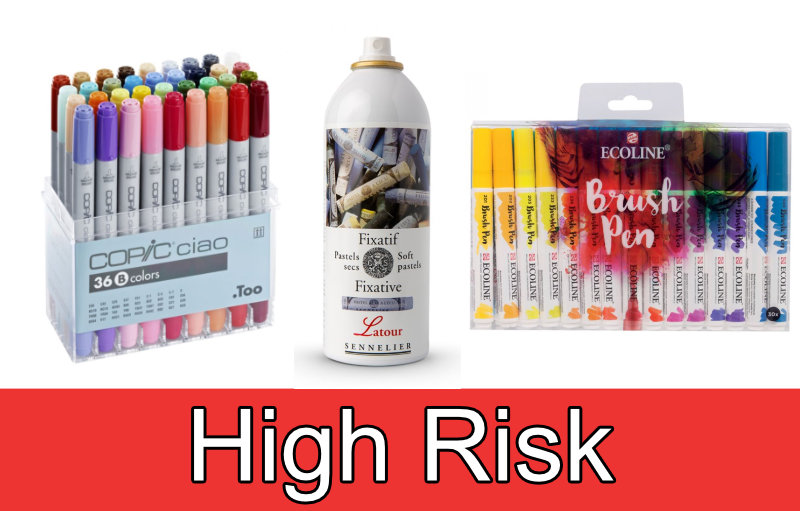 Writing Tools
Pens (ballpoint, brush, and felt tip) and markers (alcohol and water-based) can dry out within a few years (and even faster if stored in hot climates). Unless the seller provides proof that the pens are in working order (often with a sample writing swatch), you may be buying a bundle of dried-out and useless supplies.
Open Jars (adhesives, mixing mediums, gesso, etc.)
Brand new jars of gels, solvents, and glues have much longer shelf lives than products with the seal broken. The lifespan of most opened "gooey" products is 6 months to 2 years. Stay far, far away from opened products that can change in consistency or harden. Opened "goo" jars also have a much higher chance of leaking during shipment.
Compressed Canisters
Canisters of anything can easily clog at the nozzle. And the majority of shipping carriers have restrictions on compressed canisters. The seller cannot provide proof how much liquid is remaining in the canister because it's an opaque metal container. I recommend against purchasing compressed canisters of spray paint, varnish, and fixatives.
Yellowed or Faded Packaging
Light exposure is one bad sign you want to identify quickly. Many art supplies are formulated to be lightfast (fade-resistant), but even the best supplies will degrade in quality with exposure to constant sunlight and heat. If the outer label is significantly faded, there's a high chance that the art material has been exposed to fluctuating temperatures and harmful UV rays.
Medium Risk
Medium risk supplies have longer shelf life than high risk supplies. Under normal storage conditions, these supplies will last 5 or more years and will likely have a long life span ahead of them.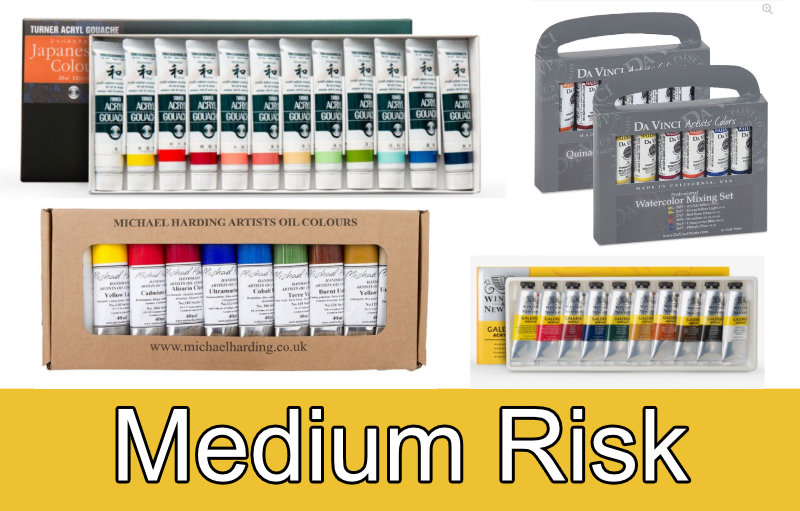 Used Paint Tubes
For tubes of paint, if the cap is not snapped shut or twisted on tightly, air can slowly dry the paint from within the tube. For any tubes of used paint, look at the area around the cap. If there is a lot of paint buildup around the cap or signs of paint leaking/dripping, the contents inside may not be usable. If the cap is cracked, steer clear of the item since this is a guarantee that the contents have been exposed to air.
Medium-risk art supplies include:
Watercolor (used)
Gouache (used)
Acrylic paint (used)
Oil paint (used)
Low Risk
Low risk art supplies can last for decades with little or no change to the product quality. These items are generally shelf-stable and the most resilient of supplies you can purchase used.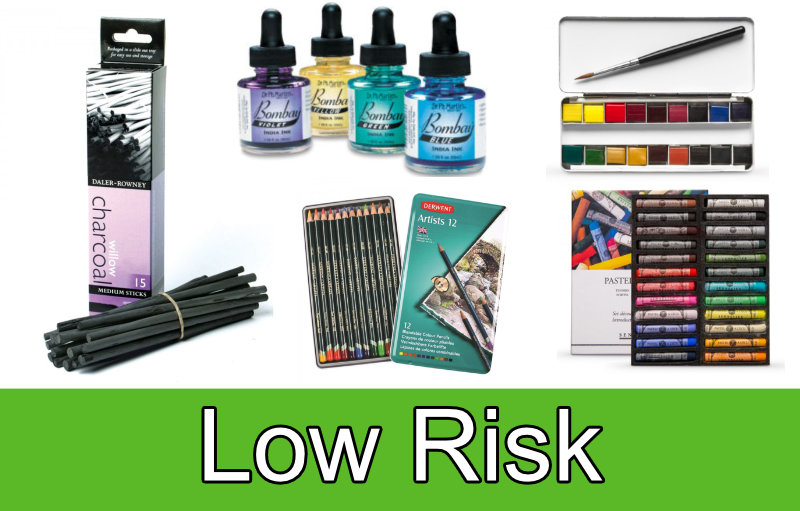 Low-risk art supplies include:
Graphite
Pastel
Charcoal
Colored pencils
Crayons
Oil pastels
Ink (bottled and stick)
Watercolor pans
Oil paint tubes (new)
Do you agree or disagree with my shelf life list? I know there are many art supplies that I did not include because of my limited experience. If you have any notes to add, please share your knowledge in the comments below!
Even if you are not in the market to purchase used art supplies, this might be the nudge you need to go through your current stash. See if there are expired items that can be thrown away – or even better, art supplies you can pass on to a friend or family member so that they can create art with supplies you no longer want.
Missed any of the previous posts about finding used supplies? You can catch up by clicking the buttons below:
-Lauren