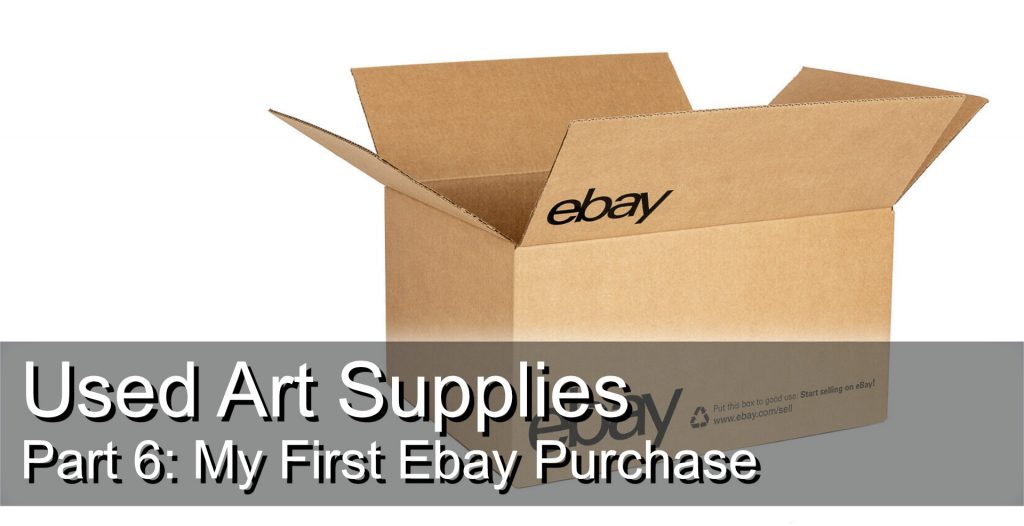 I thought it was fitting to include a real purchase I made online as part of this blog series. Since the start of the year, I've delved pretty deep into the used supply market out of curiosity and the thrill of a "treasure hunt". I've contacted sellers on both Facebook and Ebay and made offers on both websites.
In my personal experience, the sellers on Facebook were 50/50 responsive or rude. On the flip side, 100% of the sellers I contacted on Ebay responded within 2 days to any questions I had about their listing.
I think the main reason for the difference in communication is Facebook sellers are not necessarily accustomed to routinely selling items. Many of the Ebay sellers I saw were members for 3+ years, and all of the sellers had a minimum of 50 transactions (buying or selling) though the website. The Ebay sellers I encountered clearly prioritized communication and made the effort to reply to their messages.
In the past 6 months I've placed over a dozen bids on Ebay and lost all of them. The item I ended up purchasing in July was a "Buy It Now" item on Ebay. Unlike auctions which allow multiple bids within a timed window, "Buy It Now" items are sold to the buyer at the price specified by the seller. You can think of "Buy It Now" listings as items for sale in a typical online store.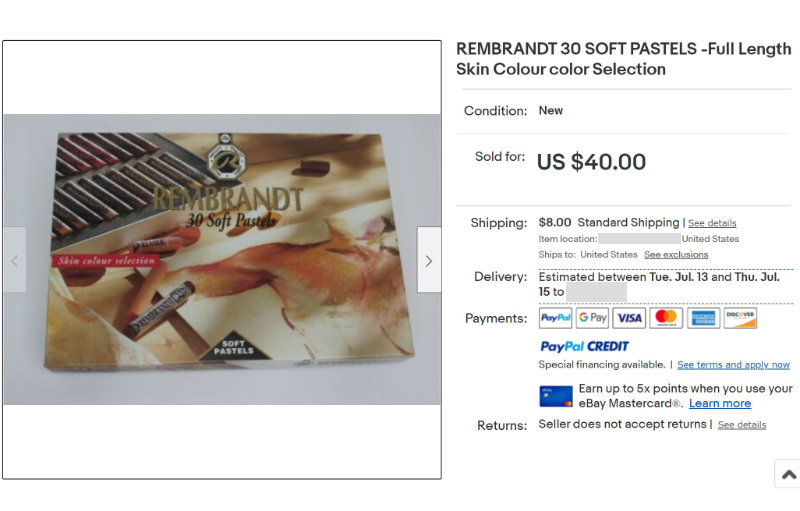 Before I purchased my item, I did all of the checks I outlined in my previous post about evaluating the condition of the items and researching the background of the seller:
The seller posted a listing for a Rembrandt portrait pastel set (30 full sized sticks) for $40 USD and $8 shipping. Before purchasing, I performed my checklist outlined in Part 5 you can read here:
Condition
From the outer packaging, I knew that this was not the current release from Rembrandt. And when I did some quick research, the colors in the 30 portrait set were changed at least 5 years ago (but possibly longer).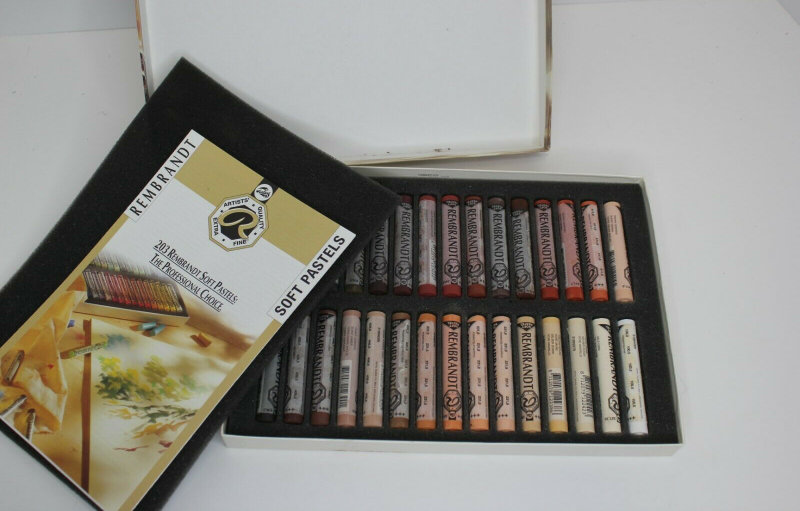 The condition of the pastels was listed as brand new and the condition of the box was very good.
The item had the original foam inserts, and pamphlet. With the provided manufacturer's packaging, I was confident that my order would arrive safely with minimal additional padding provided by the seller.
Quality
I have a small set of Rembrandt pastels so I knew ahead of time that I already liked the product. I was specifically looking for more neutral colors and this portrait set completely fit my needs with its range of browns and reds. This assorted portrait set was discontinued a few years ago, so there was some concern that the texture of the pastels may have changed due to age.
Value
Although this item was discontinued, the price of Rembrant pastels is consistent with many reputable brands out there (Sennelier, Schmincke, Faber-Castell). The MSRP (retail) price for the currently available 30 stick portrait set is $142 USD or $5.55 USD per full stick when purchased individually (open stock). Among the large art supply retailers in the U.S., the best price I found is $105 USD.
To make the deal sweeter, Ebay had emailed me a $10 coupon with my first purchase as an incentive to download the Ebay app on my phone. I was able to apply the $10 discount on my Rembrandt order which brought the total (including sales tax and shipping) to $41.75.
My total discount was 70% off MSRP (or 60% off the best price online). I saved over $100 USD off the retail price. Not a bad deal!
Customer Service
I purchased my item on July 5, 2021. It was shipped via USPS with tracking on July 7. And the box arrived at my front door on July 10. If you're interested in an unboxing, I filmed myself opening the package on YouTube below:
Minor Damage Notes
One very small issue I experienced (and many pastel customers may also experience) is slight damage during transit. During my unboxing video, there were several colors that had some cracks and minor damage.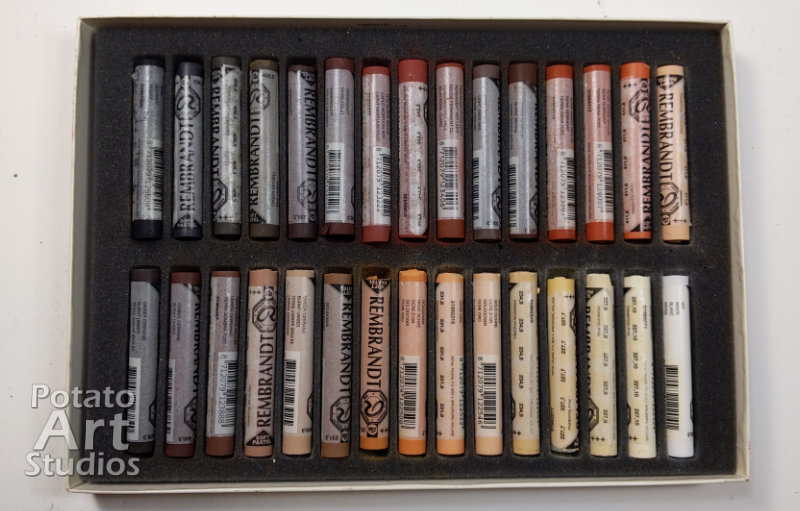 If you have purchased fragile pastels in the past, no doubt you've likely experienced a few broken pastels. One or two cracks in a pastel stick happens occasionally. When I've ordered pastels through art suppliers over the years, it was common for one out of every 10 sticks to arrive with a crack. (Note that one or two cracks is different from a pastel stick shattering into a hundred pieces.)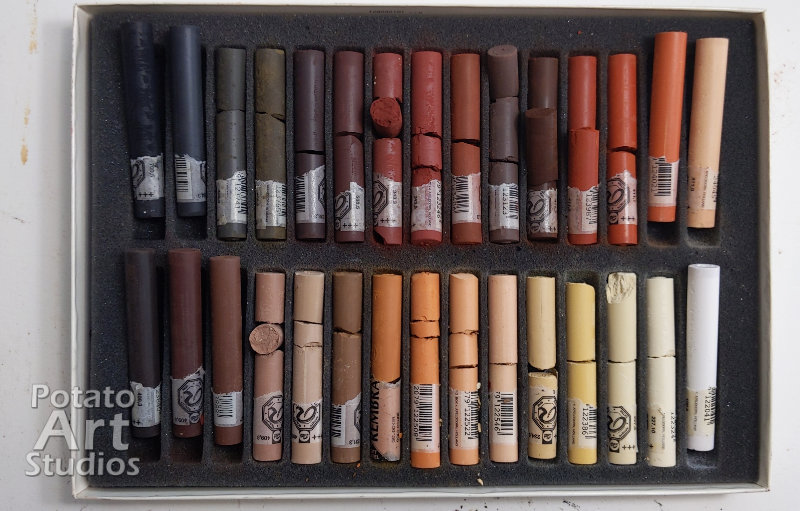 A single crack in a pastel stick does not make it completely unusable in my opinion. In fact I prefer to work with half-stick length pastels so the cracks in my Rembrandt set didn't bother me at all. But I know that there will be artists who want to be able to use the full length of the stick. If this is you, keep in mind that pastels are fragile and even with the foam inserts provided by the manufacturer, this may not be enough to fully protect your items.
For badly damaged items, art retailers may offer a return or exchange. With auction sites and online marketplaces, most individuals will not have a return policy and all sales will be final.
Overall Thoughts
I was really happy with the price for my set of pastels. I was tempted by several listings, but I was always outbid at the last hour. I think my patience really paid off because I found a seller who listed their item far below what it would have fetched at auction.
When I looked at the seller's history, the majority of their items were video games and sports memorabilia. I'm not sure how the seller came across the set of pastels, but it seems that they researched a few listings and priced it according to the first search results. In the seller's rating history, many of his past customers complimented the care he put into his packaging. This further legitimized the seller as a great person to purchase from. I felt confident when I placed my order and when I received my package I was completely satisfied with my purchase.
If you buy used art supplies, there's a multitude of factors at play. The item condition, seller history, shipping methods, and communication are all important. Ebay's platform made it easy to verify many of the elements and the excellent product photos from the seller allowed me to purchase the item before another artist snatched up this deal.
If you missed the earlier parts of the Used Art Supply series, catch up by clicking any of the buttons below. I highly recommend reading Part 3 & 4 before making your first auction bid or offer.
I thought that this series would be over after Part 6, but I have a few more used supply purchasing experiences to share! I'll be writing about my first pastel open-stock purchase from Ebay in Part 7.
-Lauren