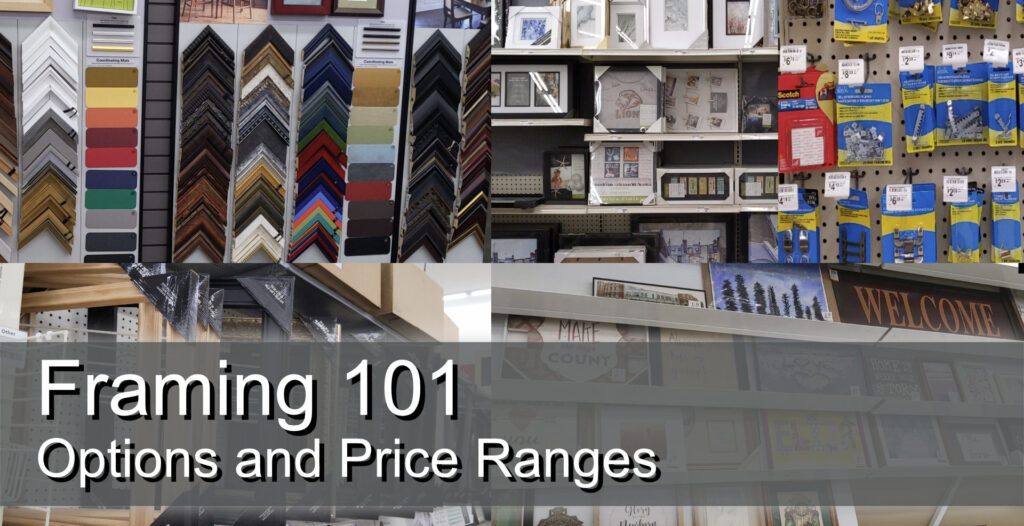 If you draw or paint on paper, chances are that you want to find a way to display your latest art masterpiece. If you are an artist gifting artwork, presenting the artwork in a frame makes it easy for the recipient to hang it in their home.
With many products there are distinct pricing tiers and framing is no different. Here are my thoughts on each major category and my personal choice for framing my own work.
For comparison between the different tiers, I'll be using the example of an 8×10 inch drawing mounted to a 11×14 inch mat. All prices are based on my own experience purchasing frames and supplies in the U.S. These prices are only intended as examples. The cost for framing services may vary in your country.
High-End Framing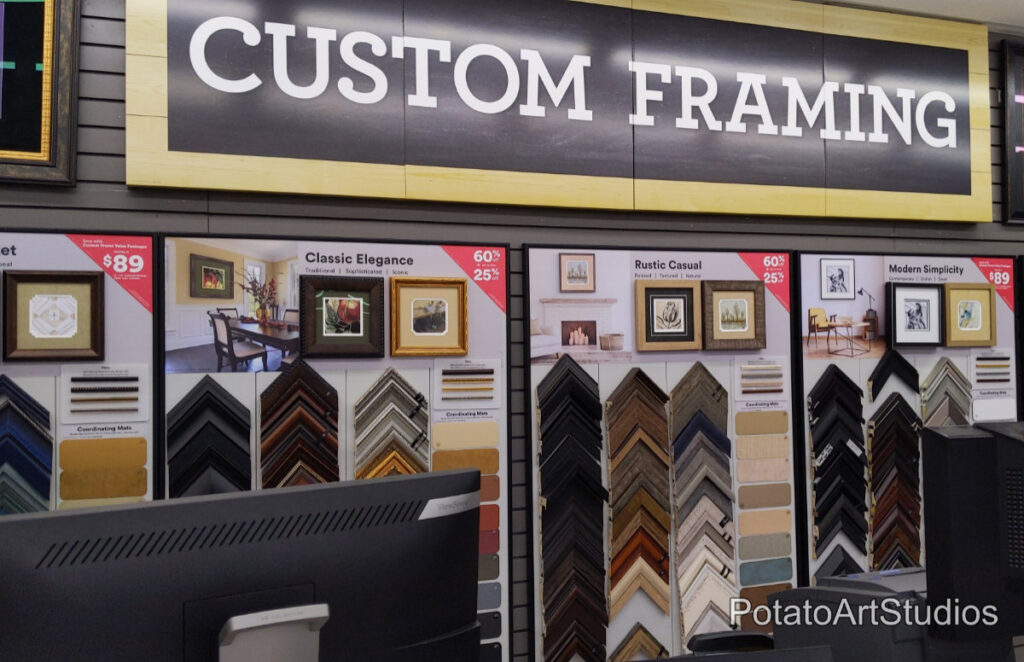 At the top tier, we have the professional frames which are custom ordered and made specially for the artwork. Specialty frame shops have the largest selection of frames and components. The labor and materials will cost the most out of all the options I'll be covering in this blog, but the end product is often the best money can buy. When you go with a professional, all the materials should be archival and made to protect your artwork for many years.
When a professional framer does their job well, you will likely never need to have the artwork reframed in your lifetime (unless you decide to change the color of the frame or mat).
An 8×10 inch drawing matted to a frame with an 11×14 inch opening will range from $100-$300. The time for a professional framer to do their work can vary from 1-4 weeks so it's best to call ahead if you plan to have your artwork framed in time for an anniversary or birthday.
For special treatments such as museum glass, double mats, inlays, and gilded frames, the price may easily exceed this upper limit. Talk to your framer about your budget and they can recommend the options that work with your price range.
Price: $100-300+ USD
Time: 1-4 weeks
Budget-Friendly Framing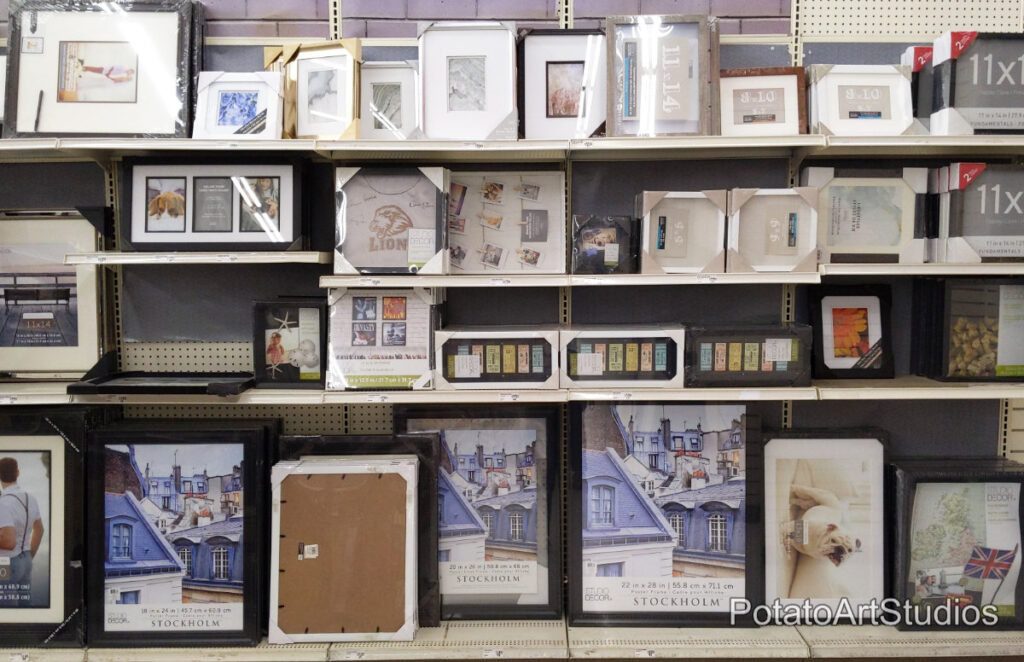 On the lowest tier are ready-made frames you can buy off the shelf at art supply stores and larger retail stores that have a housewares section. All of the materials for your frame are included in one kit. All you need to do is remove the back panel and pop in your artwork. Framing artwork with a ready-made frame can easily be done in 5 minutes.
The materials used in a ready-made frame can vary in quality. Unless the item is advertised as 'acid free,' you'll have to assume that the mat and backing are not archival. The cost can vary from $15 to $60 with the average price in the $20-30 range.
With budget frames, cheaper manufacturers will print wood grain texture onto plastic or particle board. Read the product description carefully to see if the frame contains real wood or MDF (aka fiberboard – wood combined with a glue/binder and molded into shape). Online images can be very deceiving, so I recommend shopping in stores to see the quality of the frame for yourself.
If you have to order online, read the reviews to check that the supplier provides sufficient packaging to protect the frame. Glass breaking during shipment is the number one issue for frames purchased online.
Price: $15-60 USD
Time: 10 minutes
DIY-Intermediate Range
The intermediate frame tier requires a little more work on your part. You'll have more choices available from ready-made frames, but less choice than what the pros can access through their exclusive catalogs. Most large art supply stores sell the pieces of the frame separately, and you pick the frame, glazing, mat, backing, and hardware.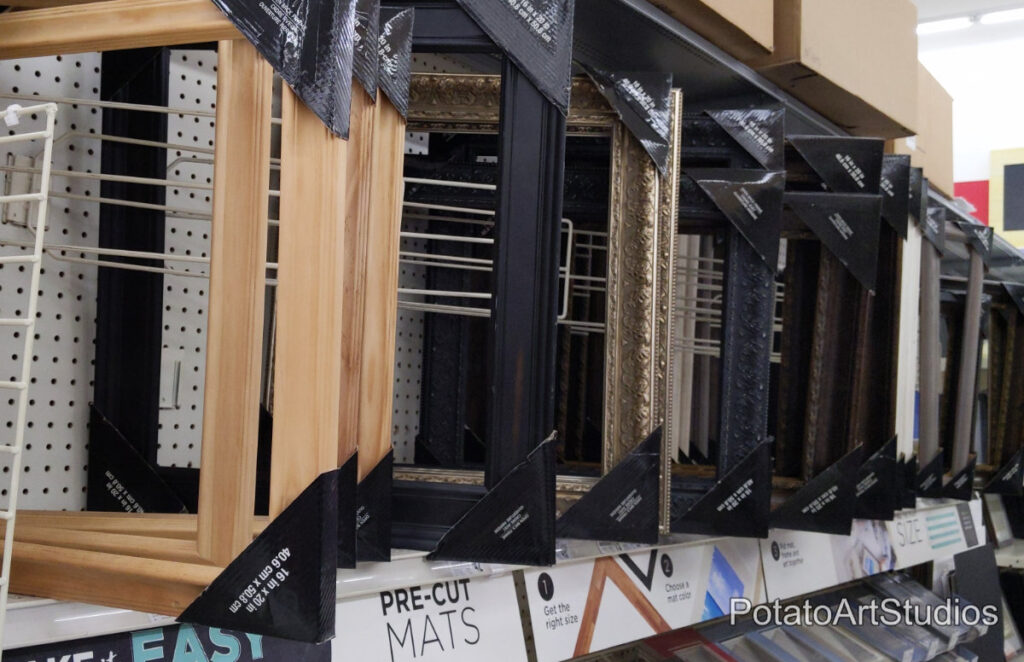 Since you're the one picking every part of the frame, the initial upfront cost may be high and there will likely be some wait time for parts purchased online. If you plan to frame more than 10 pieces of artwork, it may be worthwhile to invest in items such as a mat cutter, glass cutter, point driver, and an electric drill.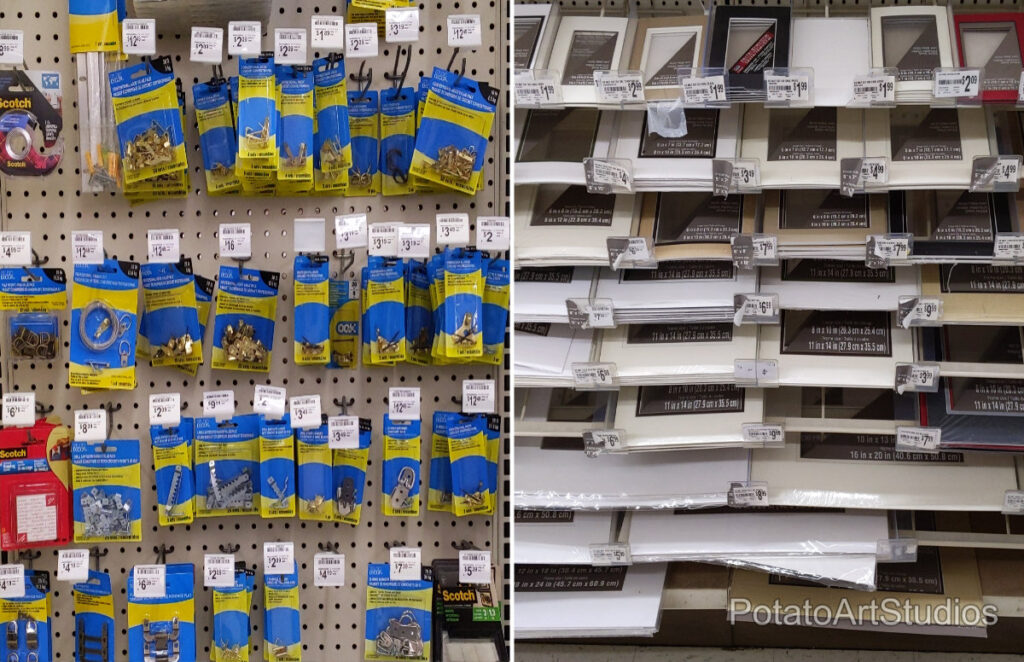 The intermediate framing range will be more expensive than a ready-made frame, but cheaper than a professional framer because you'll be the one doing the hard labor of assembling everything. The learning curve can be steep, but after a few projects, it is perfectly doable to frame 2-4 pieces in an afternoon.
Price (materials): $50+ USD
Price (equipment): $150+ USD
Time: 1-3 hours
100% DIY Framing
On the complete opposite end of the budget framing, is investing in the equipment to do all of the work of a professional with your own hands. In my lifetime, I've only come across one person who had turned his hobby of collecting posters into a passion for creating his own custom frames.
Investing in the woodworking equipment and materials can easily set you back thousands of dollars. I won't discourage anyone from going down this pathway, but it's an expensive hobby to pick up.
If you have access to a friend or family member who has a woodworking shop, the cost to purchase the additional framing equipment will be much lower than starting from square one.
Price (materials): $75+ USD
Price (equipment): $1000+ USD
Time: 2-6 hours
Framing for Art Shows
You might be wondering what method I personally use for framing. Well, the answer is that I'll typically use ready-made frames. I frequent thrift stores and modify second-hand ready-made frames to fit my own needs for displaying art at shows.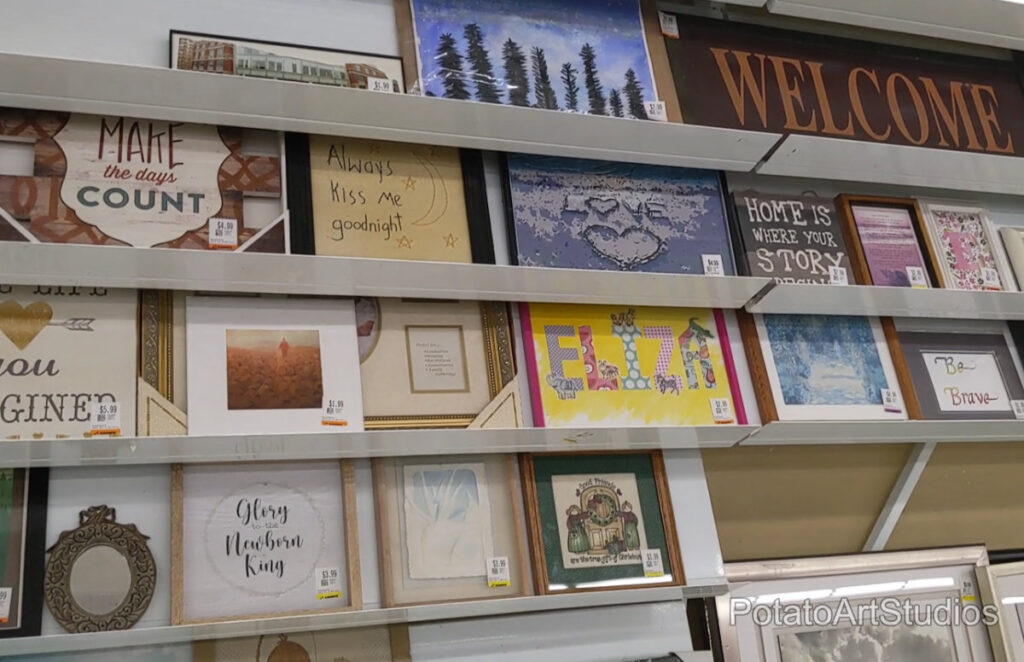 In a perfect world, I would love to have all of my work professionally framed. However realistically, the wear and tear on frames during setup for art shows make this impossible. Chipped corners and dents inevitably will happen as most vendors have to pack up everything within a few hours. After a dozen shows, it's expected to replace frames that are no longer in a condition appropriate to display.
I typically spend no more than $10 on a frame with an opening of 11×14 inches. The added cost for the hardware, glazing, mat, and backing board will cost less than $10 due to buying most items in bulk.
As a side note, I'll often swap out the glazing material for plexiglass or acrylic which is lighter and safer for art events. Believe me, no one wants to deal with the mess of cleaning broken glass and the risk of injuries.
Price (materials): $20-$40 USD
Price (equipment): $150+ USD
Time: 1 hour
So what's the right framing option for you?
Time and money will be the determining factors for most people brand new to framing. If you can afford to pay a professional, I'll always recommend going with the expert who has experience to do the best job.
I also understand that not everyone has an extra hundred dollars that they may have to spend on home decor. A budget frame does the basics of protecting your artwork from the environment.
By nature, paper products have acids that can transfer to your artwork and cause permanent discoloration. Acid-free mats and backing have been specifically manufactured to prevent this situation. I recommend at minimum to verify that the materials that directly contact your artwork to be acid free. If you take away one thing from this blog post, please use acid-free framing materials for original artwork.
If you are interested in learning about framing your own work, or artwork purchased from artists, YouTube and your local library are excellent resources for learning the ins and outs of framing.
Which method will you choose to frame your next piece of art? Let me know in the comments!
-Lauren