We're back with another holiday recommendation guide! I previously posted 3 underrated pastel brands if you're looking to explore your pastel collection.
In 2019 I made a holiday guide with general gift recommendations for artists of all ages and skill levels. I still stand by all of my recommendations if you have an artist on your gift list.
But in this post, I'll be giving my personal favorites for each type of pastel (stick and pencil) with different price ranges ($40/$75/$150+). I live in California, US and the prices I provided will be in US dollars (USD) from Amazon.com. When purchasing any item online, you can always shop around among different sellers to find the best price. Sites such as camelcamelcamel.com will allow you to see the price history of Amazon products if you want to be an extra savvy shopper. 
December 2022 Update: Amazon prices have been updated for the 2022 holiday season. As with all shopping decisions, compare prices across multiple sites to get the best deal. I've provided Affiliate Amazon links for quick shopping.
As an Amazon Associate, I earn a small commission from qualifying purchases. Product links may include affiliate links. If you choose to use an affiliate link to shop for art supplies, your support helps keep this site ad-free!
$40 and under gifts 
You can get a surprising amount of quality artist-grade materials on a budget. I'm always a firm believer that a handful of high-quality supplies will have far more use to an artist than a large box of low-quality supplies.
Pastel Pencil Pick

: Stabilo CarbOthello 24 pencil set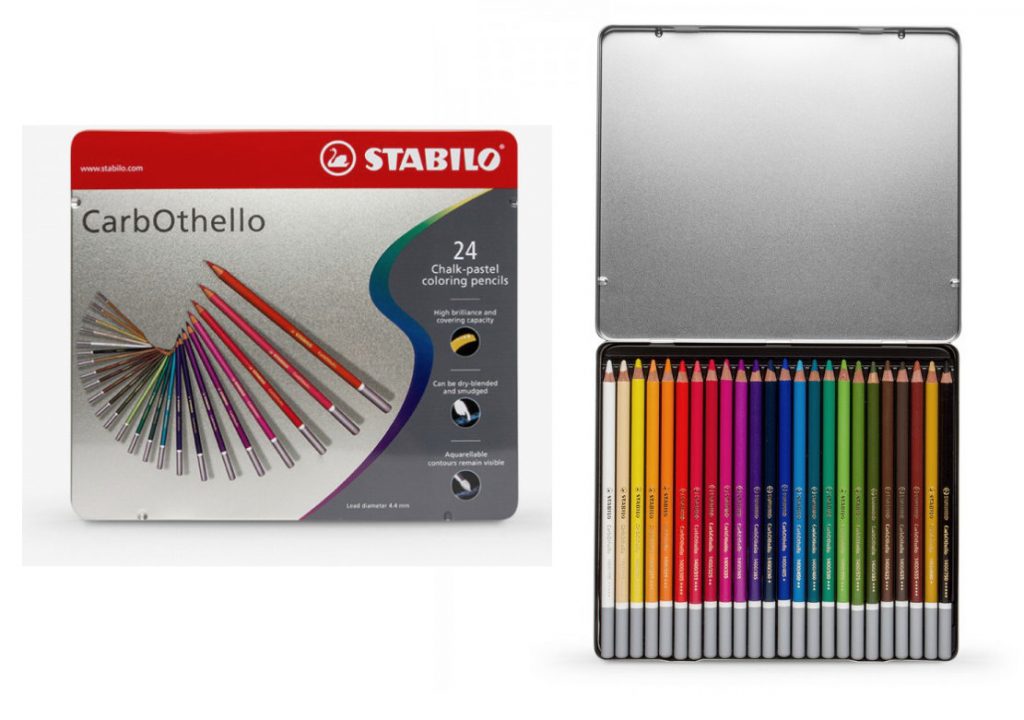 Stabilo CarbOthello is my favorite budget-friendly pastel pencil brand. It's the first brand I recommend to artists interested in trying pastels. Stablio makes several assorted sets from 12 colors to their full 60 color range. I feel that the smallest 12-color set can be limiting for most artists. The 24 set is a great budget option and is my pastel pencil recommendation
Where to buy:
Pastel Pick

: PanPastel Zorn Set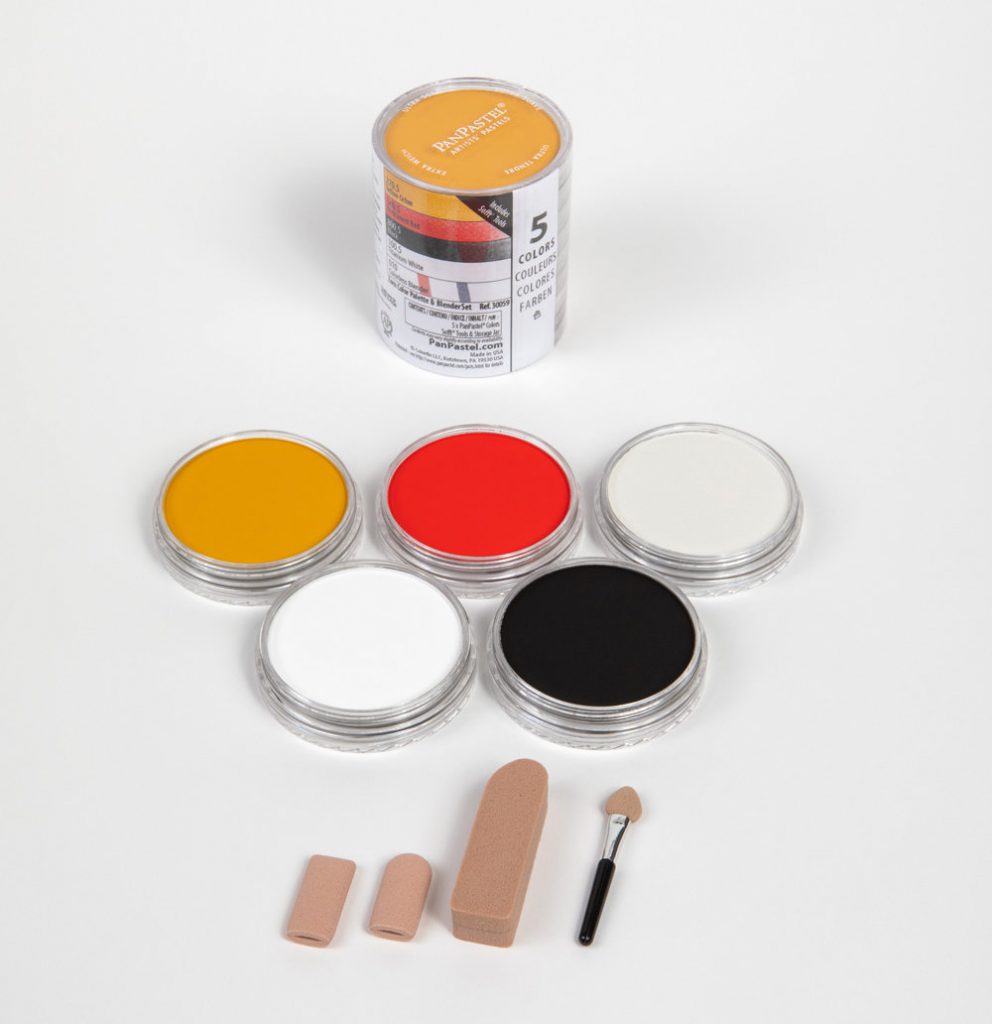 PanPastel offers a variety of curated sets. For those unfamiliar with PanPastels, they are similar to the stick form of pastels, but molded into a plastic compact. For the figure artist or charcoal artist interested in learning more about colors, the Zorn palette is a great option. The 4 colors and colorless blender is a wonderful introduction to pastels in an approachable way.
This set comes with 4 small sponges, but I recommend also picking up some cosmetic foam sponges in various sizes. Your local pharmacy or beauty supply store will often carry cosmetic sponges next to cosmetic brushes and applicators. They are wonderful and affordable tools to transfer the pastel in the pans onto your drawing surface.
Where to buy:
$75 and under gifts
Pastel Pencil Pick

: Derwent 36 pencil set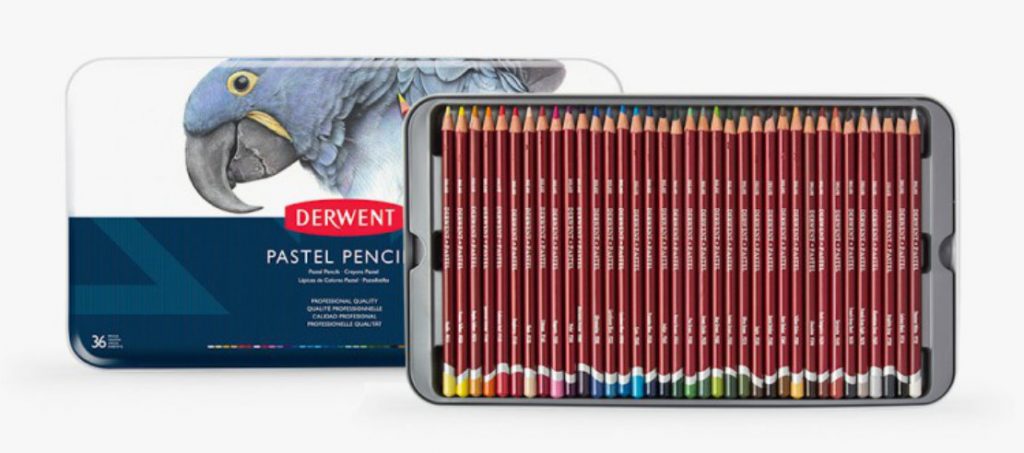 Derwent is slightly more expensive than Stabilo pastel pencils, hence why it's grouped in the higher priced tier. I purchased the 36 set as a gift to myself and it's worth it! Derwent in general has a larger range of neutral brown and grey colors. Both the 24 and 36 color sets fall in the $35-$75 category so I've chosen the 36 count option due to the increased variety of colors.
Where to buy:
Pastel Pick #1

: Sennelier 40 half-stick portrait set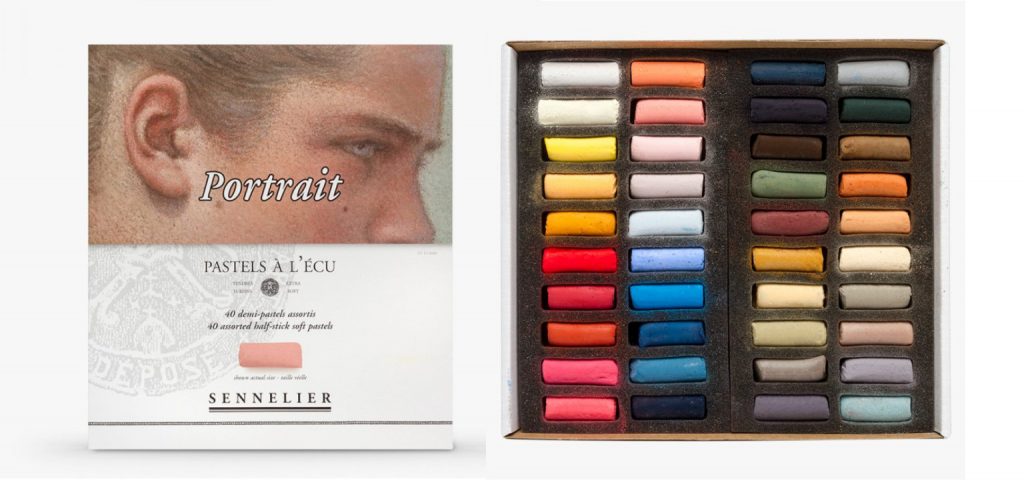 I'll come right out and confess that I absolutely love my portrait set from Senneleir. Out of all the sets I've purchased over the years, I make the most use out of the colors from the Sennelier portrait 40 half-stick set. I also recommend this set to many artists looking to purchase soft pastels. Sennelier does offer larger curated half and full stick sets. But for under $75, you can't beat this assortment.
Where to buy:
Pastel Pick #2

: PanPastel Drawing 10 color set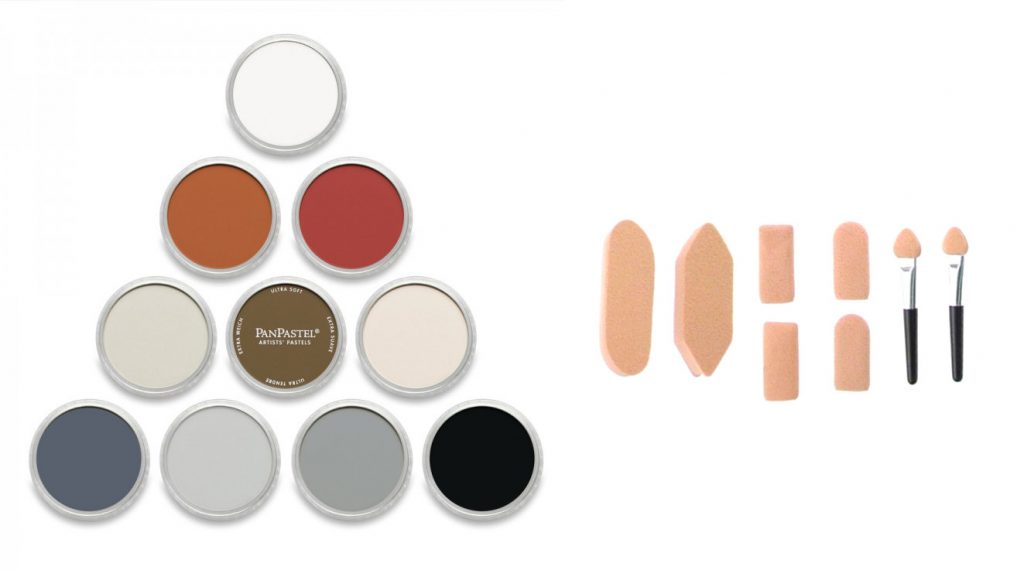 The colors in the drawing set by PanPastel are very neutral and applicable for both animal and human portrait drawings. I don't own this specific set, but I have purchased half of the colors in this set individually and I enjoy the warm and cool colors included. Keep in mind that the Black and Titanium White included in the Drawing Set are the same in the Zorn Set. I would not recommend purchasing both sets due to the 2 overlapping colors.
Where to buy:
$150 and under gifts
For around $100, you'll be able to pick up complete sets of most pastel pencil brands. However I do want to point out that for gifting purposes, you will likely want to confirm with your gift recipient that they actually like the particular brand before you invest in a full color set. Art supplies typically have a stricter return policy than items such as clothing.
Pastel Pencil Picks #1 & 2

: Derwent and Stabilo complete sets

Stabilo and Derwent are both on the softer range of pastel pencils. If your recipient likes one brand, they will likely enjoy the other brand on the list.
Where to buy:
Luxury gifts ($150 and up)
If you are fortunate to have a larger budget, your pastel options are endless. Complete sets of pastels can cost thousands of dollars. It would be pointless to give a recommendation to buy something expensive, just because it's expensive.
Many established pastel brands have wooden presentation boxes for their larger sets. While pretty and very giftable, some artists have their preferred method of storage. The expensive box (which may add $30 or more to the price of the set) may end up in a closet collecting dust. I feel that slim lightweight boxes have a more practical use over bulky and heavy boxes.
Pastel Pencil Pick

: Caran d'Ache 76 complete pencil set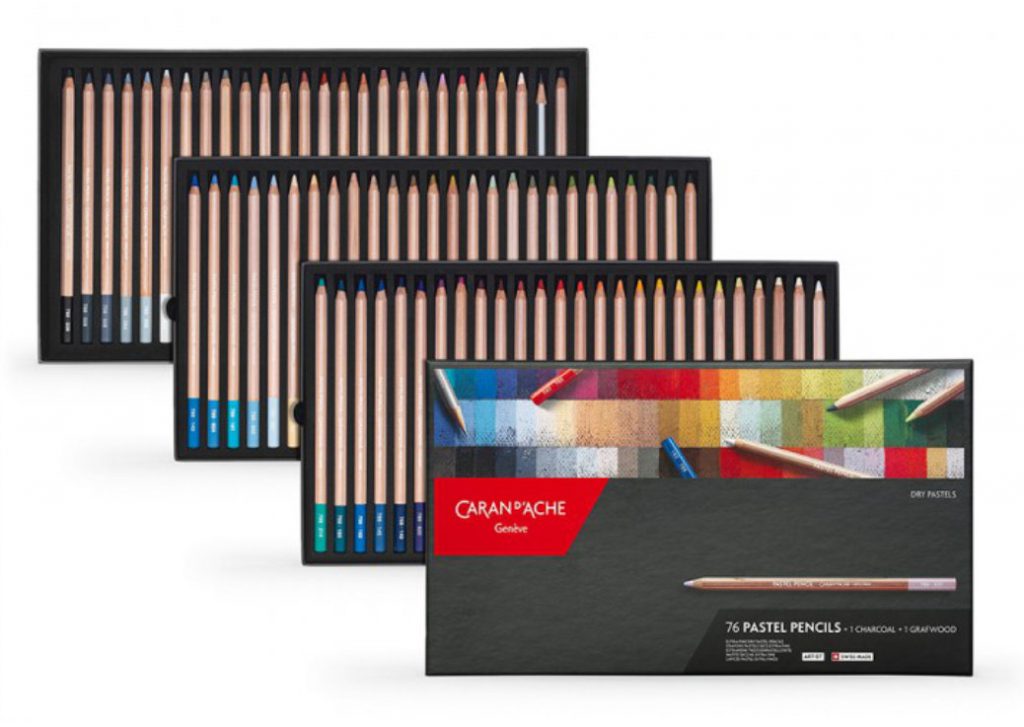 Caran d'Ache makes brilliant colors that you just can't find in Stabilo and Derwent. I did not recommend Caran d'Ache in our lower price options because many of the standard rainbow colors in Caran d'Ache are very similar to what you can find from most brands. When you take a closer look at the larger 40 set and complete 76 color set from Caran d'Ache, the range of browns and pinks are really special.
Where to buy:
Pastel Pick

: Unison 63 assorted half stick set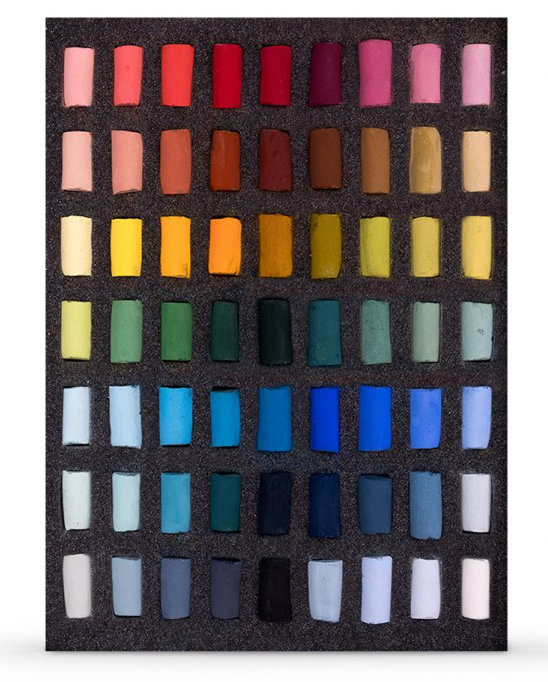 Unison in the last few years has begun releasing half stick sets similar to Sennelier. Unison is slightly firmer than Sennelier, but in the same soft pastel category. I personally enjoy their 18 Dark Jewel set in my own work. For a general assortment, the Unison 63 half-stick set is a great standard rainbow assortment covering a wide range of hues and tones.
The entire range from Unison is a whopping 380 colors. If you or your artist giftee enjoys this introductory set to Unison, they'll have a great time exploring the additional curated sets available in the half-stick and full-stick format.
Where to buy:
Bonus Recommendation
And I have to throw in my favorite pastel and colored pencil sharpener – the Mobius and Ruppert brass sharpener. I've converted many artists to this sharpener over the years. Even if you or the recipient of your gift already have a favorite sharpener, consider adding this item along with any pastel pencil set. I'll guarantee that they'll thank you. If you've watched any of my drawing videos, you'll see this sharpener pop in at least once while I work.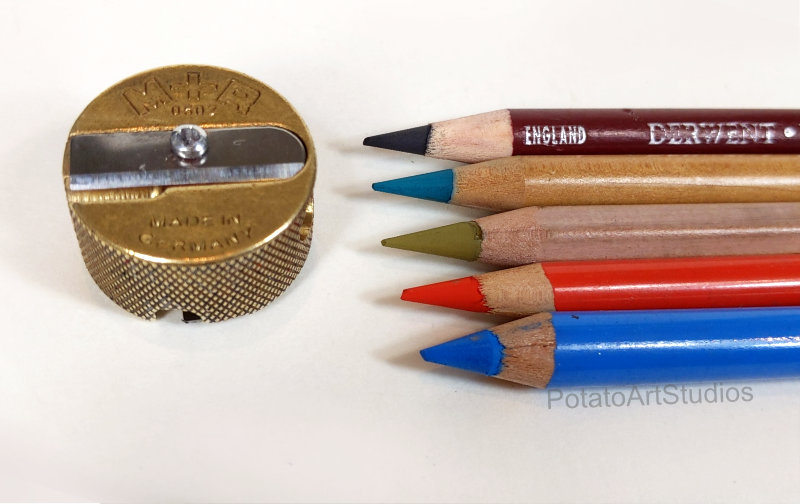 Occasionally, this sharpener may be out of stock on Amazon. If you see this item at your local art supply store, I highly recommend picking it up. Replacement blades and the small Phillips screwdriver used to remove the screw holding the blade in place are also linked below.
Where to buy:
Last words
I take product recommendations very seriously. All of the brands I've included in this post are supplies I've regularly incorporated in my own work from a minimum of 6 months to as long as 3 years when I first picked up pastels. If you are interested in comprehensive brand reviews, I have additional information in my dedicated product review posts:
I do want to mention that I mainly work with animals – which means my preferences will favor brands that have a broad neutral range and colors that are easy to blend to create soft fur effects. So while I may rave about one product, it may not work as well for an artist who prefers to draw flowers or landscapes with different application techniques.
If you decide to purchase one of these items I listed, let me know how you like them (or how your giftee received them) after the holidays! And if you didn't see a product you enjoy, leave your recommendations in the comments to add on to the list! -Lauren