You likely have a creative family member or friend on your holiday shopping list. I've organized my recommendations by art medium. A price range will be provided next to each item with an image linked to an online retailer. If you're an artist reading this, maybe this will give you a few ideas for gifts you can put on your own wish list!
All of the prices are listed in USD. Links provided may be Amazon Affiliate links.
December 2022 Update: Product prices have been updated for the 2022 holiday season. As with all shopping decisions, compare prices across multiple sites to get the best deal.
As an Amazon Associate, I earn a small commission from qualifying purchases. Product links may include affiliate links. If you choose to use an affiliate link to shop for art supplies, your support helps keep this site ad-free!
Gifts for any age and any art medium
Annual zoo membership (cost: $99+)
Zoos are a great way to inspire young and old artists alike. If you have the budget for an annual membership, the membership will often pay for itself within 2-3 visits. Some zoos offer "early bird" entry where you can access the zoo up to an hour earlier than the rest of the public. This is perfect for photographers and artists interested in live drawing because the animals in the exhibits are usually closer to the walkways.
If the nearest zoo is far away, a one-day individual or family pass may be the best option. Admission tickets can be purchased online and are valid usually for a year after the purchase date.
Annual museum membership (cost: $65+)
Art museums and natural history museums are great indoor activities for artists. Protected from the heat of summers and the cold of winters, museums are the perfect venue for sketching a variety of subjects in a comfortable environment. Museums often have rotating exhibits and will feature something new 2-4 times a year.
Between the two options, I personally recommend the zoo membership. I used to live 15 minutes away from my local zoo and I made a trip there at least once a month. The price per visit after a year was less than the cost of a movie ticket! During that time, I took hundreds of pictures and filled an entire sketchbook with my favorite animals. If I happen to relocate to another city with a nearby zoo in the future, I'll definitely purchase an annual membership.
Art Gifts by Medium
Unless the artist you know is committed to a specific brand, an assorted sampler pack of art supplies will nearly always be a welcome gift. These gifts are great for teenagers and adults (but probably not professional working artists). Many of the stores I list below are specialty art stores, so be aware that it may take 1-2 weeks for your order to arrive.
For painters (acrylic and oil paint)
Jerry's Artarama is one of the few places that has a dedicated sample section for art supplies. I have linked their "Buy it & Try it" section of their website. The mini panels, canvas boards, and canvas sheets are a great way to try different surfaces. At $1-$3 a pop, you can pick up a handful of items and your artist can create miniature works of art while experiencing different painting surfaces.
Where to Buy:
For Pastel Artists
Assorted pastel stick sets
Curated color-themed sample packs of pastels from a variety of high-quality brands are wonderful gifts for any pastel artist. I do not have personal experience ordering from Dakota or Fine Art Store, but their sets are very attractive. The Fine Art Store sets are curated by the subject matter (landscape and portrait), while Dakota has sets based on color. I have been eyeing the portrait sampler from Fine Art Store for several months and will probably put it on my wish list this year.
Where to Buy:
Pastel paper sampler
Pastel surfaces are very expensive to buy, so trying smaller sets of different textures was one of the best purchases I made this past year. I recommend the Jackson's sanded pastel paper pack if you live in Europe, but as of the date of this post, it is currently out of stock. Dakota carries a similar sampler pack but with pastel board (pastel paper mounted to a firm backing board). Note that you won't be able to pick the specific colors in a paper pack, but that does add a unique twist to the gift.
Where to Buy:
For Illustration (ink)
Brush pens have become more common with the popularization of Inktober, but many artists have limited access to purchasing brush-type pens locally. Jet Pens has a great set of 5 different brush pens; as a bonus, this sampler automatically qualifies for free shipping on their website.
Where to Buy:
For Colored Pencil Artists
Available at most art stores, but often overlooked, black paper is a wonderful surface for colored pencil artists. I have linked the product to Blick, but many art retailers carry the Strathmore brand. I have a quick guide to drawing on black paper you can read here to show the basics of using black paper.
Where to Buy:
An accompaniment to the black paper, metallic pencils are a special addition to any colored pencil artist's set. Metallic colors show up the best when drawn over toned or black paper. I do not have personal experience with the Derwent metallic pencils, but I have enjoyed Derwent's pastel and colored pencils, so I have no doubt that any artist would enjoy their metallic line.
For Paint & Other Messy Mediums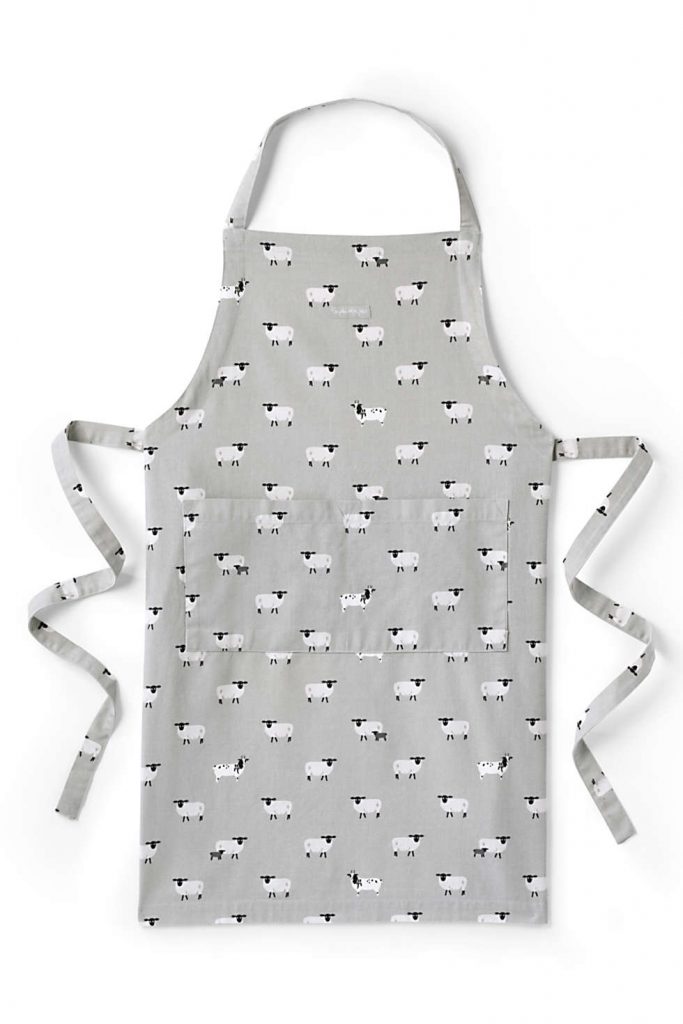 My apron is one of the most used and beloved things I own. I've saved dozens of shirts and jeans from accidental spills. An apron is always a thoughtful gift if you know a painter. As a bonus, they often come in a variety of colors and patterns! My current favorite apron has a sheep print and has two convenient pockets. When picking out an apron, check out Ross and Homegoods. Stores with houseware sections such as Target and Macy's also have a decent selection.
Where to Buy:
If you're an artist, share an item that you have on your holiday wish list. Or share a favorite gift you've received in the past!
-Lauren