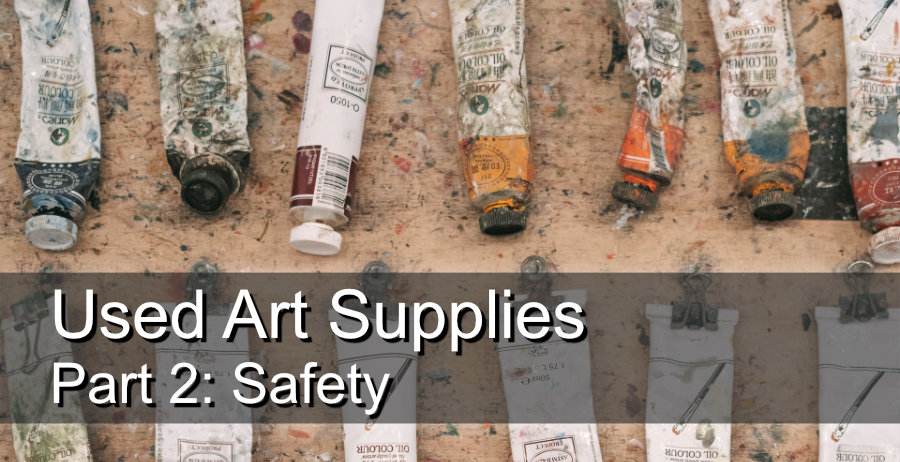 Part 1 covered the basics of where you can find used art supplies. For several of the websites I listed, there are options to buy the items online or meet the seller in-person. This post (Part 2) will be concentrating on how to stay safe while shopping.
If you've been on the Internet for any amount of time, I'm sure you have common sense when it comes to talking to strangers online. This post is mainly to remind artists that even if you are 100% honest, the seller may not have the same integrity.
Physical Safety
When possible, I would recommend having the seller ship the items to you. However, for heavy or bulky items, sometimes it's not practical to ship. For particularly expensive supplies or hazardous materials, it may be better to review the items in-person before exchanging money. Items such as drawing tables, storage containers, and easels will often require meeting the seller in-person.
If the sale happens face-to-face, there are common sense precautions to follow such as bringing a friend, having the money in exact change in cash, and meeting in a public location such as a coffee shop. For safety reasons, you should never enter someone's home or have the seller meet you at your home. More tips can be found at ATD below:
If you feel unsafe at any time during a transaction with a seller you met online through Facebook or Craigslist, the best option is to leave. Your personal safety should always be priority #1.
I've purchased furniture from Craigslist a handful of times over the years. Even though every Craigslist transaction I've experienced has been positive, I am always cautious about meeting strangers.
Financial Safety
Of the three sites mentioned in Part 1 of this series, I feel Ebay is the safest platform for financial transactions because you can view the seller's history on the platform. A seller with recent sales and positive feedback usually (but does not guarantee) that the product shown in the images will be the same as what arrives on your doorstep. While it's not a fool-proof way to avoid scams, the transactions occur through a legitimate website. There are ways to file a claim and dispute the charges if something wrong happens with your order.
With Facebook and Craigslist, these websites provided limited protection. They basically act like a digital version of classified ads. All correspondence is done through messaging and either the seller agrees to ship the item to you, or a meetup location and time is scheduled. Posts on Craigslist are done with complete anonymity so you'll need to be extra cautious.
Facebook is slightly safer than Craigslist due to their "Purchase Protection" if the transaction takes place through the Facebook app/website and the item is shipped from the seller. The Purchase Protection has limitations, but it includes the basic coverage to protect the buyer if the item arrives damaged or is not what was advertised. For more information about the terms and conditions, you can read more here. If you choose to meet in-person or exchange money through a different platform, Facebook's Purchase Protection does not cover the transaction.
The financial risk you take is sending money to the seller and never receiving the product. After all, you are purchasing from an individual and not a reputable business. Most credit cards and online payment services (i.e. PayPal, Venmo) have fraud protection, but it may take several weeks for the claims process to be filed and the money returned to your account.
Nearly all sellers will not have a return policy, so it falls solely on the buyer to check, double-check, and triple-check that the items you are purchasing are the items you want.
Read more about tips on buying used art supplies:
-Lauren