GIVEAWAY IS CLOSED.
+++
The lucky winner is Libby L. from Massachusetts!
+++
Thank you to everyone who entered. 😄
In the spirit of the holiday season, Potato Art Studios is hosting an art supply giveaway!
This contest is open to U.S. residents 18 years old and older only. The prize will be an assortment of pastel supplies and paper shipped directly to you.
---
Giveaway Contents:
Sennelier 40 Half-Stick Assorted Soft Pastels ($113 USD value)
1 dozen pastel pencils (4 colors each from Derwent, Faber-Castell PITT, and Stabilo CarbOthello, $2-3 USD per pencil)
Assorted colors of Clairefontaine PastelMat paper (8×10 inches, 6 sheets)
Rules
You must be 18 or older to enter due to privacy laws.
You must have a valid U.S. mailing address.
A maximum of 3 entries may be entered per person (see entry methods below).
How to Enter
You may earn up to three entries by entering the contest on social media and signing up for my mailing list.
Follow PotatoArtStudios on Instagram and find the giveaway post. Tag 2 friends & leave a comment with your favorite holiday dessert. [1 entry]
Follow PotatoArtStudios on Facebook and find the giveaway post. Tag 2 friends & leave a comment with your favorite holiday beverage. [1 entry]
Sign up for my mailing list by using the form at the bottom of this page. [1 entry]
Note: If you are already signed up for the mailing list, click the link below to enter.
The giveaway post will be marked by the image below.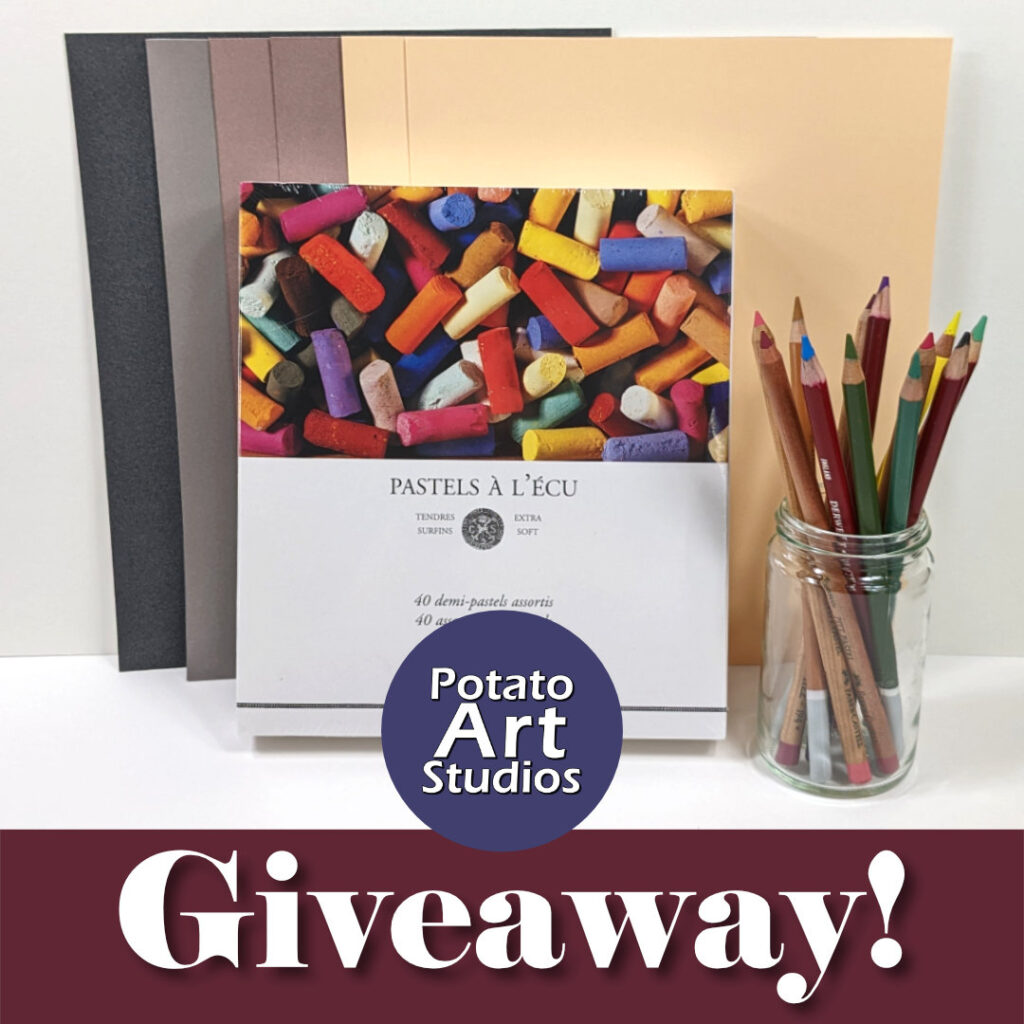 Important Dates
November 29, 2022: Giveaway Opens
December 13, 2022 12:00 pm PT: Giveaway Closes
December 15, 2022: One random winner is drawn, contacted, and announced on all social media platforms
December 18, 2022: Deadline winner needs to respond with a valid mailing address and email address
Contest Details
Contest closes on December 13, 2022 at 12:00 pm PT.
One winner will be randomly chosen on December 15, 2022 and will be notified via Instagram DM, Facebook messenger, or email.
The winner will need to respond within 3 days (by December 18) with a valid mailing address AND email address. 
 If the first winner does not respond, another winner will be randomly selected (and that person will again have 3 days to respond.)
The giveaway contest is not sponsored by Instagram, Facebook, or the manufacturers of the items in the giveaway.
Shipping Information
The winner will have their art supplies packaged and mailed via USPS Ground Shipping (3-5 day delivery). A tracking number will be provided.
---
If you have any questions about the giveaway, leave a comment below or send an email to potatoartstudios [at] gmail [dot] com. I respond to most inquiries within 2 business days.
Good luck!