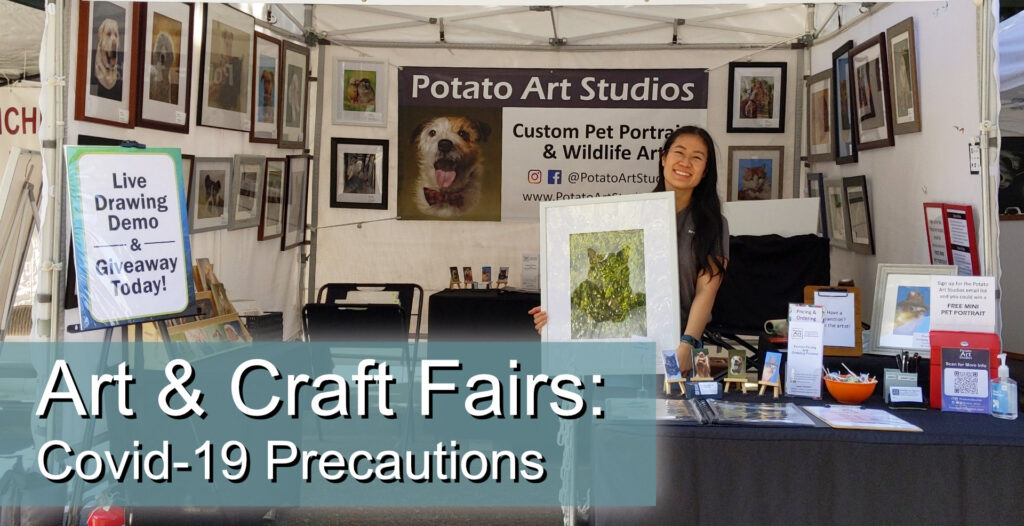 Out of an overabundance of caution, I took a two-year hiatus from participating in art fairs in 2020-2021. When I finally decided that I was ready to jump back in, I wanted to make changes to my 2019 setup so that I could keep myself and any visitors to my booth as safe as possible.
As a disclaimer, I am not a doctor, and I am not offering medical advice in this blog. If you are concerned about Covid, please talk to your medical provider who can help you assess your risks.
During the Event
Hand Sanitizer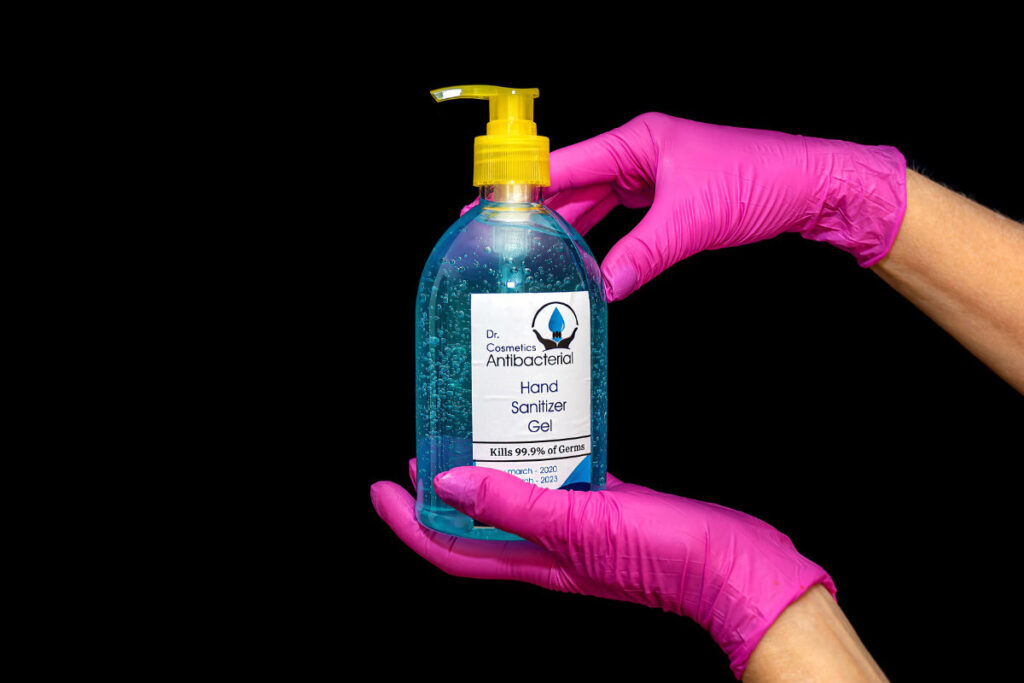 I always have a bottle of hand sanitizer located at the front of my table. In the last event I attended, the event organizer recommended that every vendor bring hand sanitizer for their station. Providing hand sanitizer is a common courtesy in most businesses in my city.
Cost: $4 USD for a 12 fluid oz bottle
Capacity Limit Signage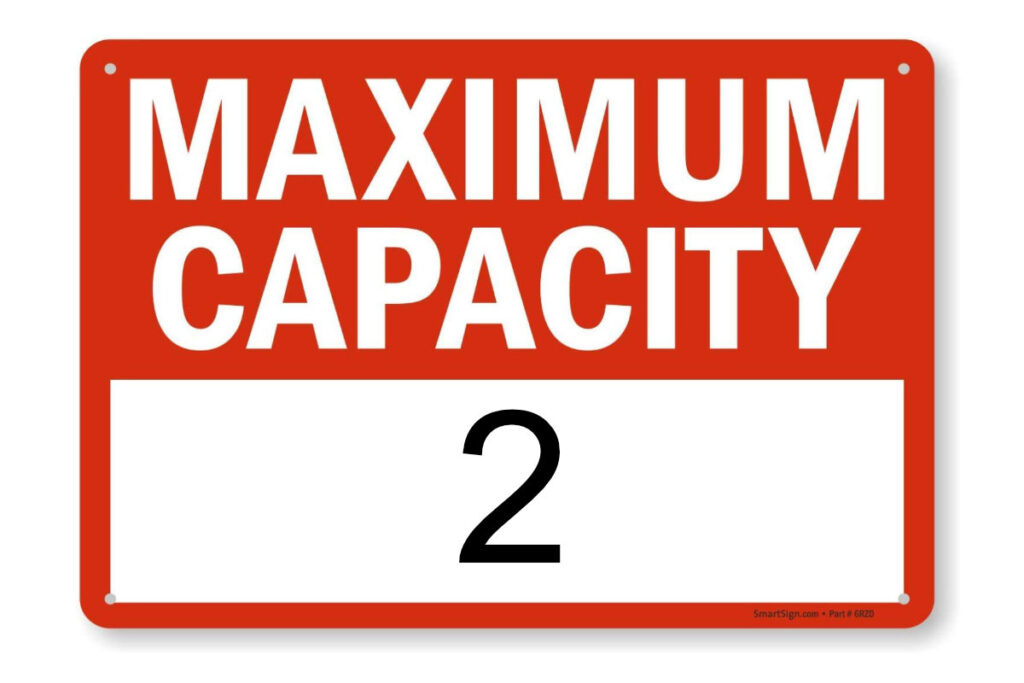 After hand sanitizer, this is the easiest safety measure to implement. For U.S. outdoor events, vendors are typically assigned a 10×10 foot space. With the tables and furniture in my booth, I personally felt that my maximum capacity was 2 people (excluding myself). I designed, printed and laminated a sign and attached it prominently at the corner of my tent.
Cost: $2 USD for printing and lamination at a copy center
Air Circulation
With an outdoor event, wind promotes natural air circulation. In the summer season, I will likely pick up a battery-operated fan to move additional air within the tent.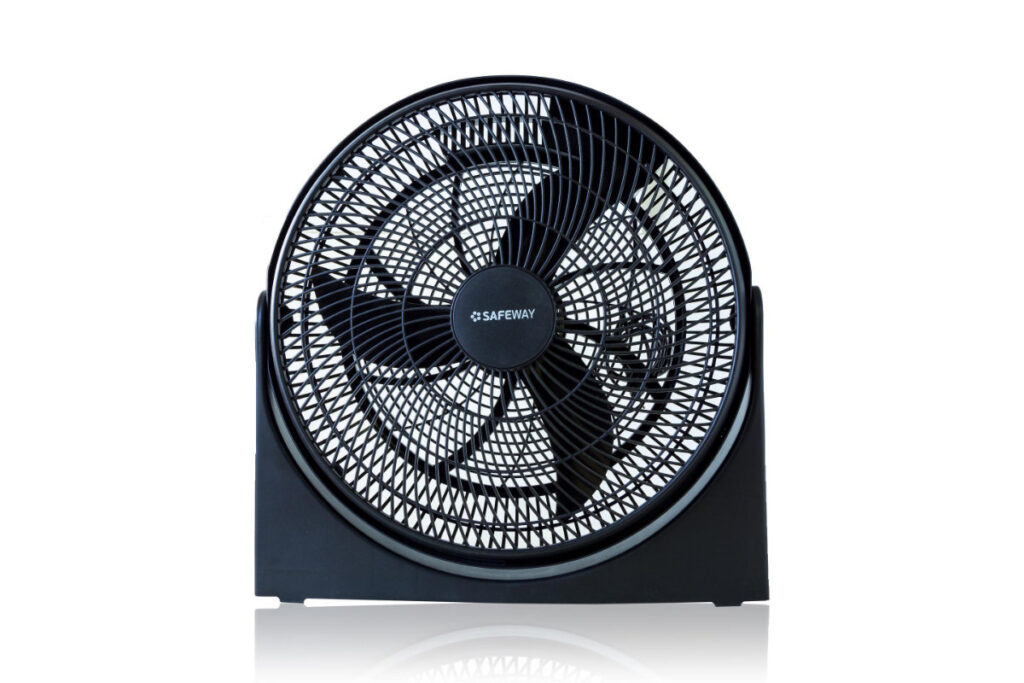 I purchased a personal fan that wraps around my neck. It was extremely helpful during the hottest parts of the day and helped move the air around my face.
For indoor settings, commercial venues have a HVAC system to promote air circulation so investing in a fan is likely not necessary.
Cost: $20-$40 USD for a battery-operated fan and batteries, or a personal rechargeable fan
Barricades
During events, I usually work on a demonstration piece to showcase my art. In past fairs (pre-Covid), people constantly approached me as I was working. It was common for a stranger to stand within two feet of my workspace when they wanted to take a photo or observe. In several instances, people would touch the artwork, myself, or my art supplies.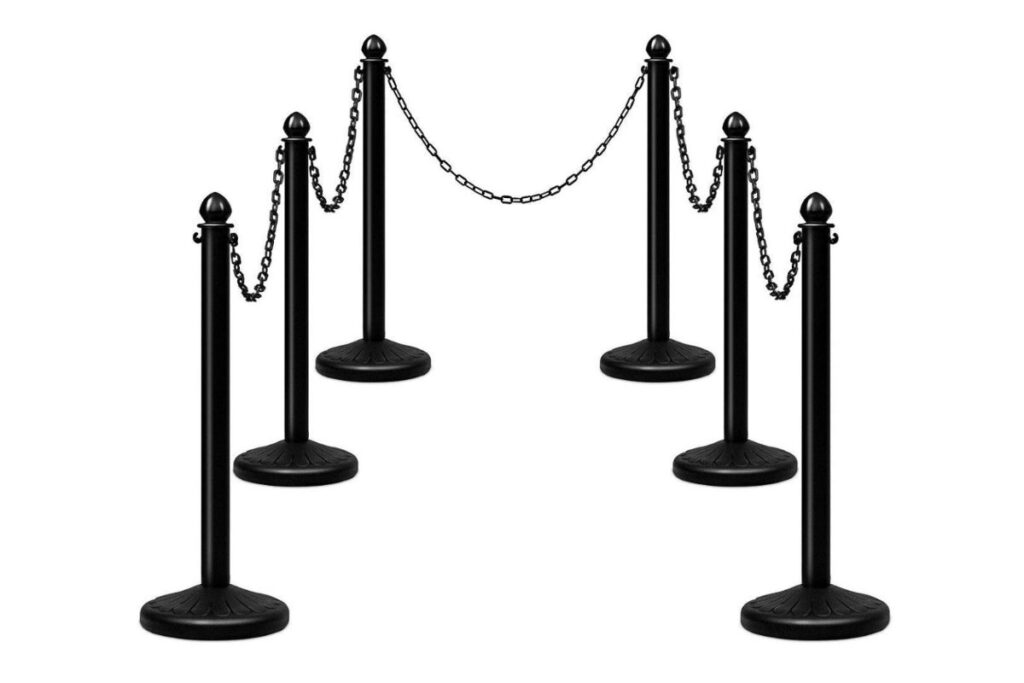 To passively promote social distancing, I chose to construct makeshift barricades with supplies from my local hardware store in 2022. I set up three barricades to prevent people coming up to me from behind and I had a table stationed in front of me which provided 3 feet of space between myself and the flow of traffic.
If you'd like to see how I made my own barricades, let me know and I'll write a follow-up post.
Masks
I am up-to-date with the Covid vaccines, however I still chose to wear a surgical (blue) disposable mask for most of the event. During the 8-hour event, I took off the mask only to eat or drink and when I left my booth to take breaks.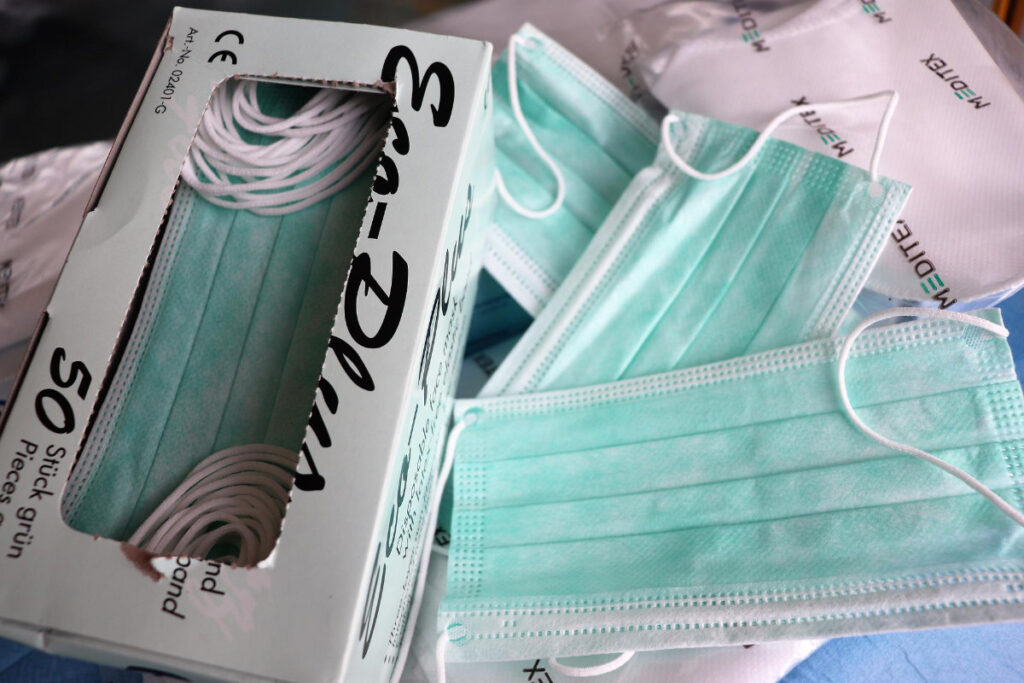 At the time of the spring events I attended in California, masking was not a requirement for outdoor events. From observation, approximately 80% of the event attendees did not wear masks. Be aware of your local county, state, or country's guidelines when it comes to masking mandates. Regulations can change weekly as infection and hospitalization rates fluctuate rapidly with new variants. In general, guidelines for indoor events are more stringent than outdoor events. I recommend packing a few disposable masks for emergencies.
Cost: $1-2 USD per disposable surgical mask
After the Event
Post Event Testing
At the time of this blog, the CDC recommends monitoring yourself for symptoms for a week after a potential exposure event. With an estimated attendance of 20,000-40,000 people in the last fair, I consider this a high risk event. During the 5-7 day incubation period after an exposure event, masking is recommended in indoor settings until a negative test is achieved. I wore a mask whenever I went grocery shopping or ran errands.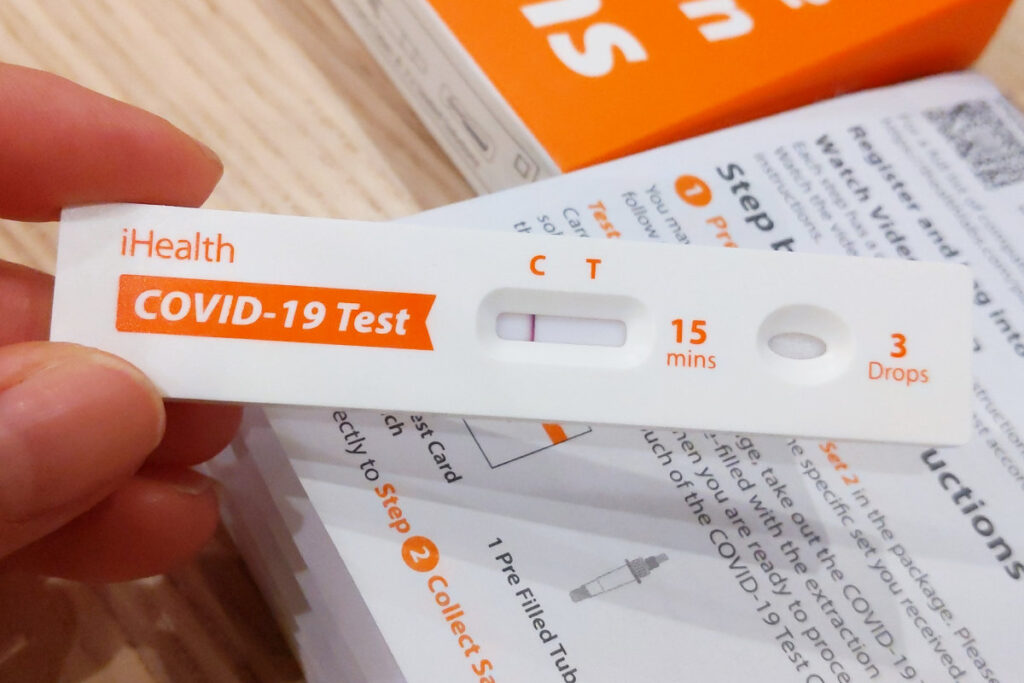 I took a rapid at-home test on Friday evening, 5 full days after the first exposure event the previous Saturday. My test was negative. At the time of this blog post, it has now been over 14 days from the event, and I continue to be asymptomatic.
Cost: $15-$25 USD per rapid Covid test
Post-Event Cleaning
After an event, I recommend laundering any soft surfaces and wiping down hard surfaces with alcohol or a disinfecting solution. The tablecloths I use hold up well in my washer and dryer. For my display signs and portfolios, these can be easily cleaned with a spray bottle filled with 70% alcohol and paper towels.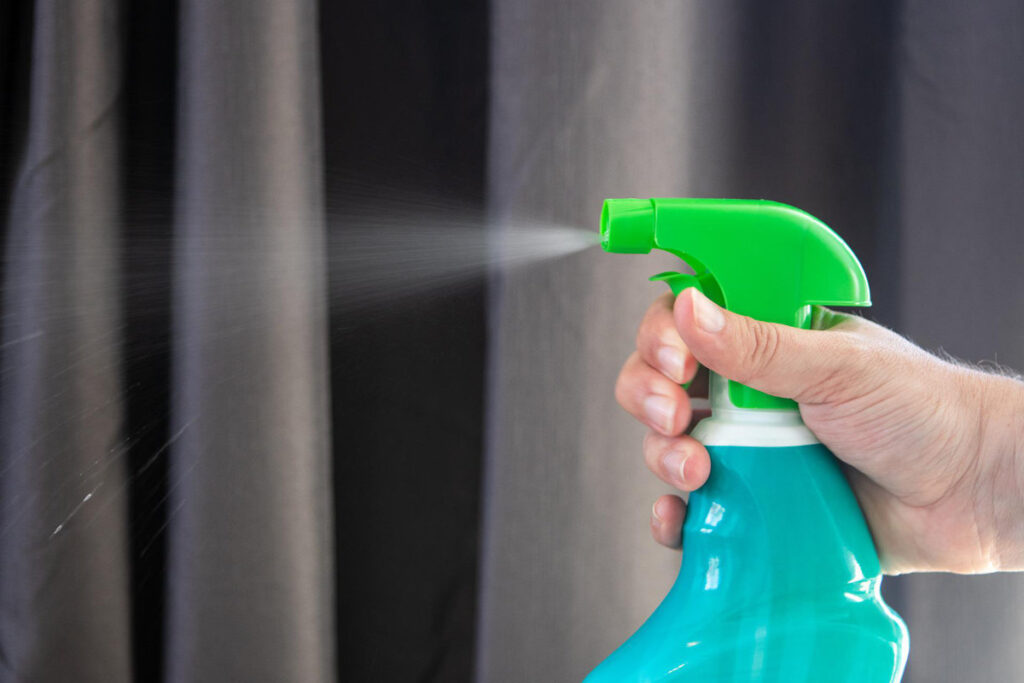 I recommend wiping down most hard surfaces between event days if it is a multiple-day event and bringing cleaning supplies with you (just in case of spills or messes).
Overview of Covid Costs
When I browsed the neighboring vendors, very few chose to wear masks or take the precautions I did. Masking was not enforced (although there were signs to deter people who had Covid symptoms from attending the event). Everyone needs to follow the minimum guidelines set in place for Covid – but doing anything extra is up to each individual.
I tend to be conservative when it comes to health and safety precautions. For my booth, the total cost for the upgrades I purchased in 2022 was approximately $100 USD. The largest cost was the construction of the barricades to encourage social distancing.
Of course, the most extreme Covid precaution would be to completely avoid all events with crowds. However, I feel that in-person events are one the best promotional activities I can do to share my work and gain new customers. I chose to return to art fairs and festivals in 2022 knowing that out of 20,000+ attendees, a portion of them would be positive with Covid.
If you choose to attend or participate as a vendor in your next art or craft fair, be safe and stay informed about your local Covid mandates.

If you are completely new to the world of art and craft fairs, check out my last post on my top tips for picking and planning your next event:
Have you found these art & craft fair tip helpful? Share you own tips in the comments below!

-Lauren