++++++++++++++++++++++++++++++++++++++++++++++++
CONGRATULATIONS TO DELIA!
I'll be working on a custom puppy portrait for Delia from California. If you didn't win this year's giveaway there's always next year! Sign up for my mailing list to keep up with all the latest news from Potato Art Studios.
++++++++++++++++++++++++++++++++++++++++++++++++
To celebrate 5 years, Potato Art Studios is hosting a giveaway!
This contest is open to U.S. residents only. The prize will be one 5×7 inch hand-drawn pastel bust (head and upper chest) portrait of your pet based on your favorite photo shipped directly to you from San Jose, California.
Rules
You must be 18 or older to enter due to privacy laws.
You must have a valid U.S. mailing address.
A maximum of 3 entries may be entered per person (see entry methods below).
How to Enter
You may have up to three entries by entering the contest on social media and signing up for my mailing list.
Follow PotatoArtStudios on Instagram and find the giveaway post. Tag 2 friends & leave a comment with your favorite Animal. [1 entry]
Follow PotatoArtStudios on Facebook and find the giveaway post. Tag 2 friends & leave a comment with your favorite Color. [1 entry]
Sign up for my mailing list by using the form at the bottom of this page. [1 entry]
Note: If you are already signed up for the mailing list, click the link below to enter.
The giveaway post will be marked by the image below.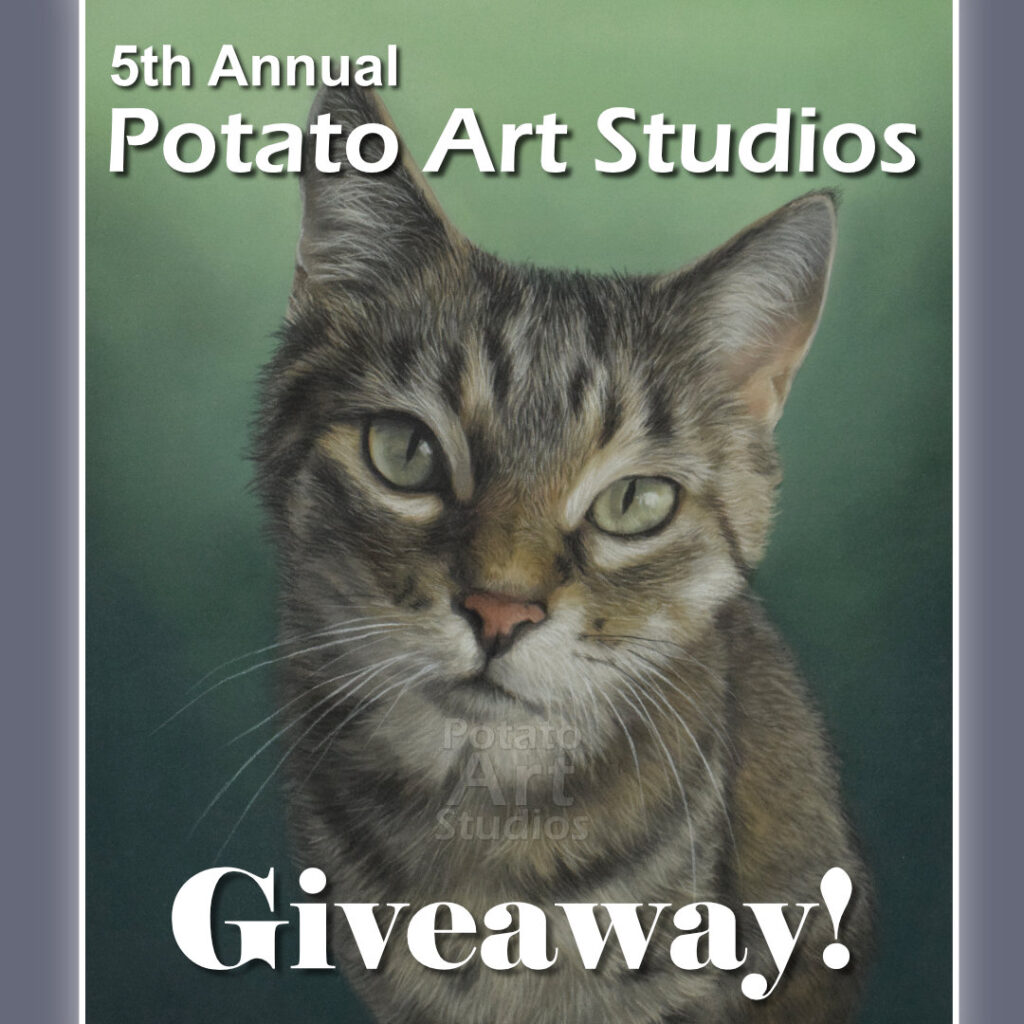 Important Dates
May 21, 2022: Giveaway Opens
June 15, 2022 12:00 pm PT: Giveaway Closes
June 18, 2022: One random winner is drawn, contacted, and announced on all social media platforms
June 27, 2022: Deadline winner needs to respond with a valid mailing address and email address
Contest Details
Contest closes on June 15, 2022 at 12:00 pm PT.
One winner will be randomly chosen on June 18, 2022 and will be notified via Instagram DM, Facebook messenger, or email.
The winner will need to respond within 9 days (by June 27, 2022) with a valid mailing address AND email address. 
 If the first winner does not respond, I will pick another winner (and that person will again have 9 days to respond.)
The giveaway contest is not sponsored by Instagram or Facebook.
Portrait Ordering Process
I will follow up via email to gather photos of your pet. After I review your photos, we will decide together which image would best work for a portrait. I will provide a digital mockup of the portrait to show you the general layout and background color. Once I receive your approval of the mock-up, I'll get to work on the drawing. The portrait will be completed within 6 weeks and I will email you a picture of the finished portrait. The physical portrait will be sent via USPS First Class Parcel Select.
If you have any questions about the giveaway, leave a comment below or use the contact page to get in touch. I respond to most inquiries within 2 business days.

Good luck!

-Lauren