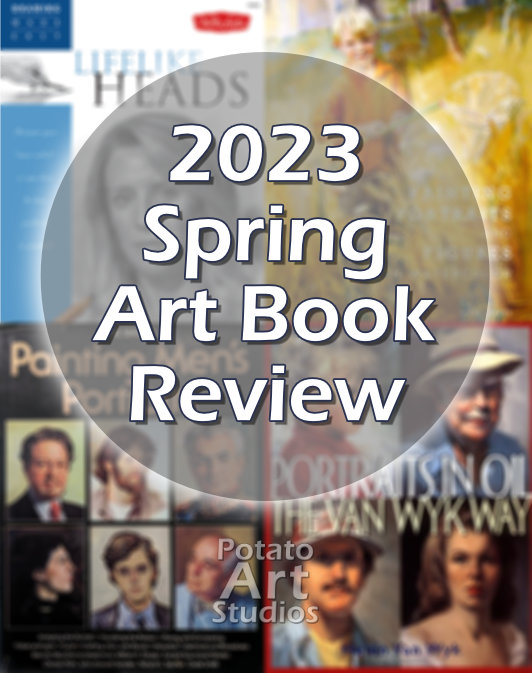 At the start of 2023, I ordered a dozen portrait instructional books to jump start my self-paced journey in drawing human portraits. For a reasonable $60 USD (including shipping!), this was a steal.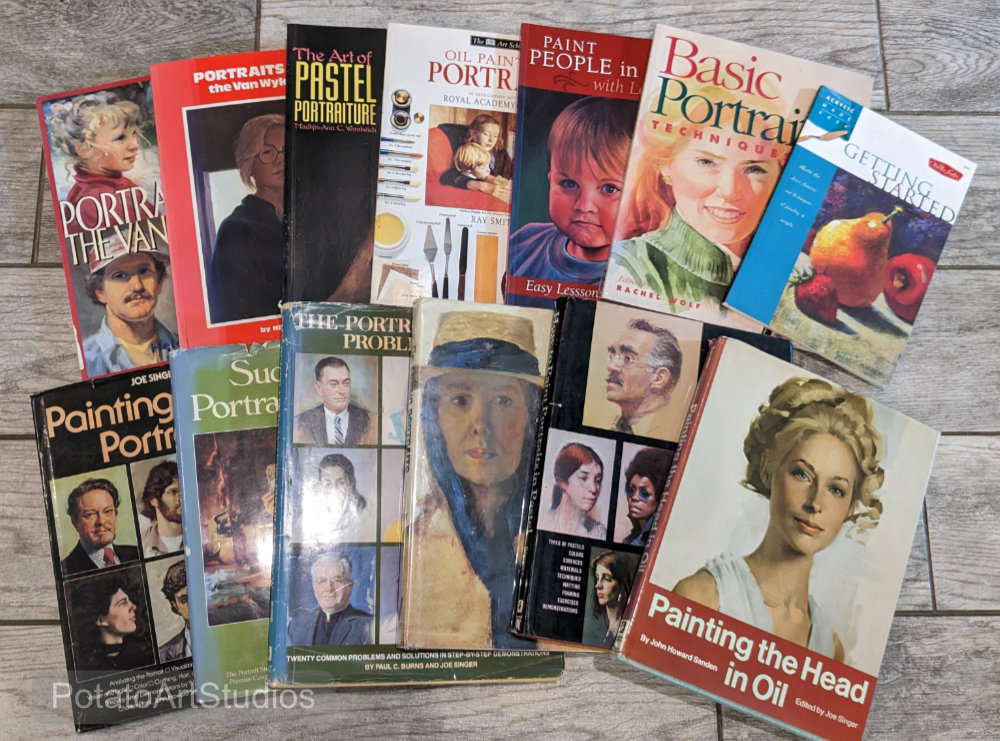 I was familiar with John Howard Sanden and the book, Panting the Head in Oil, was on the market for $30. So doing the math, the book I knew I wanted was $30 and I was getting eleven more books for under $3 a piece! I look forward to reading my stack of newly acquired second-hand books and giving you my honest thoughts about them.
My ratings are based on a traditional scale of 1-5 stars. Books assigned a one star rating I feel are not helpful or useful for most artists. Three-star books are average. And five-star books are highly recommended.
As an Amazon Associate, I earn a small commission from qualifying purchases. Product links may include affiliate links. If you choose to use an affiliate link to shop for art supplies, your support helps keep this site ad-free!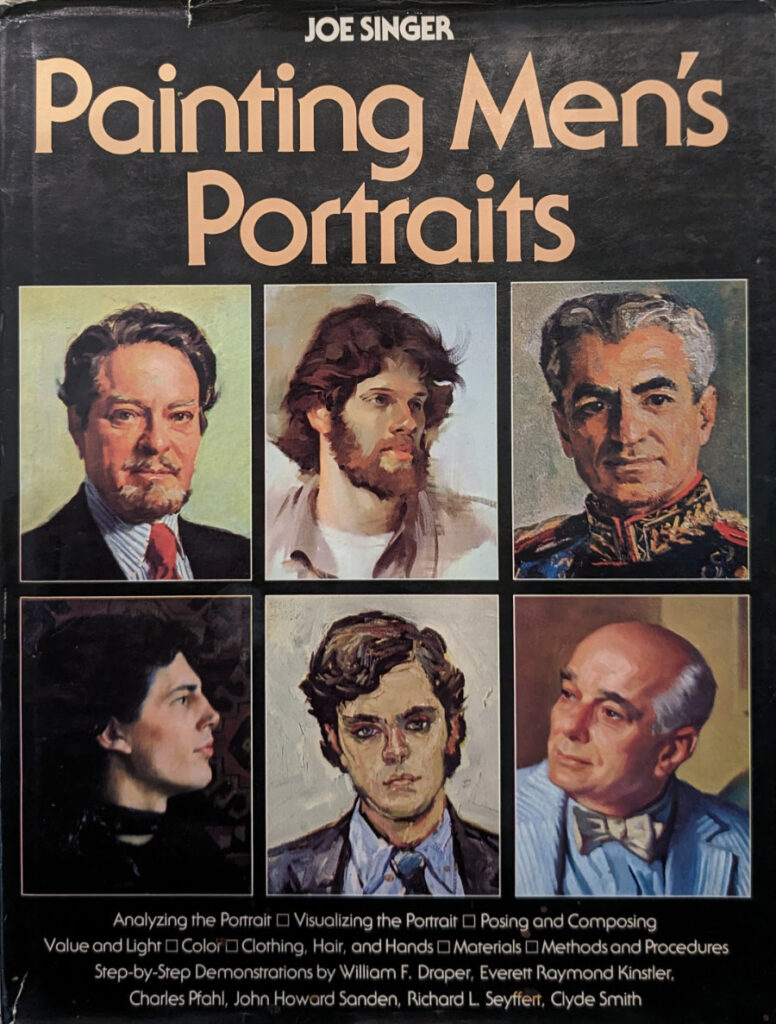 Title: Painting Men's Portraits
Author: Joe Singer
Rating: 1 out of 5 stars
Quick review: A very dated book with limited applications to current portrait practice
Not to start off on a negative note, but there are several downsides to purchasing old books. Painting Men's Portraits published in 1977 unsurprisingly contained 95% older Caucasian men (aka stuffy businessmen in suits) featured in the examples. The one model that was not Caucasian was considered 'exotic.' (This is problematic in more ways than I want to discuss here.)
For a book written in the 1970s, the process of portraiture John Singer describes is clearly in the 'old-fashioned' ways of approaching art. This book was not intended to be instructional (as the title implied), but rather a guide of best practices for an artist working with clients. These clients were typically businessmen or professors, and their portraits would be displayed in boardrooms or academic hallways.
Taking all of the opinions of the author into account, I found that at most, 20% of his advice would actually be useful in today's world (and this is me being very generous). There was a very strong sentiment of using only natural light and working with a live model. The use of photography and artificial lights were tools treated with disdain.
To give you a sense of how conservative this book is, a 'radical' idea at the time was to have a client wear a bright tie with a light background. Gasp!
Singer's opinion of how artists should approach painting men thankfully ends halfway through the book. The last half featured a select portfolio and demonstration from 6 contemporary U.S. artists. This section was substantially more interesting as each artist was given a mini-interview of their color palette, studio setup, and personal philosophy. A quick demonstration by each artist was documented in 5-6 stages spread across several pages.
This is an older book and has the limits of covering topics that were clearly relevant for the audience of the time. I believe any artist would benefit from not reading this book because its philosophy of firmly sticking to the conventions of the mid-twentieth century would stagnate any artist trying to grow in the 21st century.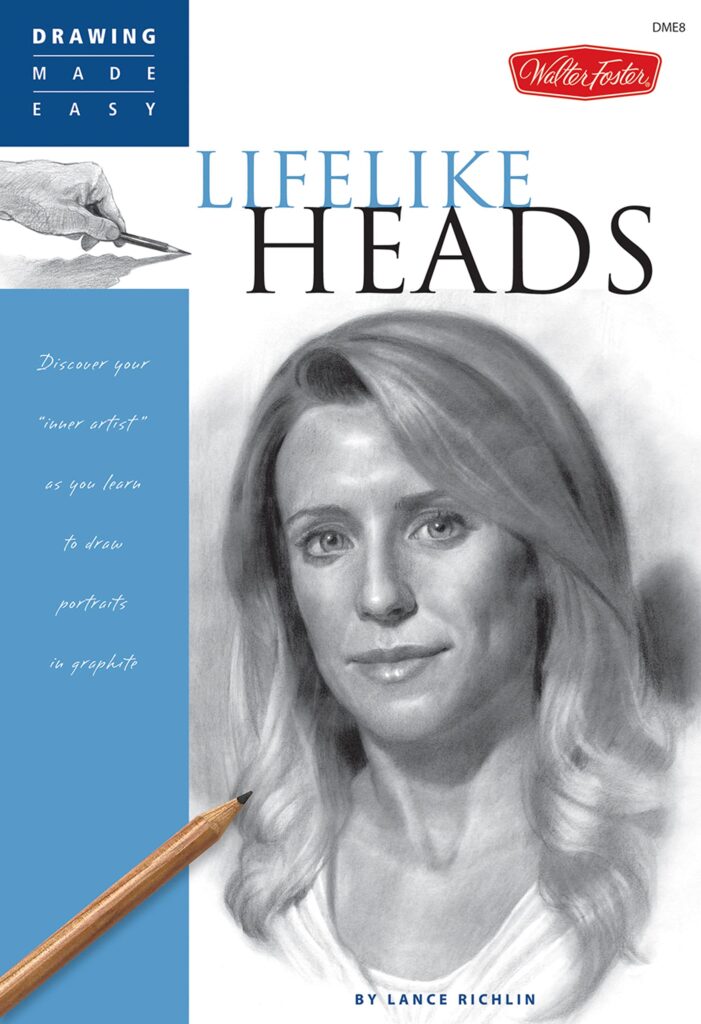 Title: Lifelike Heads
Author: Lance Richlin
Rating: 5 out of 5 stars
Quick review: Excellent quick reference book for the basics of human head anatomy.
Where to buy: Amazon (paperback MSRP $9.99 USD)
After the disappointment of Painting Men's Portraits, I went to my local library and checked out more modern books. In complete contrast to Joe Singer, Lance Richlin wrote and illustrated a compact and helpful art reference book called Lifelike Heads.
This book was categorized as a YA (or Young Adult) non-fiction book suitable for ages 12-18. But I believe the writing style and in-depth topics of anatomy would make this book appropriate for high school students and adults who have already taken one or two basic drawing classes.
I appreciated how much information was packed into this small and lightweight book. Most of the contents were formatted with small snippets of advice and a sketch illustrating how the information would apply to a drawing. For example, when describing how the eye shape changes, there were numerous examples with different angles of the head and expressions.
If I had to list one complaint (and this is really pulling hairs), it would be that the author occasionally becomes very scientific when describing bones and muscles. I think including a full-body skeleton and another with muscles would be beneficial to include as an appendix.
This book is not a comprehensive instructional human anatomy book, but it is a solid quick reference that I can see being useful. And for $10 USD, I think it's well worth the price.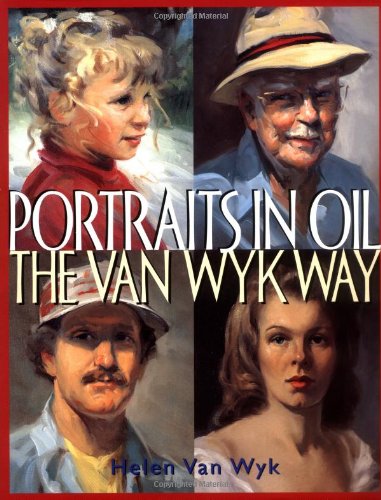 Title: Portraits in Oil the Van Wyk Way
Author: Helen Van Wyk
Rating: 4.5 out of 5 stars
Quick review: A good basic introduction to oil painting traditional portraits covering placement, backgrounds, and facial features.
Where to buy: Amazon (paperback MSRP $27.00 USD)
I found out that I purchased two copies of Portraits in Oil in my art book haul. I read the first edition (1990) and skimmed through the second edition (2001). The second edition has more color photos and tutorials. I recommend and have linked the second edition that is cheaper and easier to acquire.
One of the first striking things about Van Wyk's book were the annotations drawn directly over the reference paintings. It made perfect sense to see the specific area she described in text clearly annotated on a photo. Now my standards have been raised and I wish more authors would do the same!
There were only two reasons why I rated her book 4.5 instead of 5 stars. One was the quality of the demonstration images were slightly inconsistent (blurry or poor white balance). And the second edition text included additional illustrations made by a different artist (Lara Stover).
Stover's work was based on original paintings by Van Wyk, but were "reverse engineered" to create additional tutorials. I'm fairly certain Van Wyk must have had a guiding hand in Stover's painting process. But the jump from Step 4 of a Stover painting to the finished Step 5 work from Van Wyk was jarring at times.
I enjoyed that Van Wyk's writing style was direct and concise. She also created painting videos in the same era as the famous Bob Ross with PBS. If you'd like to take a look at her videos (which have aged fairly well) her YouTube channel has a selection of old broadcasts.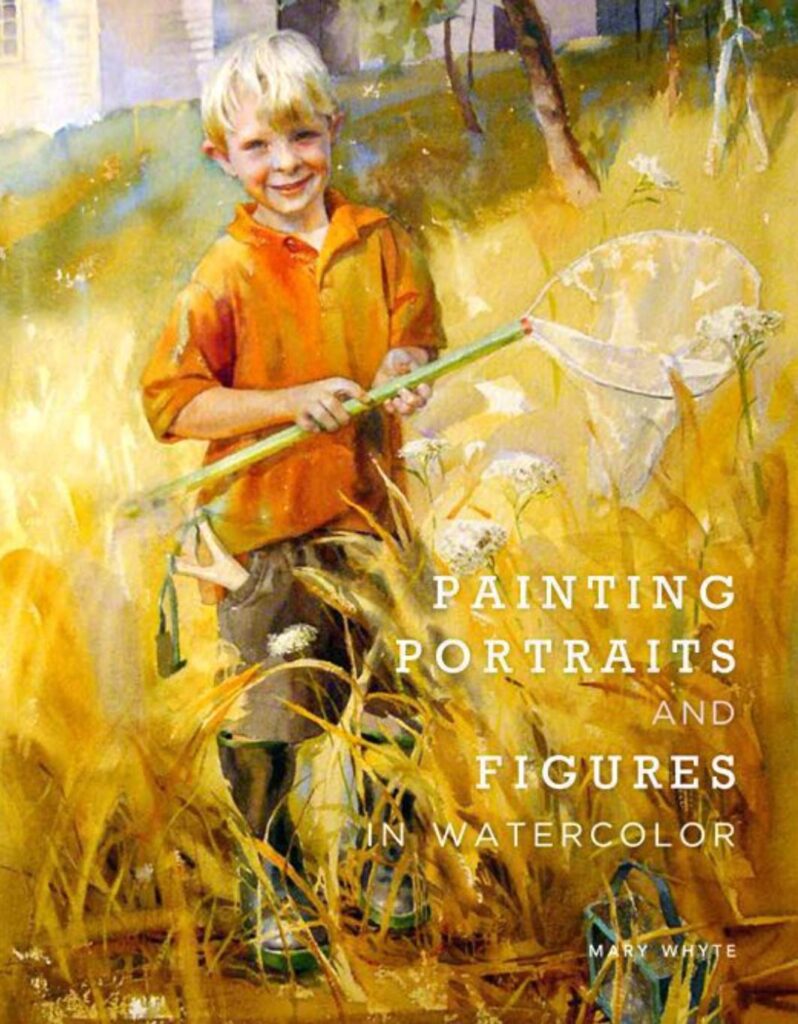 Title: Painting Portraits and Figures in Watercolor
Author: Mary Whyte
Rating: 4 out of 5 stars
Quick review: Covers the basics of watercolor techniques but lacks in-depth explanations. Stunning portrait paintings.
Where to buy: Amazon (paperback MSRP $24.99 USD, digital MSRP $14.99 USD)
This is another library gem! I came across Mary Whyte randomly while browsing my local library. As far as instruction goes, it's a 3 out of 5. There is a very minimal bare-bones introduction to making gradients, lifting color, and washes in the early chapters. There are several example portraits with progress pictures, but the photos jump from 5%, 20% to 100% completion with a sore gap of the intermediary steps was a missed opportunity. I hate to admit it, but even Painting Men's Portraits (which I rated 1 star) had more progress steps than Whyte included.
However, the artist's body of work is absolutely stunning. 5 out of 5 stars for her gorgeous backgrounds and portraits. I was so impressed by Whyte, that I really want to get my hands on her two portrait series Working South: Paintings and Sketches (2011) and We the People: Portraits of Veterans in America (2019). If you haven't heard of Whyte, I highly encourage any artist enthusiast to look at her work. Her color palette and edgework are some of the liveliest that I've ever seen.
After reading this book, I had a quick and concise refresher on watercolors. It had been nearly a decade since my first (and only) watercolor class, so I did see a few new tricks I could pull out if I decided to pick the medium back up. I feel that Whyte wanted to emphasize finding the motivation for creating a portrait was the highest priority. Much of the text was similar to Ellen Eagles' Pastel Painting Atelier: Essential Lessons in Techniques, Practices, and Materials that I reviewed back in spring 2021.
Due to the high level of detail in Whyte's work, I was really hoping for more instruction. Therefore, the average score is 4 out of 5.
---
The first quarter's book reading started on a low note, but it picked up quickly. I found several wonderful artists new to me that I'll be exploring in the future. In the next quarter, I already made good headway into a James Gurney book that I finally purchased after years of procrastination.
Of the four books featured here, Portraits in Oil the Van Wyk Way contained the most practical and applicable information to my own pastel work. I can't wait to put my new knowledge to my next portrait drawings!
-Lauren