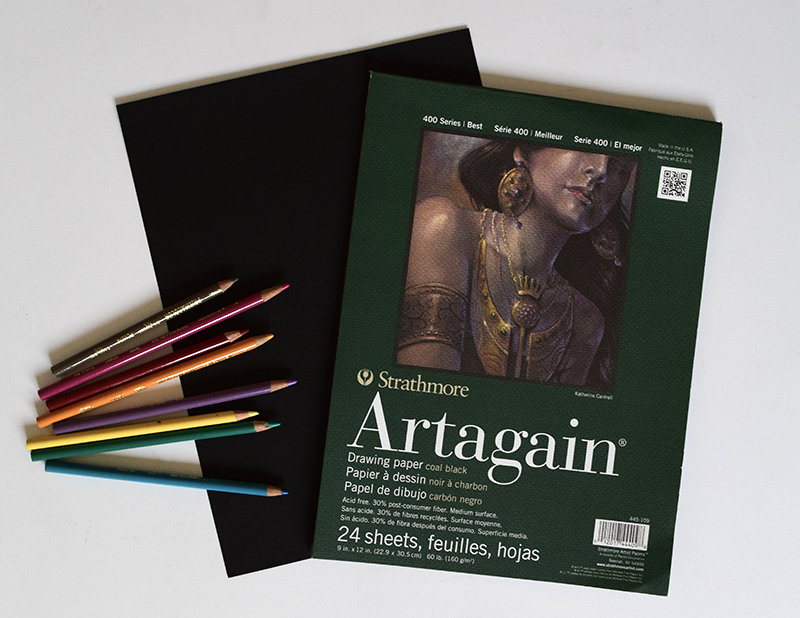 So maybe you want to give black paper a try. I think that's great! Most art stores carry either Strathmore 400 Series Artagain Pad (9"x12", MSRP $10 USD, 24 sheets) or Canson XL Series Black Drawing Paper (7″x10", MSRP $11 USD, 40 Sheets). And chances are you probably have some colored pencils lying around from elementary school. Here are some of the things I've learned after using black paper and hopefully you can use these tips to get a 'jump-start' to this fun media as well.
As an Amazon Associate I earn a small commission from qualifying purchases. Product links may include affiliate links. If you choose to use an affiliate link to shop for art supplies, your support helps keep this site ad-free!
1. Save your white for last
Wait, what? Yes, you heard me. Hide your white colored pencil until the very end of your drawing. It's very tempting to grab the white and draw in the brightest areas, but with darker paper, it's more important to build up from dark to light values. Treat white as a very precious commodity that you want to use only on the brightest highlights.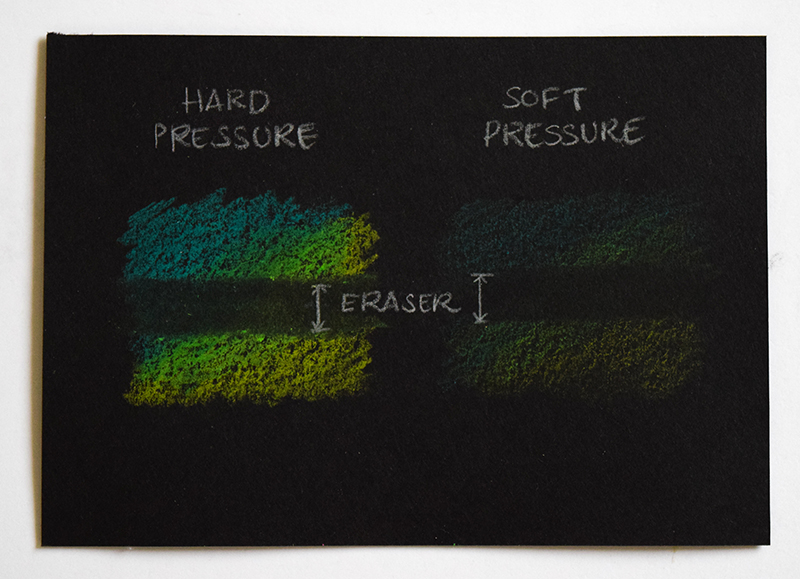 2. Work in light layers
The name "colored pencil" infers that you can erase marks like a regular pencil but this is not true. If you're heavy handed and put a lot of pressure when drawing, these marks will not erase completely. If you apply light pressure, it's easy to erase mistakes and you also have to ability to layer colors which is very important if you're aiming for realism.
Keeping a soft eraser on hand will allow you to lighten some of your marks. I use the Pentel Clic Retractable Eraser  (MSRP approx. $2 USD) – which is a slim refillable eraser and has been my go-to eraser for well over a decade.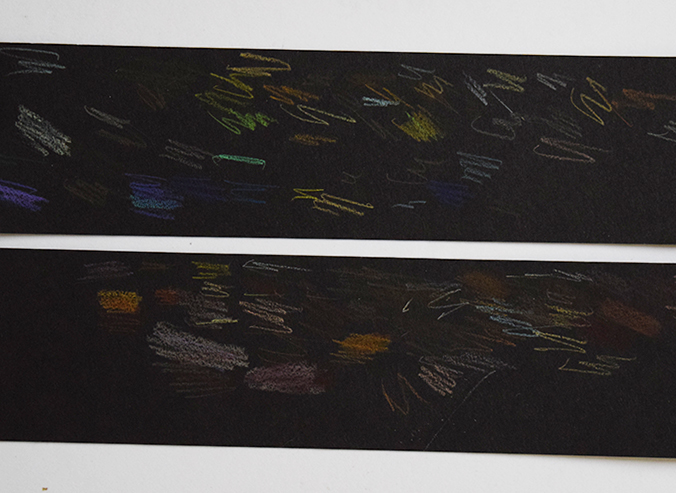 3. Keep a piece of paper on the side as a color test sheet
Colors do not always show up the same when you draw on normal white paper compared to black paper. This is because all colored pencil cores are made with pigment mixed with a binder (either oil or wax). Depending on the concentration of the pigment and the type of binder, drawing on black paper isn't as vibrant and rich with some colors compared to others. For example, I've found that with Prismacolor, many of the yellows are very weak, while the blues most often appear true to color.
Making a small swatch of color on the test sheet will give you a good idea of what the color will look like on your actual drawing. Also use the test sheet as a "palette" and experiment with mixing colors via layering to get the perfect color.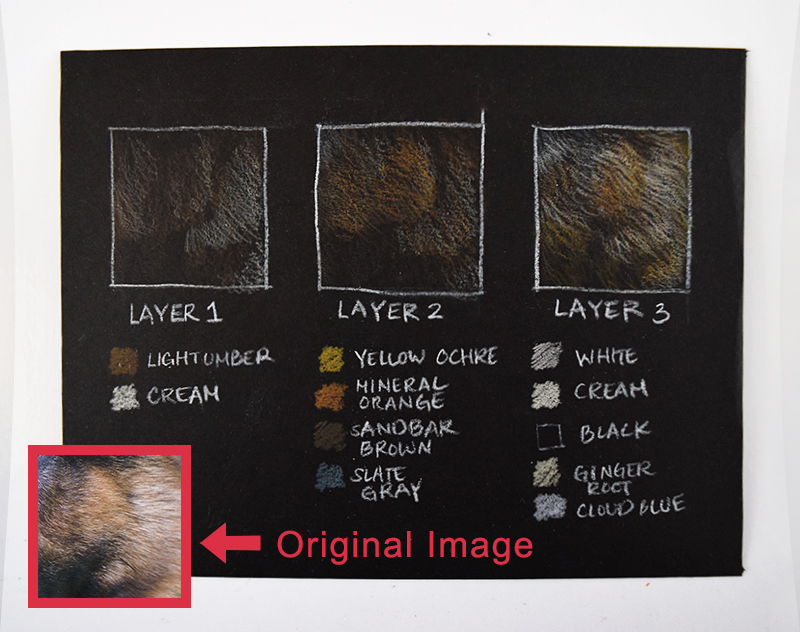 4. Build detail by working in layers
A huge part of drawing fur is to create layers of color which eventually translate to layers of fur. Aim for drawing from general to specific. By that I mean squint at your reference photo until it looks blurry. Draw those larger areas of color in first. Then after the first layer is down, go in with the finer details.
The colors I used in my fur demo were from Prismacolor. Prismacolors are a great brand and the lighter colors show up especially well on black paper. Prismacolor pencils can be purchased in affordable sets ranging from 24, 72, to an impressive 150 set.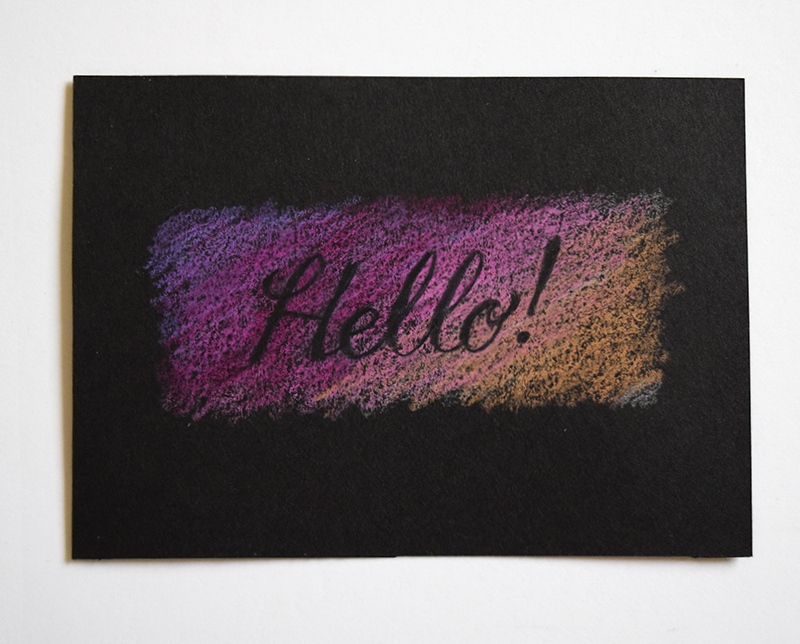 5. Treat your black colored pencil like an eraser
It took me a very long time to realize that your black colored pencil is equivalent to an eraser! Totally mind blowing. And because a sharpened black colored pencil has such a fine tip, you can achieve a lot more accuracy than any small eraser. Try it. This technique is most effective when it is used on small areas.
Don't be too hard on yourself if the first drawing (for me it was the first dozen) don't turn out exactly how you envisioned it. As with all art mediums, there will be a learning curve. As you put more time and practice into it, you'll get exponentially better. I like to keep my very first drawings in a portfolio along with my more recent ones. Periodically I'll flip through it to see how much I've grown.
Are there any tips that you've discovered while drawing on black paper? I would be very excited to learn new techniques. Please comment and share them below!
Materials in this article are listed in the order featured below (may contain affiliate links):