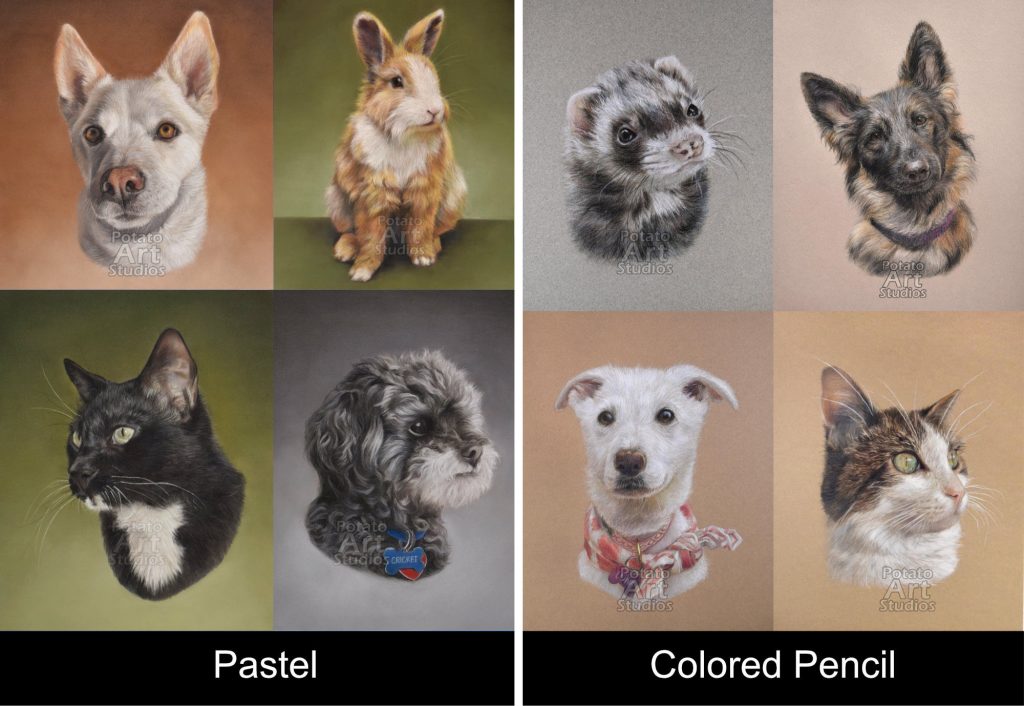 This may be the most common question that I receive from clients when they first start planning their custom portrait with me. Many people are familiar with colored pencils, however some have not seen or held pastels in person.
The main difference is how these art materials are manufactured. The colored pencils have either an oil or a wax binder which holds the pigment together. Colored pencils can be sharpened to a fine tip to create intricate details for fur.
The pastels I use come in sticks (similar to the size of blackboard chalk) and pencils (which look identical to colored pencils). Pastels have very little binder, which makes them fragile and prone to breakage. But the low binder results in very saturated color and a 'softer' overall look. Pastel drawings have the ability to smudge after the drawing is completed, so more precautions are taken for shipping and overall handling. I include a care sheet and best framing practices with all pastel artwork I ship.
Why does the background look different for colored pencils and pastel?
With colored pencil artwork, I leave the background as the color of the paper. I have 10 different beautiful neutral colors ranging from a light tan to dark gray.
For pastel artwork, every square inch of the paper is covered with pastel. I have five standard colors (blue, green, brown, gray, and purple), but I can also work with you to choose a different color if you have a specific vision in mind.
So which art material is best – colored pencils or pastel pencils?
My clients are usually split 50-50 on their preference. Occasionally, I will recommend one material over the other. For example, with a fluffy chinchilla or Pomeranian, pastels may be the better option because the drawing will be softer and delicate. With a dog that has a short coat, colored pencils can create the individual hairs slightly better than pastels.
In most cases, I can create a portrait with either colored pencils or pastels. If you are undecided on which art material is best for your unique portrait, I am always happy to provide personalized recommendations.
Why are there price differences for the same size portrait?
Pastels are on average more expensive than colored pencils. Pastel artwork also requires larger packaging and more protection to ensure that it will be delivered safely. The 10% price difference reflects the increased cost of art supplies and shipping materials when compared to colored pencils.
Which art material would you recommend to an artist interested in drawing?
Colored pencils and paper are available in most art stores. I would personally recommend colored pencils for artists of all ages and skill level.
Pastels and pastel surfaces are less commonplace and will likely require you to make an online order from a specialty store. Be aware that pastels are also more fragile so they require more care during handling and transport. If you are already familiar with charcoal sticks and pencils, the transition from charcoal to pastel is easier than from graphite to pastel.
What art materials do you use?
I proudly use only the best professional lightfast supplies from established art supply manufacturers in the U.S. and Europe.
Pastel Material List
Conte-a-Paris (France)
Sennelier (France)
Derwent (England)
Caran d'Ache (Switzerland)
Stabilo CarbOthello (Germany)
Faber-Castell PITT (Germany)
Schmincke (Germany)
Jackson's (United Kingdom)
Unison (United Kingdom)
Colored Pencil Material List
Faber-Castell Polychromos (Germany)
Caran d'Ache Luminance (Switzerland)
Caran d'Ache Supracolor (Switzerland)
Derwent Lightfast (England)
Derwent Drawing (England)
Brush and Pencil (USA)
Prismacolor (USA)
Have a question about colored pencils or pastels that I didn't cover here? Send me a message using the contact form or comment below.