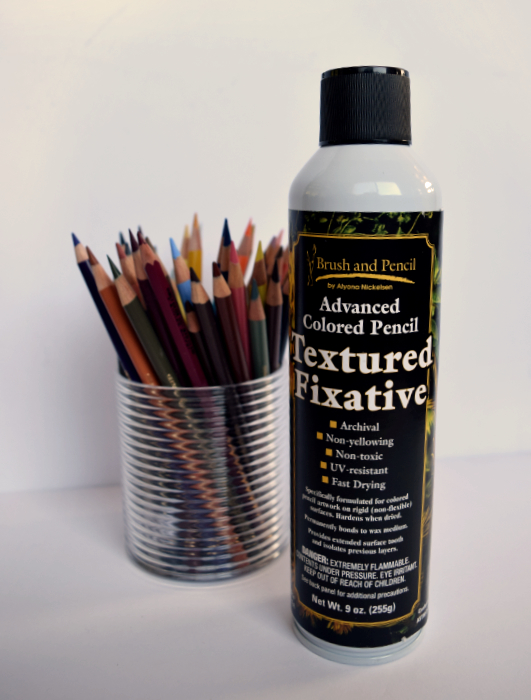 As someone who works with colored pencils on a daily basis, I'm always interested in finding new materials and techniques to improve my work. I first heard about Brush and Pencil over six months ago. I was particularly intrigued by the fixative because of it's claim to restore the tooth of the paper and potentially give you the ability to have unlimited layers.
Quick Verdict: I would recommend this product. It does generate a mild texture, but should be used with caution for light weight paper and non-white paper.
If you're interested in my experiments and results, keep reading on.
As a background, I work mainly with Faber-Castell Polychromos pencils on Canson Mi-Teintes pastel paper. The paper I use has a light tooth (aka surface texture). I typically build up between 3-7 layers for a drawing and by the 5th layer, I am usually at the point of nearly burnishing the paper because it's very saturated with color and has completely lost its tooth. I would use the texture fixative mainly as a tool to restore the texture to my drawing starting at layer 4 and as needed between any additional layers.
Experiment setup
Paper: Canson Mi-Teintes pastel paper (98 lb)
Pencils: Faber-Castell Polychromos pencils in white, light yellow glaze, earth green, sky blue, medium flesh, and delft blue.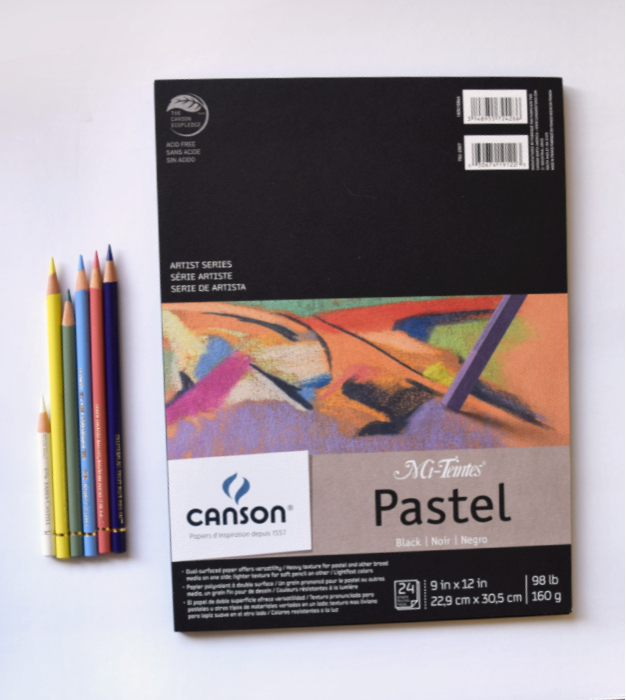 The main purpose of this experiment was to see if the vibrancy of the pencils changes when using the textured fixative. My right column is the control group. No fixative was used. The middle column has no fixative before the first layer of color is put down, but each subsequent layer of colored pencil is alternated with a layer of fixative. The left column was first primed with the fixative, and each additional layer of pencil is alternated with a layer of fixative. I tried my best to apply the same amount of pressure while I was coloring each layer.
As a shortcut, I'll denote each layer of color as a "C" and the textured fixative as "T"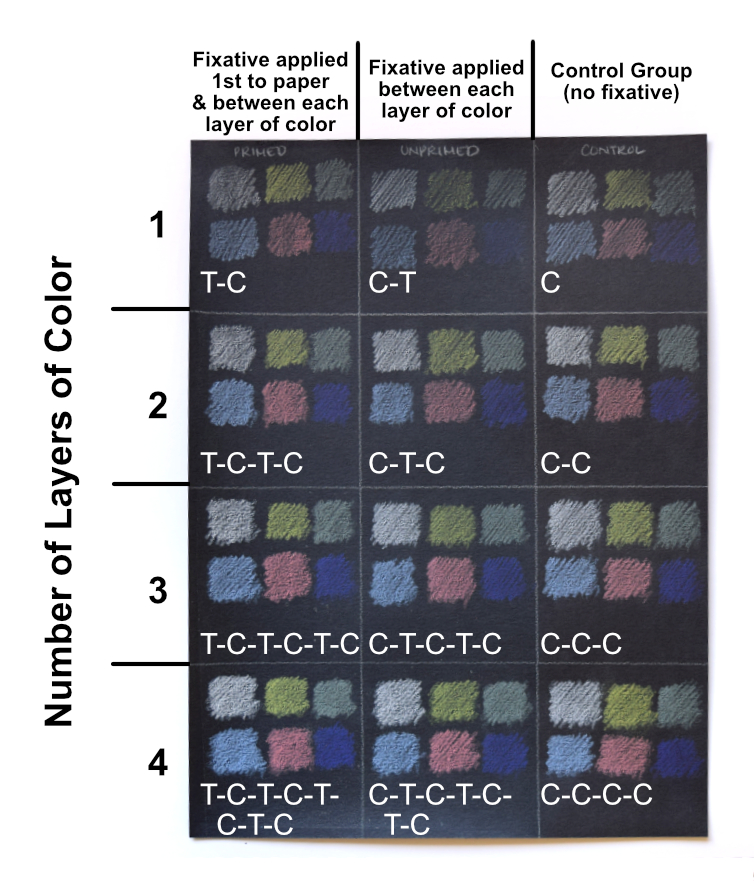 Observations:
1. Vibrancy: Overall the vibrancy of the color was not significant with or without use of the textured fixative. But I did notice that I could feel a difference in texture as I colored over the dried fixative. The texture was very consistent throughout all 4 layers. With the control group, I felt that I was slowly losing the tooth of the paper as I was depositing more color.
2. Impact on the paper: Paper warping was immediately apparent after the first layer of fixative was applied. I taped down the paper after noticing the warping. Also, with each layer of fixative, the fixative leaves behind a very slight sheen. Most papers are naturally matte, but after 4 layers of fixative, the paper surface transforms to a semi-glossy finish.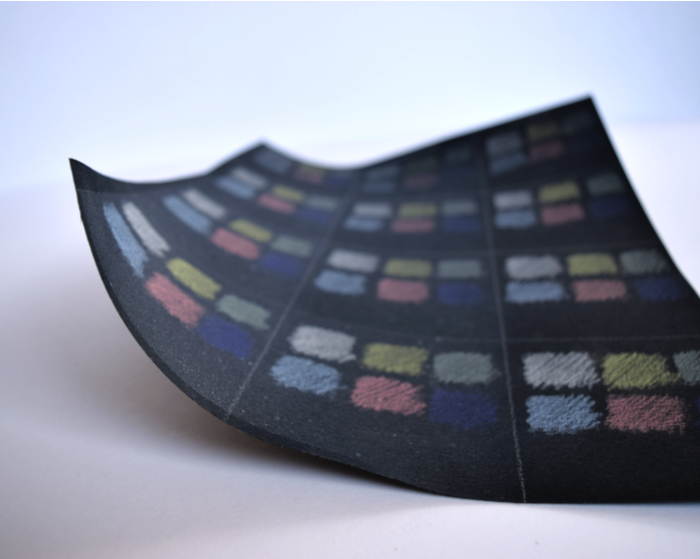 3. Splattering/uneven spray: The spray nozzle was perfect for the first two applications, and then became more uneven during the 3rd and 4th layer. The larger droplets dried, leaving an off-white color which is very noticeable against the black paper. The white drops cannot be erased because it is permanently fused to the fibers within the paper. They however, can be covered up easily by colored pencil.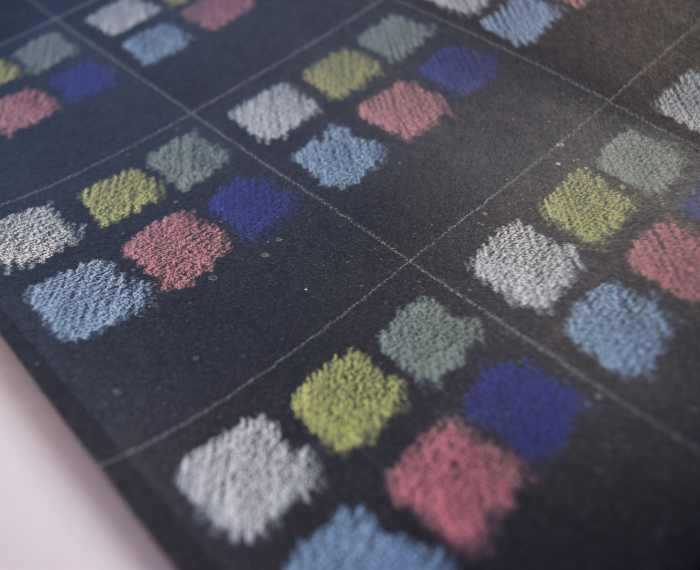 4. Color changes: Comparing the vibrancy of 1 layer of pencil before and after the fixative is applied, the spray slightly breaks down the colored pencil, resulting in slightly less saturated color. However in the second layer of pencil, the color applies just as vibrant as the control group.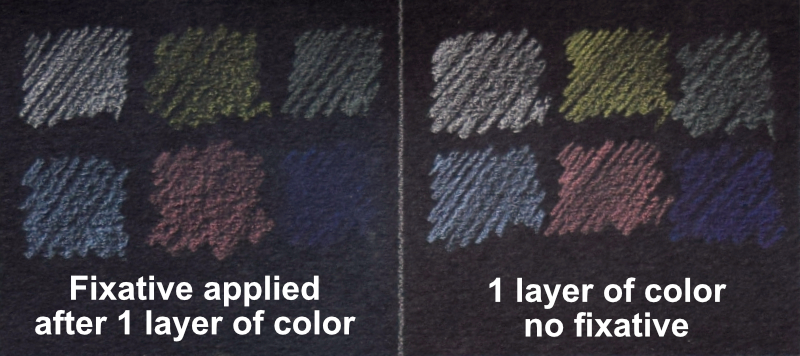 Conclusions: 
Pros:
Generates a textured surface
Adheres well to colored pencil and paper
Low odor (advertised as safe to use indoors, but I would always recommend any aerosol be used outdoors in a well-ventilated area).
Quick-drying time (recommendation of 15 minutes to dry, but I found that it dries in 5 minutes in direct sunlight).
Effectively seals the previous layers of color
Advertised as non-yellowing, acid-free
Cons:
Slightly discolors papers other than white
The nozzle deposits uneven drops which dry to an off-white color
Causes heavy warping.
To get the maximum benefit from the textured spray, I would advise the following:
Clean up any stray marks completely prior to using
Tape down all 4 sides prior to spraying (especially if working with paper 98 lbs (160 g) or lighter)
Cut a stencil or mask off areas to protect the surfaces that you don't wish to be sprayed
Some other minor notes I think are worth mentioning:
Many brands advertise the amount of coverage a typical can of fixative can cover in square feet. Brush and Pencil however does not list this on their can or on their website.
To prevent the nozzle from clogging, I turn the can upside down and spray for 5 seconds until there is only the propellant coming out of the can. This is to clear out any residual product from potentially blocking the nozzle.
Purchasing information for US customers
1. Direct from Brush and Pencil: https://www.brushandpencil.com/Products-Advanced_Colored_Pencil_Textured_Fixative.html
Cost: $17.95  (add $13 for shipping via FedEx Home Delivery (shipping may vary slightly by state))
2. Dick Blick (where I purchased my product):
https://www.dickblick.com/products/brush-and-pencil-advanced-colored-pencil-fixatives/
Cost: $14.29
Note that this item is not excluded from discounts. Blick often has free shipping offers with a minimum purchase and 10%-20% off offers every week.
If you've found my review helpful, please leave a comment! I tried to structure my review to answer all of the questions that I had in mind while I was researching this product prior to purchasing. I may do a part two of this product review to cover how it impacts colors and different papers in the future if there's interest.